Firstly, I would like to say Merry Christmas! to anyone coming across this review — and that this will only be brief.
As it's come to Christmas Eve, I aptly felt inclined to watch The Grinch, and did. This year I decided it is indeed my favourite Christmas film, whereas before I thought that it might have been Elf – definitely not that weird but sort of good The Polar Express which I watched last night, though.
The Grinch is perfectly Christmassy, with exactly the sort of score you need, first off. But what puts it above other Christmas films are many different things special to it. Firstly, it's gloriously wacky, with fantastically designed, odd looking sets which perfectly capture Dr Seuss' book. Also, a silly script and odd camera angles, which can almost make you feel a little dizzy. Moreover, it has a uniquely sinister feel to it, which works wonders with such a strange story. Jim Carrey makes this film along with the aforementioned assets, with his perfect performance of the Grinch himself; adding to the film's wacky atmosphere with a wonderfully silly performance, with tonnes of expression and a good dosage of menace. Carrey is helped by a great comedy script and his costume, of course, but his performance is fantastic because of his own ideas and interpretations – with his classic laugh for instance.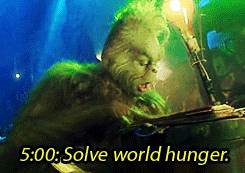 Though she isn't the most endearing child, as usual in film in general, Cindy Lou Who reminds you that it isn't just any comedy film, and a Christmas film. As she is the main character, a child, who brings the film it's lighthearted, Christmassy feel. The contrast between Cindy Lou Who and Jim Carrey's Grinch give the film two contrasting layers of surreal comedy and classic Christmas film-iness; and this works perfectly.
The Grinch is a gloriously wacky, mad and funny film made by Jim Carrey's perfect performance of the menacing Grinch himself. He is helped by a great script with an eye for comedy, perfect sets and the fittingly odd cinematography in what is a brilliant film with a heart, that people of all ages can enjoy at Christmas time.
So I give it: 91/100.
I'm gonna watch Arthur Christmas now! (Don't expect a review though, or anything in the next few days)
– Speedy.