Yo, this be Reuben. I don't need to explain this, do I? Well, in case you dinguses don't know what a 'RANKED' post is, it's one that ranks parts of a certain category in ascending order from worst to best – thems the ropes, boi.
Now, I'm a huge Mastodon fan, as can be seen through my many mentions and pieces of high praise for the band's work on this website, including most recently my Top Ten Bands Redux. Cheeky links aside, Mastodon are a sort of sludgy prog metal band from Atlanta in the states, made up of four talented musicians including the top-class drummer Brann Dailor and the renowned guitar-shredder Brent Hinds, who both sing along with stylistic bassist Troy Sanders. Bill Kelliher's also there. That wasn't a dig, he's just a rhythm guitarist — apparently he's a bit of a dude. They're a band who have been growing in popularity since their 2004 breakthrough release Leviathan, with their latest release Once More 'Round the Sun reaching 6th in US charts, they're one of those who are destined to headline the big metal festivals like Download at some point, along with Babymetal, oddly – and hey, I have nothing against Babymetal. Anyways, let's get into this article properly.
Leviathan (2004)
Oooooooooh. This is a very dodgy choice, putting their most critically acclaimed and a fan favourite at the bottom of the pile. Oh well, I'm sure it'll fend for itself down here. I'm just not quite sure about Leviathan, I don't think its either as chunky or gloriously brutal as Remission or as well-rounded and musically impressive as their later records. It's just some songs on the album lack enough power and the melodies for the most part aren't quite there for me, despite the awe-inspiring first two tracks in Blood and Thunder and I Am Ahab. I mean, if the rest of the album possessed the power and drive of the first two tracks, I think it could easily be Mastodon's best record; but it drops off, and Brent Hinds does some vocals that don't really fit with the rest of the music. However, it certainly has its highlights and possesses dozens of awesome riffs. Moreover, it's Moby Dick concept gives it a powerful and unique sense, which coupled with the fuzzy riff heaven makes for an immense story.
Particular Gooduns:
Blood and Thunder
I Am Ahab
Hearts Alive
Naked Burn
Remission (2002)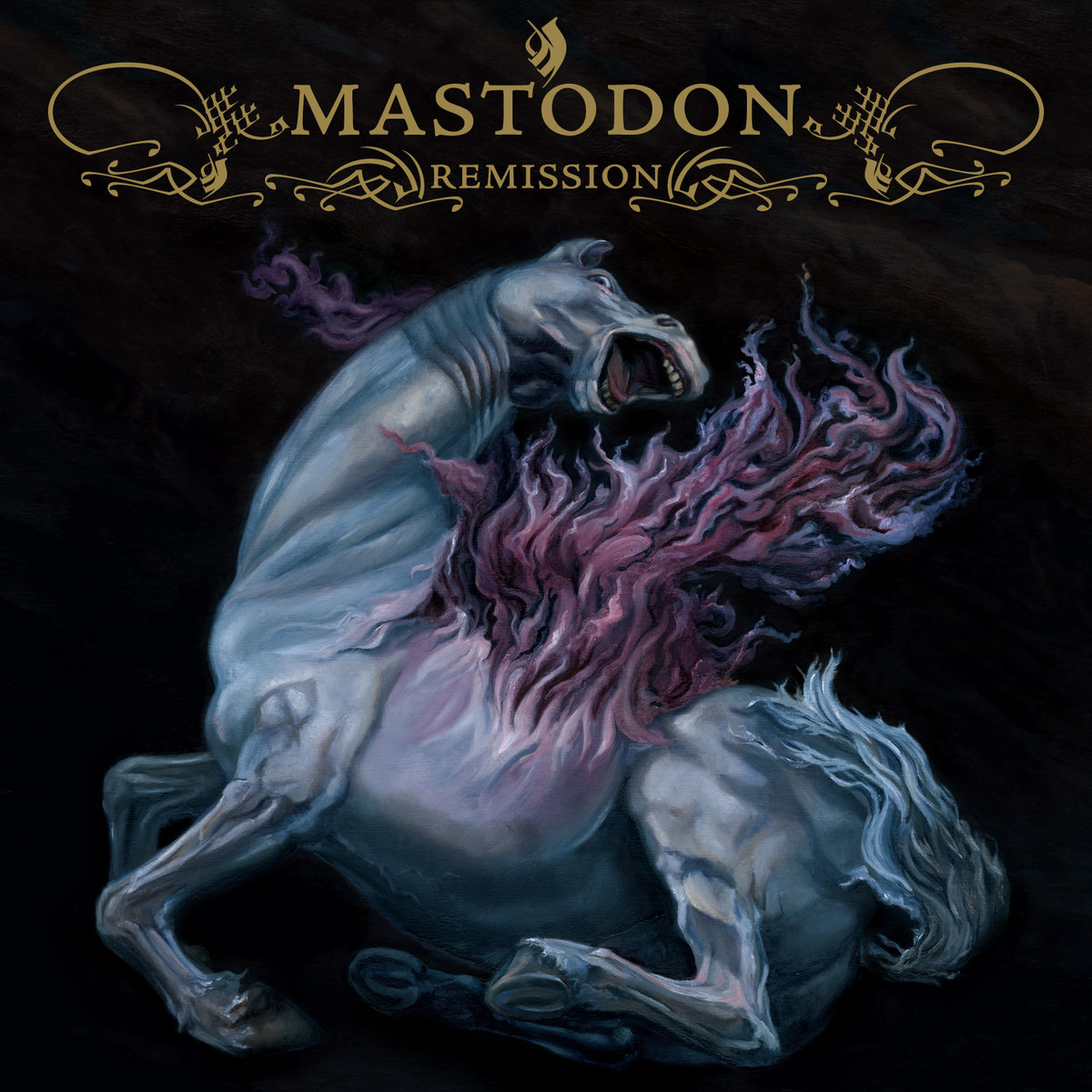 Remission, really, is very similar to Leviathan in how it sounds, but yet it is a better album. I know it hasn't got that same power with the concept and the story, but Remission is pure metal delight throughout. It's a barrage of glorious riffs with brutal vocals from Troy Sanders and incredible tight beats from Brann Dailor to baffle the eardrums. It's got a brilliant heaviness that hasn't been matched by the band since, but it is made by the melding of that and the floating guitar licks and instrumental interludes Mastodon are known for.
Particular Gooduns:
March of the Fire Ants
Ol'e Nessie
Trampled Under Hoof
Trilobite
Workhorse
The Hunter (2011)
The home of Curl of the Burl and Black Tongue, The Hunter is one for the riff lovers. As a Mastodon album, it is the least prog-influenced and takes a leap into hard rock and alternative metal as the band attempted to reach larger audiences. It worked, because the record saw a huge increase in Mastodon album, ticket sales and all that good stuff. Popularity ain't the important thing, though, that's the music.
The Hunter holds the band's cleanest and straight-up hard rock sound to date, as they concentrated a bit more on the simpler stuff. Some fans haven't liked the record's lighter approach, but the fantastic musicianship, catchiness, riffage and not least clean mix housed on the album are all welcome to my ears. The Hunter is an easy and highly enjoyable listen, but still with the musical flair and charm that I love so much from Mastodon. Nonetheless, it's far from my favourite album by the band, and it features a few dud tracks.
Particular Gooduns:
Black Tongue
Curl of the Burl
The Hunter
All the Heavy Lifting
Dry Bone Valley
Blood Mountain (2006)
Blood Mountain is Mastodon's second heaviest record behind Remission. It's the first album by the band that shakes off the sludgy, slightly doom metal-like attributes of their early works, and introduces a cleaner sound that would be further developed upon later on. Blood Mountain was an in between point between their original sound and their later more clean approach, incorporating influences from both types of their music. However, it also uses more prog influences that were later the driving force for Crack the Skye. The mix of styles makes for an interesting album, and an unforgettable listen. Although there are admittedly too much instrumental gaps and some of the problems in Leviathan can still be heard, the musicianship is incredible, with Brann Dailor and Brent Hinds at their very best, so there isn't a dull moment. It's a joy to hear the band at their best on their respective instruments, and that is what you get from Blood Mountain.
Little touches like the awesome cameo appearances from Cedric Bixler-Zavala, Ikey Owens (both Mars Volta members) and Josh Homme (Queens of the Stone Age frontman) also make for nice inclusions, along with the amazing surprise at the end of Pendulous Skin, to boot.
Particular Gooduns:
The Wolf is Loose
Sleeping Giant
Colony of Birchmen
This Mortal Soil
Siberian Divide
Once More 'Round the Sun (2014)
I can't stop listening to Once More 'Round the Sun, and I don't think I'll ever stop. The atmosphere in this record is spot on, with an incredible sound wall across the whole thing. Brent Hinds is great as ever, and so is Brann Dailor, but the stand out on this record is Troy Sanders – on both the bass and the microphone. His super-cool laid back slap bass controls the album from peak to trough, as he delivers his most accomplished vocal performance to date. Brann Dailor's vocals are delivered to perfection, too, carrying on that lighter feel brought from The Hunter. The melodies are the best they have ever been, as Tread Lightly, The Motherload and Ember City emphatically show with their ever memorable choruses – and even song structures, I know these songs note through note. Once More 'Round the Sun, more than anything, possesses a deep and accomplished sound which is their loudest and most impressive to date, as the fill-heavy drums, bass tunes and guitar licks bash the eardrums apart.
It's a damn cool record, all that holds it back from the top spot are one or two weaker tracks.
Particular Greatuns:
Tread Lightly
The Motherload
Chimes At Midnight
Asleep in the Deep
Ember City
Halloween
Aunt Lisa
Crack the Skye (2009)
This album is special. What I would consider one of the best albums of all time, Crack the Skye is a progressive metal masterclass. It possesses the musical skill expected of Mastodon and more, as the album explores deeper prog themes. It keeps the power of Blood Mountain, but smooths the edges and gives it that something extra. It has an equally impressive sound to that of Once More 'Round the Sun, and is house to prog metal greats ranging from Oblivion to The Czar. The record showed fans and critics alike that Mastodon could play more patient material, and didn't need to make their music heavy to be good – something they hinted at with Blood Mountain. Jeering guitar solos and big symbols pervade through the seven masterpieces on Crack the Skye, with a giant and powerful sound wall created.
Knowing the tragic story behind the album also makes it that bit more effective, as along with songs like Oblivion being so incredible in their instrumental depth and their huge melodies, they come across as emotional too. Crack the Skye was the coming of age for Mastodon, where they refined their sound to perfection and delivered a truly great record to be enjoyed by prog and metal fans alike. They haven't done anything better since, but based on their progress made with Once More 'Round the Sun I'm hopeful that there will be a Mastodon album of this quality yet again.
Particular Amazinguns:
ALL OF THE SONGS.
Bringing redundant opinions for scrollers everywhere,
Reuben.