Yo, this be Reuben. Finally, we can all forget about Milo's story and move on. For good. This is the place to find the best games we've had this month, as we come into the autumn/winter season of gaming, when all the developers seem to go mad and release their games. You'll notice now's also the time for the sports games to come rushing out their cages.
FIFA 17 (PS4/Xbox One/PC) – Reuben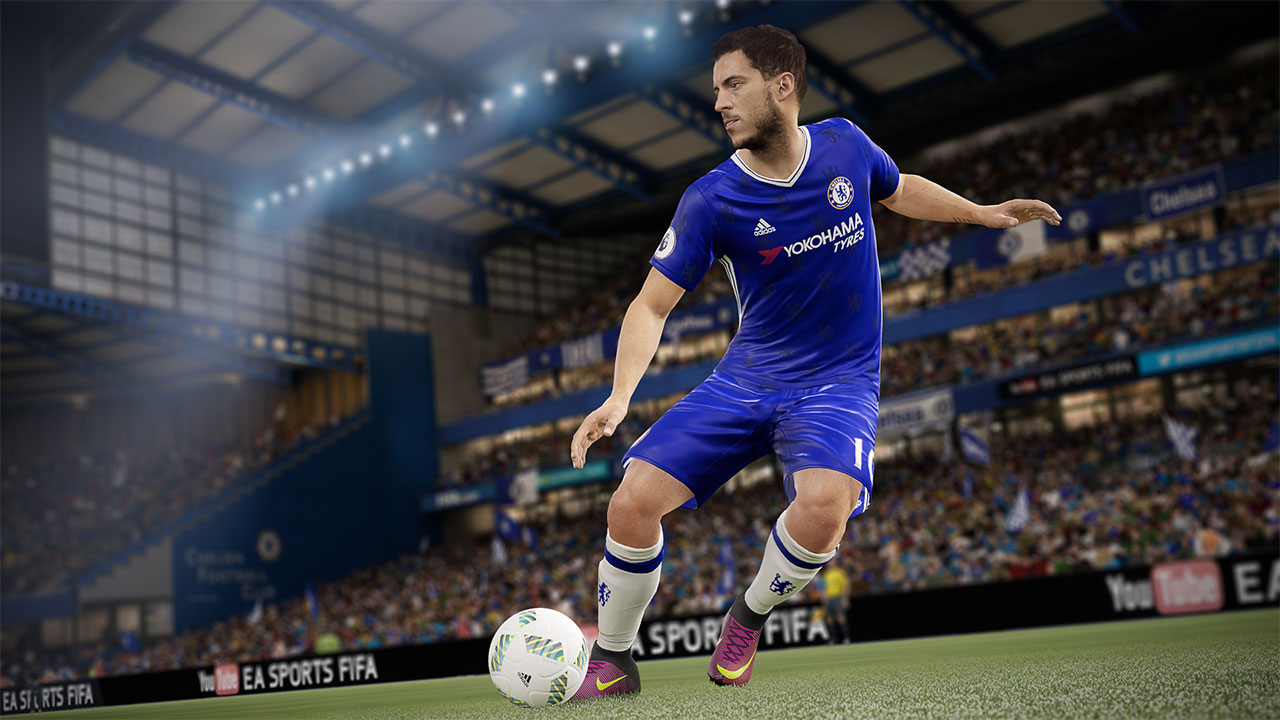 Another year, another FIFA. Of course, this isn't the only annual sports game coming this month, but it is the big one. I've fluctuated between buying/playing FIFA games and PES games since I've been into footie games, as I'm one of those unsure fans stuck on the fence as for the series I want to stick with. At the moment, FIFA is the one for me. Along with ever-far-reaching licensing, EA's football simulator is accessible and fun, and the most realistic game in its category, for football on and off the pitch. Although 16 had some issues with slow-paced passing, referees and the such, 17 sees refreshing new turns with the new Frostbite engine (previously used in Mirror's Edge: Catalyst) being implemented for improved visuals, and the introduction of The Journey, an odd yet exciting prospect in that it is the first story-mode, or campaign, if you like, in a football game — ever.
I've played the demo of FIFA 17 a fair amount, and I can safely say that, although it is broadly similar to 16, there are tweaks here and there made, which along with improved authenticity and graphics make for a better experience. However, although the gameplay has been improved, these improvements are only small, and mean that anyone looking for a different gameplay experience to FIFA 16 won't be completely satisfied by 17. I don't think the similar gameplay is down to laziness, however, as I think the adjustments made are steps in the right direction, as passing, crossing and interceptions are all improved, at least. The Journey is the biggest selling point, though, and I can see why.
PES 2017 (PS4/Xbox One/PC) – Reuben

Konami's footie sim has been on EA's doorstep since PES 2015, and now the gameplay experience offered by the Japanese developers is pretty much on par with FIFA. Konami are clearly appealing to a different audience than EA are nowadays, appeasing the armchair pundits by providing an 'elite' football gaming experience, which is harder to master and more refined than what FIFA offers on the pitch. The steep learning curve of PES 2017 may not be particularly appealing to the more casual players, however, so for those just looking for a game or two every now and then with their mates, PES isn't the one to go for, because you will get a LOT of yellow cards for terrible sliding tackles, and it will inevitably end 0-0 every game, with a frustrating lack of shots on target. Let's face it, Pro Evolution Soccer is pretty hard. Even I, someone who plays football games all the time, found the 2017 demo difficult to get used to, even after playing the hell out of PES 2015, and getting decent at it. There is also the issue of licensing and thus authenticity with Pro Evo, as there are few licensed teams in the game, with much less choice of playable clubs at your disposal. There are now even less licenses than before, as even Real Madrid have been reduced to merely 'MD White'. There are also a few recognisable issues in PES 2017 that the Konami games have had for a while, like weird animations and the such.
Nonetheless, PES clearly offers an expertly crafted gameplay experience, despite shortcomings off the pitch, per say. I'm still torn between which one to get.
NBA 2K17 (PS4/Xbox One/PC) – Reuben

NBA 2K is a sports game series renowned for its quality and unbeatable authenticity, blowing EA's NBA Live away every year. 2K's basketball games offer something that mixes the fantastic gameplay elements of PES, and the licenses and brilliant detail of FIFA, making something that simply cannot be competed with. NBA 2K16 is immensely realistic and detailed in its aesthetic, and plays just like real basketball: a game that after a bit of practice (in fact, it's harder than PES, so this one isn't instantly fun either) can be very fun. Of what I can gather, 2K17 is just as good, with some tweaks taking it possibly a step further, remaining the king of basketball games.
Forza Horizon 3 (Xbox One) – Milo
Oh! I, like many others, got my grubby mitts on the latest installment of the Horizon series recently and, I must say, it's rather good.
Graphically, the game, not unlike its predecessors, has set the standard for how just gosh darn pretty a video game can be, with the rich and varied environments being meticulously crafted and the water graphics, in particular, being something to gawk at. These aforementioned environments are pretty damn expansive, as well, with the map being twice the size of Horizon 2, and come in all shapes and sizes. The Austrailian setting allows for fast paced car movement in city streets, outback and rainforest, with a lot more pesky trees being destructible, good news for a mentalist such as myself. We've also got ourselves the same top notch gameplay you can expect from the frontrunners of the racing genre, with over 350 wheely-movers to drive (and crash). The most interesting aspect of this installment is definitely the customization options it provides, and the broadness of them. Not only can you mod up your driving apparatus to super duper craziness, but you can also create bucket list challenges, a widely popular addition to Horizon 2, to then challenge your friends at, greatly increasing the social aspect of the game. Forza Horizon 2 is one of my favourite racing games of all time, it's only a matter of time before we can see how this stacks up.
Dragon Quest VII: Fragments of the Forgotten Past (3DS) – Reuben

From Akira Toryama's fantastic art direction, to the ever brilliant JRPG gameplay of Dragon Quest, it's easy to see why it's so popular in Japan. VII is often considered one of the franchise's high points, as it houses some of the best story-telling as you journey from the peaceful town of Estard through to the wonderfully designed and dangerous world Fragments of the Forgotten Past has to offer with that li'l green dude.
Phoenix Wright: Ace Attorney – Spirit of Justice (3DS) – Reuben

Some people might think Phoenix Wright's slow and dialogue heavy gameplay may be tedious, but there are many out there who love the Capcom series' brilliant murder mysteries for their character and well crafted stories and events. Now there's a new one.
RIVE (PS4/Xbox One/Wii U/PC) – Reuben
A classic style run-and-gun (although it's really a fly-and-gun, but same basic thing), like the olduns such as Gynoug on the Mega Drive, only high-tec and super hard, as you are constantly in the thick of it against ridiculous spacey bosses and with bullets and little enemies causing havoc on an almost constant level of insanity. You like blowing up stuff? You like hard games? You'll probably love this.
Psycho-Pass: Mandatory Happiness (PS4/Xbox One/PSVita/PC) – Reuben

I'm not a huge anime guy, but Cam says Psycho-Pass is a damn good one as the Japanese cartoons go. Now the dark and mysterious series has a game, in particular a visual novel dealio. Not my shtick but sometimes great story-telling can make up for a lack of gameplay, and in this case that seems to be what has happened, as fans have enjoyed the interactive take on the anime.
Jotun: Valhalla Edition (PS4/Xbox One
/
Wii U/PC) – Reuben
Showcasing a wonderfully drawn viking 2D aesthetic, this particular game has caught many an eye. However, although the artwork had been massively worked on in development, this meant other aspects of the game were slightly neglected, leaving the action gameplay slightly bland. Even so, you can feast your eyes on the hand-animated glory the game has to offer, even when you're slightly bored by the gameplay.
Strik
e Vector EX (PS4) – Reuben

Strike Vector EX is, for me, an especially interesting game on this month's edition. It can be succinctly summed up like this, "fun and frantic airborne mech combat action" (thanks, Push Square!). Basically, you fly around like a maniac blowing other flying mechs up, like Star Fox in the Battlefield universe. Good, yeah?
Picross 3D: Round 2 (3DS) – Reuben
2009's cubic brainteaser Picross 3D finally has a sequel, with a box release on the 3DS. Ironically, all the puzzles in the original Picross 3D game weren't in 3D, but now they are, and it's probably sexy. Whatever floats your boat.
Shin Megami Tensei IV: Apocalypse (3DS) – Reuben

In a futuristic and ravaged Tokyo, humans and demons co-exist, whilst they must defend themselves against the higher beings of society. The game has been highly praised for its fantastic combat, exploration and its deep story, as one of the more exciting JRPG's on the 3DS.
Polara (3DS) – Reuben
This is an endless runner, yes; but not just any endless runner. It was originally part of the boom of the genre a few years ago on the mobile, but now its got a full console release on the 3DS eShop. Set in the distant, neon-soaked future, Polara utilizes interesting level designs and difficult puzzles to make it a very interest endless runner, if that can happen.
Ninja Smasher! (3DS) – Reuben

You're a nice li'l pixelated ninja, and you're tasked with killing a load of weird enemies in a Kirby's Adventure-like world, with punchy combat which has been compared to that of Zelda, Metroid and Ninja Gaiden. Sounds good, I reckon. Pretty cheap, too.
Noitu Love: Devolution (Wii U/3DS) – Reuben
Another old-fashioned game, made for the now, Noitu Love: Devolution is a full-throttle shoot-em-up in the same light as games like Metal Slug or Gunstar Heroes. So, basically, it's probably really fun, and surprisingly hard.
Diaries of a Spaceport Janitor (PS4/Xbox One/PC) – Reuben
This one's called by its developers an 'anti-adventure' game, and, really, there isn't all that much adventuring that happens, even though it uses the same formula of an adventure game – so maybe that's a right summary. It's set in a Spaceport, and you play as a Janitor (shock horror), who has to scavenge for food and materials for selling, whilst keeping yourself hunger-free and having to try to rid yourself of a curse (you know, the floating skull) in the colouful and bombastic world that all the shizzle goes on in. Pretty unique, and pretty neat.