Here we go.
Milo here.
We are in the midst of our Best Thangs Of The Year here at Stuff And That and it's time to talk about those video games we all love to love. 2016 has seen the release of plenty of quality games and some much anticipated ones, not naming any guardians. Nonetheless, we still have our favourites and we're glad to present ours, the shameless narcissists we are. With the limited budget and time I have, there are always games that I wish I had played on release, so here a few of the ones I miss the most:
Carmageddon: Max Damage
Steep
Dead Rising 4
Overwatch
That being said, let's get into it, shall we?
Yo, this be Reuben. Milo said everything again. Oh well. I'll say that 2016 was a good year for games, but I didn't play all of the ones I would've liked to, missing out on these thangs:
Metroid Prime Federation Force
Star Fox Zero
DOOM
Overwatch
Kirby Planet Robobot
Forza Horizon 3
Civilization VI
Hyper Light Drifter
Rhythm Paradise Megamix
Best Old Game We Played This Year.
This is where we take a sec to praise the games we missed the first around.
Milo.
My nominees are:
Rocket League (2015) – Don't believe the hype. Okay, believe it a little bit. Alright, completely believe it, it's bloody great.
Mario Kart 8 (2014) – Just classic Mario Kart mayhem, a load of fun, even if I swear at it an unhealthy rate.
Saints Row IV (2013) – Dumb. Stupid. These are just some of the words I use to describe a game where I killed a Christmas elf with an anal probe.
Super Smash Bros for Wii U (2014)
2016 was the year that the sacred Wii U entered my household and that was a lovely surprise as I have been waiting to get me grubby mitts on this game for two years. I've always loved the insane chaos of the Smash Bros. series and this most-recent entry does not disappoint on that front. As a general pleb, I'm not one for the over-competitive nature of the Smash Bros. online scene, however, that doesn't take away from the blisteringly fun gameplay and infectious replayability.
Reuben.
Pokémon Alpha Sapphire (2014)
Good ol' Pokémon, eh? Somehow, I never managed to play the original Sapphire in its entirety or anything near that, but then this mighty remake came about and I've been able to experience an improved and visually stunning version of Gen 3. Although the map design is at its worst in this game, there are many neat new features, that classic Pokémon formula and my favourite art style in a Pokémon game, melding together the unique art of Sapphire with the 3D stylings of X and Y.
Honourable Mentions:
Dark Souls II: Scholar of the First Sin (2014) – My first From Software game and it's a pretty incredibly designed game, one of undeniable quality.
OlliOlli (2013) – A fun, challenging and replayable skating game, with the unique touch of a 2D field of play.
FIFA 16 (2015) – Immensely authentic and with a great arcade-like feel, one of the better footie games I've played.
Just Cause 2 (2010) – Explosive and hugely entertaining, if a little aged.
Cam.
Bioshock (2007)
Best Gore.
Violence is never the answer, except when the question is – "Do I want my game to be awesome?", then it totally is. These games embrace that ideology.
Milo.
My nominee is:
DOOM – I mean, the DOOM games have never exactly been rainbows and lollipops and, with the graphics power of the Xbone, this game brings the blood in new ways.
Mortal Kombat XL
I mean, this is the king of gore. The violence that scared parents into censorship 20 years ago and pushed to bigger and better heights, with every drop of blood, every flailing limb, every rogue organ, feel real. This game takes all the cartoonish out of cartoonish violence and just leaves the straight up gore, yum. By the way, I'm including MKXL in my nominees because I didn't play X and this re-release came out this year, so keep that in mind, K?
Reuben thinks this category is a tad stupid, but would like to give a nomination to Broforce for it's bloody tomfoolery.
Cam.
DOOM
Best Action.
Nevertheless, a game doesn't need to be gory to be awesome. Sometimes it does, sometimes a bit of quality action can do the trick.
Milo.
My nominees are:
Mortal Kombat XL –  Fast-paced and tailorable gameplay that is so much fun with friends, that it should be illegal (and I think it is in Austrailia).
Titanfall 2 – I loved Titanfall and this basically gave me more of that, with a great campaign and an ass-tonne of explosions. Oh, and BIG ASS ROBOTS, BOI.
DOOM – This game somehow mixed demons and space and made it so that you have to kill EVERYTHING.

Uncharted 4: A Thief's End
Naughty Dog really did pull it out of the bag with the latest (and maybe final?) instalment in the Uncharted game franchise, as it really did show off what the PS4 was capable of and took gamers on a brilliant adventure. One of the methods they used to do this was the impeccable action set-pieces spersed throughout the game. Each piece had a level of variety that lent itself to the game, as each level felt fresh, with a change-up of environment every ten minutes, or it seemed like. And the set-pieces themselves were awesome in the most old-fashioned sense of the word; Indiana-Jones-esque scenes with gunplay and jumping off of stuff being very prominent.
Reuben.
Titanfall 2
Imagine any old Call of Duty game (and a good one, so not Ghosts or anything), but super-powered with massive robots (Titans, you guessed it) and sci-fi guns. Admittedly, Call of Duty has also endevored into these things, but not quite to the same effect. I've never played a shooter that is so full throttle, fast-paced and on such a big, explosive scale. There are flaming shurikens, grenades and the like being thrown around the shebang like paper aeroplanes in a supply-teacher's class, with exactly the same amount of havoc. However, Titanfall 2 is an example of chaos done right. It's just really fun.
Honourable Mentions:
Ratchet & Clank – Mental and uber entertaining alien blasting from the get-go.
Mortal Kombat XL – Bloody fun, mate.
Pokken Tournament – Mix Naruto Shippuden with Pokémon and there ya go.
Broforce – Ridiculous and laugh-out-loud explosions and multitudinous different ways to shoot.
Worms W.M.D – Classic Worms silliness, but now with mechs 'n that.
Cam.
Overwatch
Best Soundtrack.
Some good music is essential for enjoying a game, these games have got themselves some dope-ass choons behind them.
Milo.
Forza Horizon 3 – While not as great as that of its predecessor, there are still appearances from Band Of Skulls, Every Time I Die, Beastie Boys, Young MC, De La Soul and Jurassic 5 on this thing, and a radio station hosted by Keith Buckley, very cool.
Mafia III – Very, very close to my pick because of just how damn cool it is, fits the time period and atmosphere of the game perfectly.

Street Fighter V – It's just flippin' classic, innit?

DOOM
DOOT, indeed. There isn't much to say about DOOM's original soundtrack. Admittedly, I'm a ma-hussive fan of the original DOOM's soundtrack, with the first level being one of my favourites of all time. Thankfully, the reboot, much like the gameplay, is very faithful to its predecessor in its noiseage. That being said, it is updated in a big way, with distortion-heavy, badass chords blasting at you while you punch demons in the intestines, dope.
Reuben.
Street Fighter V
I haven't experienced the apparently awesome soundtrack of dat particular DOOM, and I'm sure it's great, but Street Fighter V has some pretty awesome tunes to itself, thank you very much. It melds classic themes with metal, skillage guitar solos and the like, to provide a multitude of great tracks to listen to when you're being beaten the hell out of by a pro (or David).
Honourable Mentions:
Pokémon Sun – A fantastic, varied and atmospheric score to make for an even more joyous time.
Broforce – A potently in-your-face soundtrack containing hits such as that song from Power Rangers. Oh boi.
Ratchet & Clank – Good as normal to accompany the action-platformer.
Cam.
DOOM
Best Looking Game.
Now, graphics aren't the most important thing, but everything's better pretty, am I right?
Milo.
Uncharted 4: A Thief's End – It looked real, man, IT LOOKED REAL!!
Skyrim: Special Edition – Skyrim was already impressive back 2011, but now? Just wowzerz.

DOOM – I mean, caved-in faces never looked so delicious.

No Man's Sky – While the game itself was BORING, there's no debating that No Man's Sky was a pipe dream for colour-enthusiasts everywhere.

Inside – Playdead are at it again with a moody, atmospheric, stunning platformer.
Street Fighter V – I mean, goddamn, this is a really pretty game, just bursting with life and energy.
Mirror's Edge: Catalyst
This is definitely not the first time I've completely gushed over the look of Mirror's Edge and I'm sure it won't be the last. While it wasn't exactly critically acclaimed, I had a lot of fun with this game and that came down to the unique gameplay style but, more-so, the graphics. There's something about the sleek, metropolitan style that elicits nostalgia for the 2008 original (I was 7) and screams sci-fi, which it kind of is. However, where Catalyst diversifies from its prior, and that is the prominent addition of vibrant neon in different districts, is where this game's look really shines. It's a small addition, granted, but gave the game a great sense of style.
Reuben.
Steep and  Ratchet & Clank
This slideshow requires JavaScript.
Ubisoft's winter sports game looks incredibly crisp, detailed and wondrously snowy without a flat texture in sight. I doubt I'll ever get a chance to do all these things in Steep in real life, but I can certainly feel like it with these perfect visuals.
Ratchet & Clank, on the other hand, is unique, colourful and detailed with some awesome lighting and textures, bringing the fur-ball's adventures to life like never before.
Honourable Mentions:
The Last Guardian – Stylized and beautiful, ICO have really shown what they can do.
Final Fantasy XV – I mean, the graphics on this are as perfect as in Steep, but I couldn't really give it the spot considering I haven't played it.
Pokémon Sun – A whole load of colour and a more 3D landscape makes this one of the most aesthetically pleasing games in the series.
Street Fighter V – Smooth and stylistic.
Paper Mario: Colour Splash – About as much colour as Pokémon, just a little too dark though.
Cam.
Skyrim: Special Edition
Best Story.
With the rise of dynamic narrative in the industry, it is becoming more and more commonplace for gamers to be treated with stories rivaling the silver screen, 2016 was no different.
Milo.
Mafia III – A surprisingly harsh and uncompromising look at social issues that could be seen as relevant today.

Uncharted 4: A Thief's End – A globetrotting adventure that is wonderfully reminiscent of old action films like (don't say it, don't say it) Indiana Jones (damn it).

Skyrim: Special Edition
With this re-release making its way out this year, nothing else in this category had any kinda chance, did it? I mean, it is the pinnacle of immersive fantasy storytelling in video games and it is yet to beaten, let's be honest. While the "Special Edition" doesn't really add anything to the story as such, Skyrim has an incredible story and it came out this year (again), so it counts. Next!
Reuben.
The Last Guardian
To be brutally honest, I've only played a small portion of what this game has to offer, but there are shades of an awesome story already. It's got a huge aspect of mystery, and that provides intrigue alongside the unique aesthetic and brooding narration; and there is a touching side to it as well, which doesn't often appear in games so high profile.
Honourable Mention(s):
Ratchet & Clank – Fun, bombastic and with a heart, albeit slightly basic.
Cam.
Uncharted 4: A Thief's End
Worst Game.
Oh, there be some crap here, don't worry about that.
Milo.
No Man's Sky
To be brutally honest, like music, I didn't really play that many bad games this year. Unlike music, however, I don't have £100 to spend on crap games just so I can put them here, so Hello Games' revolutionary "game-changer"'s gonna have to do. While I can appreciate the scope and ambition that was put behind this, I can't deny how impressive it is, but the end result felt more like a tech demo than anything else. Plus, you didn't really feel part of a huge online community because the chances of you encountering another player in the huge universe were little-to-nowt. The hype train behind this game, one that I bought a ticket for, was so fast that it ultimately fell off the rails and even the crash was underwhelming.
Reuben.
Table Top Racing: World Tour
This game was so disappointing. I loved Micro Machines, the second one even got into my Top Ten Mega Drive Games, and this feels like the first significant spiritual successor on a console in ages, so I had high expectations. However, it's fun for about half-an-hour until you realise there are only 4 tracks and they all suck. It's all the same thing: basic, slow and tragically formulaic racing. What a shame. Good thing it was free with Playstation Plus!
Cam.
Homefront: The Revolution
Best Developer.
We are constantly bombarded with great games left, right and center. So much so that we forget that there are proper geniuses (geniui?) behind 'em.
Milo.
Naughty Dog – Uncharted 4: A Thief's End – The industry frontrunners have successfully pulled it off again with their grand finale to one of gaming's biggest characters.

NetherRealm – Mortal Kombat XL – I mean this is the peak of what fighting games can be, deserves all the praise it, and they, get.
Bethesda – Skyrim: Special Edition – As well as publishing DOOM, these guys also found the time to re-release one of the best games ever made and then made it better.
id – DOOM – They have retained all the badassery and "not giving a flip" attitude that they had all those years ago and funnelled into one of the most badass games of the year.

Hello Games – No Man's Sky
I know, I know. You're thinking "Milo, you incorrigible dingus, how can the developer of your worst game be the best of the year?" To that, I respond, yeah, No Man's Sky was a bit bloody boring and it was flawed and it was overhyped etc. etc. But, but, you've gotta take into account the technical feat of what Hello Games has achieved; a procedurally generated, multi-planeted universe. That's extremely impressive. So any studio that is capable of that obviously deserves a place here.
Reuben.
Ubisoft – Trackmania Turbo/Steep
Ubisoft aren't always the most friendly or liked company, but it must be said that through all their crap they release a lot of great games, including two of my favourite games of all time, Rayman Origins and Legends, not to mention all the other classics they've released, Assassin's Creed, Prince of Persia, Beyond Good and Evil, etc. It has to be said that Ubisoft are one of the most prolific developers, and for me this year they released two greatuns in Trackmania Turbo and Steep, showing their ability to pan genres and get both right.
Honourable Mentions:
Nintendo – Although I never got the chance to play any of their games, it certainly wasn't a stagnant year and I enjoyed their conferences as per usual.
Team17 – Worms W.M.D/Overcooked – Great work on Worms at the very least, and some promising development on Yooka-Laylee.
Cam.
FromSoftware – Dark Souls 3
Best Gameplay.
Of course, while graphics and story are key factors, we play games for the gameplay, so it takes a lot to get it right.
Milo.
My nominees are:
Mortal Kombat XL – Fast-paced, gory, fun with mates, I mean, this is almost a flawless fighting experience.

Mirror's Edge: Catalyst – There's something conceptually fun about Mirror's Edge; the freedom to run and jump from rooftop to rooftop without a care in the world. Plus, grappling hook.

Uncharted 4: A Thief's End – As well as looking real, Uncharted 4's gameplay felt real as well, with every punch, leap and shot bursting from the controller.

Forza Horizon 3 – The perfect racing formula that has been refined for ten years, delivered in an awesome open world.

Street Fighter V – Classic arcade fun.

DOOM
For some reason, the elusive DOOM (capitals necessary) had slipped my grasp all year, until I finally got my hands on it this past Christmas and, I can safely say, it's a bit flippin' good. No, scratch that, it's a bit flippin' great. I love sci-fi and I love demons, so I can think of no reason why DOOM shouldn't be amazing. However, while it's graphics, violence, soundtrack and badassery may all be on point, it's the frantic, angry, gameplay is where the game shines. With an abundance of gunnery and punchery, DOOM really makes you feel like an unkillable machine of death and blood. However, once you decided to play on Ultra-Violence (Hard) difficulty, the game makes you bow before it because it can be mental. Hordes of varied enemies swarm at you every ten seconds forcing you to stay on your toes until they snap under the pressure, then keep fighting anyway, pussy. That being said, I wouldn't ask for it any other way and it is everything I want from the granddaddy of FPS.
Reuben.
Ratchet & Clank and  Trackmania Turbo
Man I feel wimpy with these choices after Milo picked DOOM, and another joint winner, really? Yeah, I'm just an indecisive dingus. Oh well, both of these games have expertly crafted gameplay and both require the same amount of attention as each other. Firstly, Ratchet & Clank packs in the wacky, obsurd shooting aspect to its best yet, supplying an awesome variety with gun-play that feels like an accumulation of the small improvements and tweaks to it across the series, and has a lot of quality 3D platforming, to boot. It's the flagship for the 3D platformer genre and it takes that role like an absolute king.
On the other hand, Trackmania Turbo pumps in time trial racing the quality of which I've never experienced, potently delivering mental tracks to be controlled with precise controls across all four different car types, which must be mastered along a perfect learning curve, for maximum enjoyment.
Honourable Mentions:
Titanfall 2 – A normal, decent FPS put into overdrive. Stupidly fun and non-stop explodiness.
Worms W.M.D – For idiocy with friends, this is great. For strategic idiocy with friends, it's flippin' brilliant.
PES 2017 – Slick, realistic and satisfying footie.
Cam.
Titanfall 2
Best Game.
Here's the big one, this is best game, the cumulation of all that work, paying off in a big, big way.
Milo.
Uncharted 4: A Thief's End (5 Nominations – Winner of Best Action) – A spectacular farewell to a flagship series.

Forza Horizon 3 (2 Nominations) – Another perfect racing experience from Turn10.

DOOM (5 Nominations – Winner of Best Gameplay and Soundtrack) – I mean, I just sang its praises like a choir boy. It's really flippin' good and probably the closest to my pick.

Titanfall 2 (1 Nomination) – An explosive bastard of a game but a ridiculously fun one at that.

Mortal Kombat XL (4 Nominations – Winner of Best Gore)
I still feel kinda plebby for including this in the article at all, let alone as Best Game. However, the awesomeness that radiates from this game cannot be ignored, as it is one of the best fighting games I've ever played. The argument that this isn't the most complex of the fighters is completely valid, but, considering the fact that I don't have 12 fingers on each hand, I'm quite happy to play a game in which I can jump around and kick a little bit of ass. While the series' standout fatalities look as meaty as ever, it's undeniable that this game is one of the most classlessly and unashamedly fun of the year, maybe even the past few years. It's extremely easy to pick up and difficult to master and I can see myself playing this with friends and solo for years to come, or at least until the next Mortal Kombat comes out.
Reuben.
1. Ratchet & Clank (5 Nominations – Winner of Best Gameplay and Best Looking Game)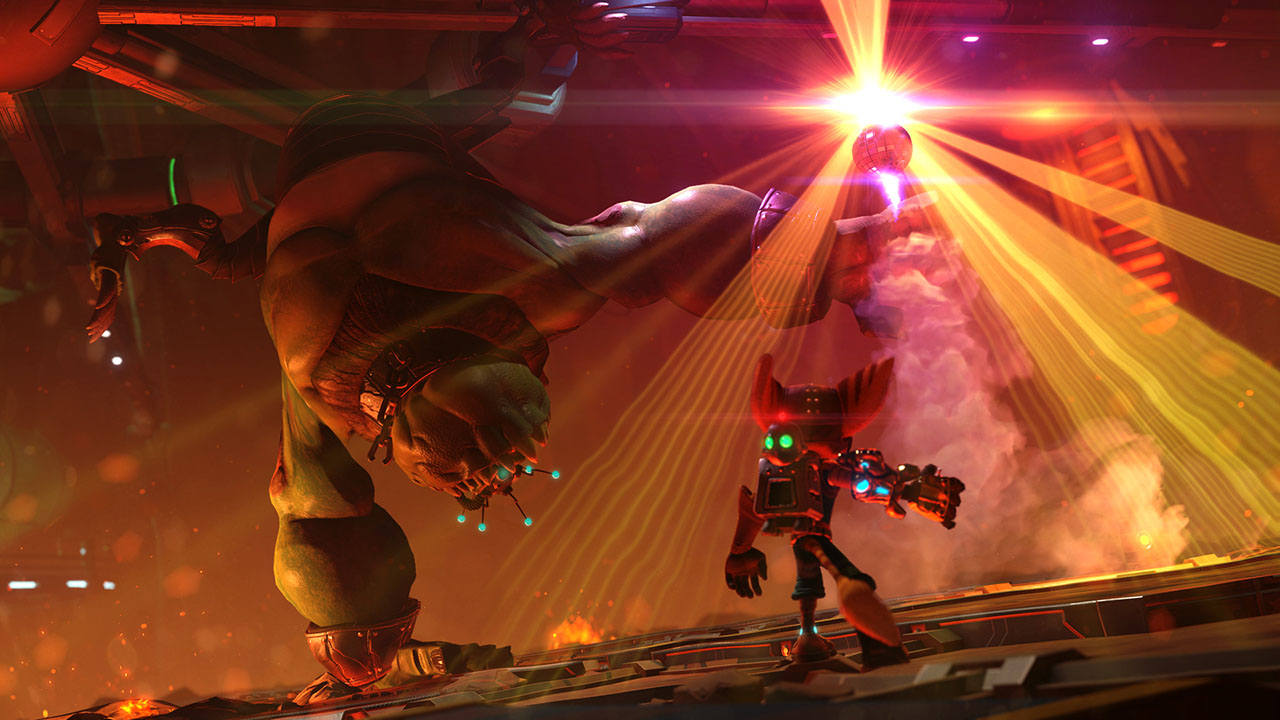 Plebby choice? Childish choice? No, neither. Ratchet & Clank is the best game of 2016. It may have a couple of gems to fight for this spot, but Insomniac have brought out a slab of 24 carat gold with the awesomosity of this pseudo-remake. It brings the most well rounded and entertaining gameplay the series has produced, by melding the fun simplicity of the original PS2 release with the more tactical and varied tomfoolery of the series' most recent games, making splatting aliens and gooey things possibly the best it has ever been.
Godly visuals all round the board, too, Insomniac have made something to feast your eyes on from start to finish, albeit with a couple of small framerate drops here and there — but we can live with those just fine!
Ratchet & Clank's awe-inspiring visuals and gameplay are built upon by its fun story and script, which possess a heart you don't often find in games nowadays. Hopefully other game developers can notice what Insomniac are doing with the 3D platformer genre and games like these can breathe new life into the genre, but we'll see. For now, this is unique, and gobsmackingly brilliant.
2. Trackmania Turbo (2 Nominations – Winner of Best Gameplay and Developer)
A nice li'l learning curve makes this game turn from easy fun to really tough, and it is fun all the way through. There is a fine selection of modes and modes within modes, as there are four different and unique racing styles all with their perks, which can be driven along rickety and mad tracks across a huge single player campaign, local (thank you Ubisoft!) and online mutiplayer, along with a quality track builder to make the experience all the more personal. It's crazy, colourful and intense fun, the best rally racer I've played.
3. Titanfall 2 (2 Nominations – Winner of Best Action)
As a groundbreaker or something unique, Titanfall 2 falls short, but it's so damn fun that barely matters. It's a game I can just sit there and play for ages, mindlessly blowing up massive robots and other people mindlessly blowing up massive robots – or if I'm not too lucky get blown up myself. Not only does Titanfall 2 have a great online, but it also has a great single player campaign, which is the best in a shooter I've played in a while. It's a super-powered shooter I'm sure I won't stop playing any time soon.
Honourable Mentions:
The Last Guardian (2 Nominations – Winner of Best Story) – Fantastically immersive, unique and memorable, a proper experience.
Pokémon Sun (2 Nominations)– Haven't played too much of this yet, but, I can tell it's great already.
Steep (2 Nominations – Winner of Best Looking Game and Best Developer) – A crisp, wintery piece of fun to get stuck into and play for just hours on end, although a couple of technical shortcomings take away its chance to get into my top 3.
PES 2017 (1 Nomination) – Another fantastic footie sim from Konami, showing their developing talent and offering hours upon hours of great football.
Worms W.M.D (3 Nominations) – A heroic local multiplayer effort makes this game one of the stand-outs of the year, along with the fact that it's the best Worms game since 2010's Reloaded.
Broforce (2 Nominations) – A really stupid but really fun and in-your-face bloodfest.
Cam.
Uncharted 4: A Thief's End
And there's ya lot. Two down, one to go. Oh, do stay tuned for Stuff And That's Best Films of The Year, it's sure to be spiffing.
Lots of hugs, kisses and lacerations
Milo.
Bringing redundant opinions to scrollers everywhere,
Reuben.