Another Wild And Entertaining Ride.

Back in 2015, Furious 7 raced into theaters and brought with it new level of box office success to the long running Fast and the Furious franchise. While the franchise has grown, evolving into an interesting dynamic aspect beyond the earlier entries of merely street racing, one of the main interest in viewers seeing Furious 7 was due to the untimely death of the franchise's co-star Paul Walker, with many curious to see how the film (as well as the series) would handle such a hard and devastating blow. Many even began to ask the question if that the Fast and the Furious franchise would end after this movie due to Walker's death. Believe it or not, despite Walker's death during the middle of production, Furious 7 was a rousing success, both in global box office success (raking in over $1.5 billion) as well as sending off Paul Walker's character Brian O'Conner (driving off into the sunset) in a touching tribute. With the success of Furious 7, it was clear that the series still had its mojo "racing" energy, which prompted the studio execs at Paramount Pictures to greenlight the eighth installment. Now, in a way to try to reinvent the franchise without Walker's O'Connor, Paramount Pictures and director F. Gary Gray present the newest entry in the Fast and the Furious series with The Fate of the Furious. Does this latest installment stand tall and proud to its recent successors or has this long-running film saga burned out of energy and fresh ideas?
THE STORY
---
Finding themselves in Cuba, Dominic Toretto (Vin Diesel) and Letty Ortiz (Michelle Rodriguez) are enjoying their honeymoon, contemplating the idea of one day having kids of their own. Unfortunately, their honeymoon is cut short when the mysterious yet powerful cyber-terrorist Cipher (Charlize Theron) emerges, blackmailing Dom into carrying out specialized retrieval mission, amassing lethal weaponry. Unprepared to believe that Dom has betrayed their "Family", Letty, Roman Pierce (Tyrese Gibson), Tej Parker (Ludacris), Ramsey (Nathalie Emmanuel), and Agent Luke Hobbs (Dwayne "The Rock" Johnson) venture forth in hot pursuit to find their now "rogue" friend, aided by Mr. Nobody (Kurt Russell) and his junior associate Little Nobody (Scott Eastman), who are also hunting for Cipher as well. While Dom continues his enigmatic ways of doing Cipher's bidding, Toretto's team travels to New York and beyond to capture Cipher, one step behind her malevolent plans, and bring Dom back to his senses; a global adventure that requires the help from the team's ex-enemy Deckard Shaw (Jason Statham), who also shares a personal vendetta against Cipher.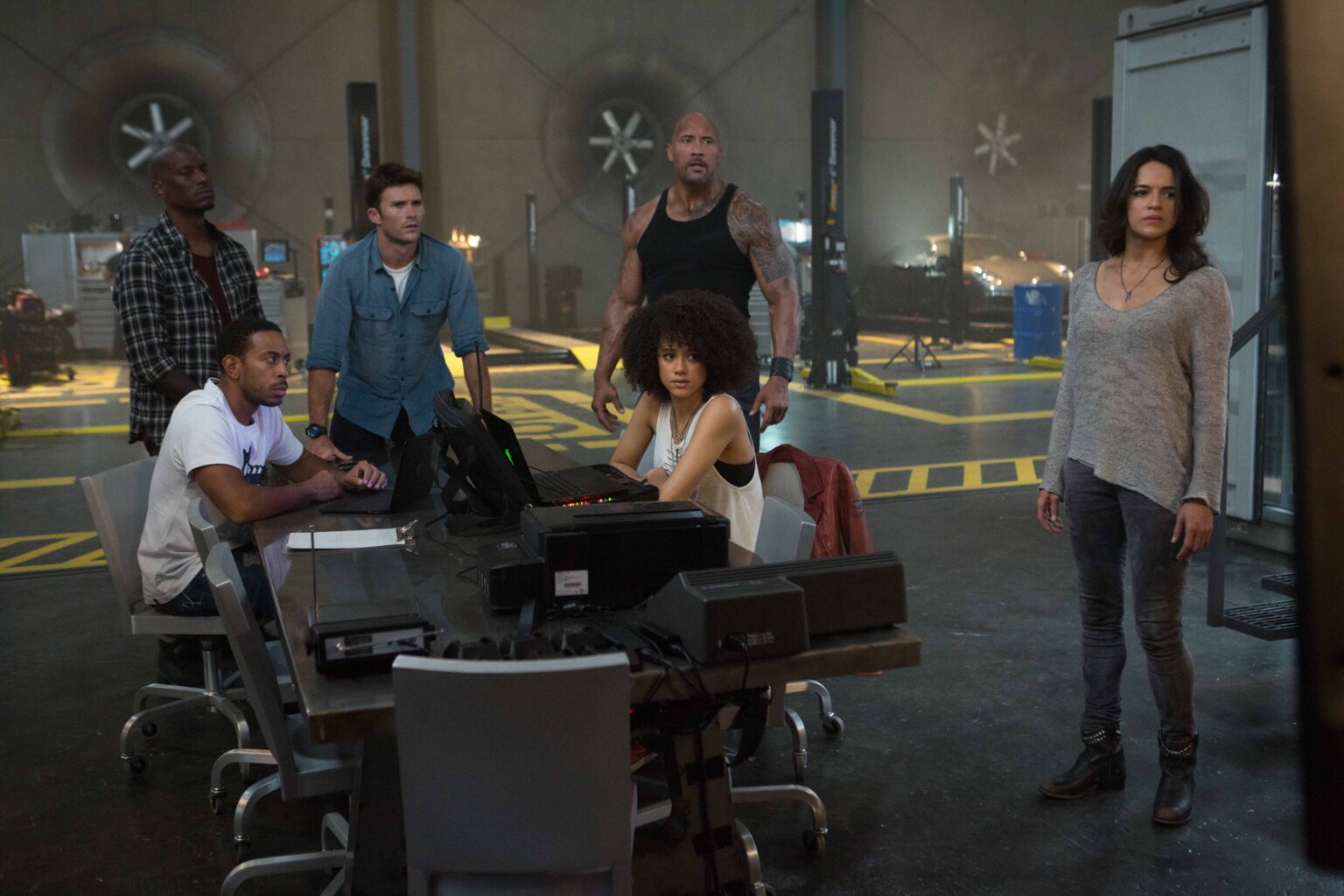 THE GOOD / THE BAD
---
I'll be one of the people who will proudly admit that I do love the Fast and the Furious movies. Like many fans, it wasn't until 2011's Fast Five came out in which the franchise saw a major improvement, choosing for a more focused on story rather than just illegal street racing as well being more of a feature team adventure film (that has some continuity to it) rather than just a simple one and done from earlier installments. Also, like many fans of this film series, I looked upon Furious 7 as bittersweet entry, saying goodbye to Paul Walker's character as well as trying to keep up the momentum from Fast and the Furious 6 going. Luckily, it did. It wasn't perfect, but Furious 7 succeeded and proved the moviegoers (as well as their fans) were still interested in seeing another entry, which bode well for the franchise and its future films. This, of course, brings me to Fast and the Furious 8, which has been officially titled as The Fate of the Furious. Being a fan of the series, I was definitely intrigued to see this movie as its market campaign (all the movie trailers, TV spots, etc.) and was curious to see how the movie would live up to its predecessor, especially without Walker's Brian O'Connor (a main character in the franchise).  What did think of F8? Well, to be honest, I liked it. While there are bumps in it, The Fate of the Furious does succeed in as been a entertaining movie and a solid addition to the series. It may not be the best, but it's still a whole lot of fun
The Fate of the Furious is directed by F. Gary Gray, whose previous work includes directing such films as The Italian Job, A Man Apart, and Straight Outta Compton.  Given his talent on directing The Italian Job, Gary utilizes that knowledge in his ultimately direction of this eight tale of Fast and Furious. Of course, Gary understand what fans and moviegoers want to see and gives that to them, keeping up the "Fast and the Furious" standard of over-the-tope stunts and ridiculous action scenes. Many of those scenes from racing the "Cuban Mile" in Havana, Cuba to the bombardment of Cipher's zombie cars in New York City, to the extra-long race across a frozen lake in Russia are prime staples of Fast and Furious name, but are given the extra "oomph" to be more insane and ridiculous. This is all a good thing as fan of the franchise are expecting this as Gary and his stunt team coordinators as well as cinematographer Stephen F. Windon prove to The Fate of the Furious a grand spectacle in keeping up the over-the-top action of this movie saga every much the "eye candy" of the picture. As aside from the action, Gary also does some fine work on some one-on-one dialogue scenes (more on that below). Thus, in short, Gary's iteration of a Fast and the Furious movie (i.e. The Fast of the Furious) is a welcomed to addition to stand alongside past Fast and the Furious directors such as Justin Lin and James Wan.
The film's script is penned by Chris Morgan, who has collaborated in writing the screenplay for the most of the Fast and the Furious films (from this one to all the way back to Fast and the Furious: Tokyo Drift). As The Fate of the Furious stands as part of running series, the entry also has the dual purpose of starting out a new trilogy, with Morgan given a herculean task of branching the series into new territory (more on the aesthetics of James Bond with a globe-trotting adventure and bigger stakes at play). Luckily, he mostly succeeds and is on point with the overall tone of franchise, finding new elements to bring as well as harkening back to prior films, most notably from in connecting this feature to Furious 7 as well as parts of Fast and the Furious 6. As a side-note, neither Gary nor Morgan don't discard the overall arc theme of the Fast and Furious franchise. Yes, I'm talking about the franchise's underling message of the importance of family (i.e. those who we are born into and those who we are brought into).
While I did enjoy The Fate of the Furious, there are some negative points to take about. With this being the eight entry in the franchise, its abundantly clear that, if you're not a fan of the Fast and the Furious films, then this particular movie will not be to your liking. That being said, the movie does follow a sort of formulaic narrative. Yes, there are some new elements that are added into the mix, but the overall story structure seems vaguely familiar to past Fast and the Furious features. In addition, the first act of the film take a while for it to get going. Of course, there's plenty of action thrills and some Fast and Furious razzmatazz, so it's by no means sluggish, but definitely feels that Gary is taking his leisurely time to put all the pieces of the together. Naturally, it all does by the film's second act, but the first act is just stretched a bit too much. In conjunction with that idea, the film can be (at times) a bit overstuffed with too much (characters, plot points, chases, etc.).
Perhaps the most poignant negative point is that The Fate of the Furious, again while entertaining, falls a bit below the bar of some of more previous installments. To be fair, the franchise saga has set the bar pretty high, especially after the Fast Five. On the other hand, beyond Toretto's going rogue, The Fate of the Furious is pretty much the same as latter films, which can be both good or bad (it depends on how you look at it. For me, it's somewhere in the middle, but more on the positive side. There's still much to like about The Fate of the Furious (and be enterainied by its spectacle), but just doesn't quite raise the bar. I, for one, do like the Fast and Furious films (always tremendous fun to watch), but I think the next future sequels need to evolve the narrative a bit more, setting the bar new heights for Toretto and his family. Again, most of these are just minor negative nitpicks that didn't hurt my overall enjoyment of the film.
As a side-note, Cipher's hacker control of the cars, while visually impressive on-screen, is a bit ridiculous, but then again, so was God's Eye in Furious 7, the super way long airport chase scene in Fast and the Furious 6, and the Bank Vault chase in Fast Five. So, I guess that I just have to take Cipher's "zombie" cars as face value and part of the Fast and the Furious brand.
This being eighth chapter in the Fast and the Furious saga, many of cast members returning to their posts in playing their respective characters. Naturally, the franchise's veteran actor Vin Diesel leads the charge once again as Dominic Toretto. It's clear that Diesel, known for his roles in Guardians of the Galaxy, Pitch Black, and XXX, got his "claim-to-fame" recognition for playing Dom Toretto and he's just as comfortable as ever playing the role, even though his character goes "rogue" and becomes a somewhat antagonist in this installment. It's definitely his most dynamic / dramatic performance as Toretto in the franchise and, while he may not get an Oscar for the role in the movie, Diesel still delivers the necessary emotional weight for the feature. Even the reason behind Toretto's "turn to the dark side" reasons is compelling reason for his character and fits into the narrative of the Fast and Furious common thread theme.
While Diesel's Toretto is working for "bad guys" for most of the film, Dwayne "The Rock" Johnson character of Luke Hobbs fills in the role as "team leader" for Dom's family / team member crew. Due to his heavily work schedule, Johnson's Hobbs was reduced to a more side character in Furious 7 (sort of bookending the feature in the first and third act). Luckily, due to the absence of Walker's Brian O'Connor, Johnson's Hobbs has been elevated to have a more prominent role (aka more screen-time). Given his overwhelming popularity of late, with recent hits in Moana, Central Intelligence, and the HBO TV show Ballers, Johnson's screen presence is indeed palpable, delivering a commanding performance through his sheer body size / mass and through his uncanny way of delivering his dialogue lines (cheesy, but hilarious). It will be interesting to see if Johnson will continue with the Fast and the Furious franchise, with Diesel and himself being the two biggest "action hero" stars of the movie (also there allegedly on-set riff feud between the two that has been publicly documented on recent social media) and may prove difficult to cast an equally spotlight on the two of them. Personally, I do hope that he stays as Johnson brings his natural charisma to the series (fitting perfectly with the franchise's direction of being over-the-top) and is comfortably settling into his role of Luke Hobbs (somewhat filling the role of Walker's O'Connor as co-protagonist lead). Looking beyond those two leads, the core characters of the Fast and the Furious franchise (aka Dom's Family / team) returns in The Fate of the Furious. This includes Chris "Ludacris" Bridges's tech savant Tej Parker, Michelle Rodriguez's "Miss Alpha" Letty Ortiz (I guess now Letty Ortiz-Toretto since she and Dom got married), Tyrese Gibson's fast-talking Roman Pearce, and their recent team addition (from Furious 7) Nathalie Emmanuel's tech hacker wiz Ramsey. Despite some getting pushed in the back or are only there to fill in the gaps as supporting stock-like characters, these actors / actresses are pretty well-versed in their characters (even Emmanuel's Ramsey), easily sliding back into their respective roles. In short, while there's really nothing new to Dom's team members, they (as a collective group) bring a sort camaraderie team dynamic that has worked in the past entries and continues to work in The Fate of the Furious.  Also, joining their team is past enemy character from Furious 7 Deckard Shaw, who is played by actor Jason Statham. Statham, known for his roles in The Transporter, Spy, and Snatch, is definitely a standout role in the entire movie, naturally showcasing his action stunts throughout the film, but also highlights his comedy bits (something that he's not really not for), especially in his humorous banter with Johnson's Hobbs. Like The Rock, I do hope that Statham will stick around for future entries in this film saga as his presence in this movie is a welcomed one.
Acting as the film's central antagonist character is Oscar-winner Charlize Theron as the villainous Cipher. Theron, known for her roles in Monster, Prometheus, and Mad Max: Fury Road does bring a sort of cold and icy-ness to Cipher; a nuance that sort of reminiscing of a classic James Bond villain (i.e a cool hideout base of operations, guns, high-tech gadgets, and amassing powerful weapons for global domination). Some of the best scenes with her involve her one-one-one scenes with Vin Diesel's Toretto, providing to be the tensest dialogue driven scenes in the entire feature. Perhaps the only negative criticism I have for the role of Cipher is we never get to see Theron in action as we (the viewers) only see her in a high-tech flying command center and pushing buttons. This, of course, is strange sense most of what Fast and the Furious movies stand for is in its action sequences. Additionally, given her role as Furiousa in Fury Road and in her upcoming film Atomic Blonde (just saw the trailer when I saw The Fate of the Furious), Theron can handle being the action heroine character.
In more supporting roles is seasoned actor Kurt Russell, who returns to reprise his Furious 7 character of Mr. Nobody, leader of a covert ops team who lends a helping hand to Dom's family. While Russell's performance is great as he slides back into the role from the previous film effortlessly, he sort of bookends the feature, which is probably a result due to Russell's commitment on working on Guardians of the Galaxy Vol.2 (I assume it was filmed the same time around The Fate of the Furious). Filling in that role as "handler" for Dom's Family / team is actor Scott Eastwood (son of Clint Eastwood) as the character that gets dubbed "Little Nobody". While I have no problem with Eastwood's acting ability, his character just falls flat and is unimpressive from start to finish, being an extra body for certain scenes and being a sort of "punching bag" (both physical and verbal) from Toretto's team. Faring better than Eastwood's Little Nobody is actor Kristofer Hivju, who many will recognize as Tormund Gianstbane from HBO's Game of Thrones, as Cipher's main lackey henchmen Rhodes. Also, there's all the buzz of having Oscar-winner actress Helen Mirren playing a part in The Fate of the Furious. While I won't say what her roles is, I will say that, while small, is still definitely a fun role for the popular actress to play, especially in a Fast and the Furious movie. Lastly, before I forget to mention this, there are a couple of surprise cameo appearances from past Fast and the Furious installments. I'm not going to spoil it for you guys, but just keep your eyes open for them when they appear.
FINAL THOUGHTS
---
Dominic Toretto has gone rogue and only his team can stop him (and Cipher) in the movie The Fate of the Furious. Director F. Gary Gray latest entry in the long-running action series succeeds in capturing the further telling of Dominic Toretto (and his team) as well as keeping up the aesthetic of the more story-oriented angle that the franchise began back in 2011's Fast Five. While the movie does feel overstuffed and formulaic and not as strong as past entries, the film does retain all the ridiculous thrills and high octane spectacles that one might grow accustomed to watching in a Fast and the Furious movie. All in all, I liked this movie…. a lot. Yes, it wasn't my personal favorite installment in the franchise and each sequential film has become a formulaic at times, but this eight adventure of the series still delivered an entertaining entry. Basically, take the film for what it is and you'll enjoy it as much as I did. Thus, despite what some may say, I do highly recommend this film to its fans (no need to add an Iffy-choice recommendation as non-fans of these movies will probably not see it in theaters). While The Fate of the Furious is predicted for big box office success, the ultimate longevity of the Fast and the Furious franchise still remains unclear. However, on the other hand, this latest installment proves that there's enough insane action fun fuel left in the series, propelling future sequels (I believe there's two more planned) to conclude the Fast and the Furious saga on a high (and probably crazy adrenaline filled) note.
______________________________________________
82/100
_____________________________________________
The Fate of the Furious  is 136 minutes long and is Rated PG-13 for prolonged sequences of violence and destruction, suggestive content, and language
Special thanks to Milo for letting me post my review on here. If interested, check out my site Jason's Movie Blog as well as Facebook and Twitter.