Milo here.
Ooh damn, this is one for the B-boys among you, as I'm sure there are many. Indeed, as well as Gorillaz' Humanz, the new album from Abdominal and DJ Format, Still Hungry, is also out today, leading me to be very happy indeed (links below).
For those who need to catch up, Abdominal, or MC Abdominal, is a Canadian rapper who's been storming the alternative hip-hop scene for about 15 years, thanks to his laidback style and ridiculous lung capacity. On the other side, DJ Format is a British DJ who's also been storming the alternative hip-hop scene for about 15 years as well, due to his use of soul and funk-influenced samples and loops to great, chilled, effect. On their own, they're some of my favourites in their respective fields, so when they collaborate? Well, that's flippin' awesome. They've come together on a few projects before, so they know what they're doing with this new release. If you're a fan of alternative, laidback hip-hop, I'd highly recommend you give these guys a listen.
As I thought I'd be nice, I will be including songs that have EITHER Abdominal or Format, not necessarily both (but most of them are).
10. Ill Culinary Behaviour (Music For The Mature B-Boy, 2003)
We kick off with one of the first collaboration between the duo, and one of the most beloved for fans. As per the usual, Format establishes this dinner party's atmosphere with a smooth, jazzy bassline, the aural equivalent of dark chocolate, sticking some dope-ass organ licks in there for good measure. However, it's Abdominal's "flavourful quotes" and brilliant delivery that provide the focus of this track. I guess food metaphors over a tasty beat is pretty apt when you think about it.
9. Slow And Deliberate (Flowtation Device (w/DJ Fase), 2004)
As you'll notice by the lack of Format on the cover above, this track's from the LP Abs did with DJ Fase, my first personal exposure to the MC. Regardless, as the song title suggests, the beat on this song is both slow and deliberate, as is the delivery from the rapper. It serves as a great intro to both the album and the genre on the whole, as Abdominal directly addresses the listener and runs them down the basics of hip-hop and rocking mics.
8. Breathe Later (Escape From The Pigeon Hole (Solo), 2007)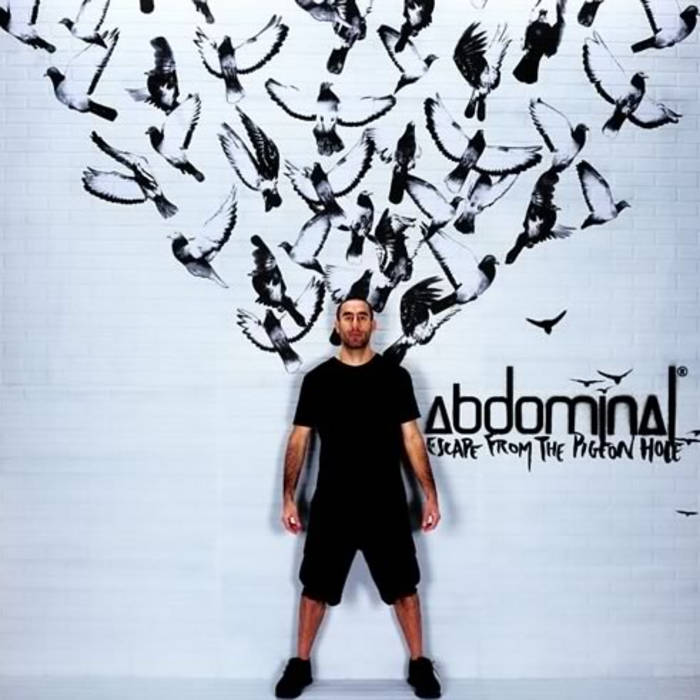 "I dunno where he gets off mentioning DJ Format, these last two picks don't even 'ave 'im in there" is what you may be thinking. To that I say, shut up, it's my list. Anyway, you know when I mentioned Abs' impressive lung capacity, yeah, this is what I meant. As, again, the title suggests, Breathe Later showcases the MCs oxygen intake to great strengths, rapping 48 bars on 5 breaths. That's stupid mental. That IS stupid mental. I get out of breath walking up the stairs.
7. 3 Feet Deep (Ft. D-Sisive) (If You Can't Join 'Em, Beat 'Em, 2005)
Okay, guys, it's all good, we gots Format back. And D-Sisive as well! Indeed, the fellow Canadian rapper guests on this track as he does on many songs on If You Can't Join 'Em, Beat 'Em. Format lays down a bouncy beat for both MCs to play absolute havoc on, which they do. The lyrics spit on this track, and the way each rapper weaves between lines, make it a quality listen that provides pretty solid evidence to why this is one of my favourite hip-hop albums of all-time.
6. I'm Good (If You Can't Join 'Em, Beat 'Em, 2005)
Okay, the lyrics in 3 Feet Deep are great, but the similies spit in this sucka are of Ugly Duckling quality, in fact, they probably top it. The ultimate boast track, Abdominal sifts through the entire English language, and a few others, to convince you how good he is, and it doesn't take much convincing, I'll tell ya that much. Add to that another energetic beat and funkalicious bassline from Format, as well as some excellent scratchwork, and you've got one of the most literal and self-explanatory songs out there.
5. Vicious Battle Raps (Music For The Mature B-Boy, 2003)
Ooh! This one might not go down too well, considering that this is a bonafide fan fave of the duo, always getting the crowd pumped at shows, and it's only 5? Well, I have my own personal favourites, but I can't deny how great this track is. A smooth bass loop weaves it's way around the astounding bars-upon-bars that Abs spits, my favourite being "Plus nimble like a tree frog/But with the strength of ten men/Who each possess the strength of ten men". It's just the most classic example of what the rapper does best.
4. Separated At Birth (Ft. D-Sisive) (If You Can't Join 'Em, Beat 'Em, 2005)
I almost let this slip under Vicious Battle Raps, due to the sheer popularity of it, but I couldn't do it, something compelled me. That thing was probably the appearance, once again, of D-Sisive, and how the two MCs duck and weave between lines, like a two-man Beastie Boys. Moreover, we've got a quality sample laid down from Format, who doesn't shy away from the flute loop. And if Beastie Boys proved anything, flute loops are king.
3. Statement Of Intent (Ft. Sureshot La Rock) (Statement Of Intent, 2012)
Oh damn. Format's got his revenge with the eponymous track off his 2012 record Statement Of Intent, swapping Abdominal for another frequent Format collaborator Sureshot La Rock, who spits harsh rhymes with an aggressive delivery over a phat riff sample laid down. I'd go as far to say that it's the best from Format, simply down to how different it is from everything he's done. It's a raw riff that really kicks ass under Sureshot's bars. It's just a really badass rap song.
2. A Good Day (Flowtation Device (w/DJ Fase), 2004)
Oooooh, this was almost no. 1. I had to stop myself, I really did. This is one of my favourite hip-hop songs, it's just so feelgood and chillout. The summery acoustic sample really lightens the atmosphere up for Abdominal's silky flow to spin a perfect day. The lyrical content of the song makes it extremely difficult for you to walk away from it without a phat smile on your face, it's like a hip-hop flavoured Yankee candle.
Oh you know chaboi couldn't pick just ten, that's silly.
Rap Machine (If You Can't Join 'Em, Beat 'Em, 2005)
Courage (Ft. My Mom) (Sitting Music (w/The Obliques), 2012)
T-Ode (Ft. Notes To Self) (Escape From The Pigeon Hole (Solo), 2007)
Fast Food (Fry Antics) (Flowtation Device (w/DJ Fase), 2004)
Big Track (Escape From The Pigeon Hole (Solo), 2007)
Woah, so what's no. 1? You probably already know, Mr Skip-to-the-end.
1. Participation Prerequisite (If You Can't Join 'Em, Beat 'Em, 2005)
I had to pick the ultimate collab between Format and Abs, didn't I? It'd be a bit of pisstake to do otherwise, let's be honest. Indeed, while the addition of D-Sisive is always a good one, and Vicious Battle Raps is an absolute classic, I had to pick the one that got me into the suckas in the first place. A quirky, jazzy sample adds a fun atmosphere to a track that disses and dismantles any and all arguments that come to Abdominal with ease and wit. The lyrics on this thing are some of my favourite put to pen-to-paper-to-mouth-to-mic, it's just dope, trust me.
I apologise for the severe lack of videos on this thing, but I'd highly recommend you youtube, at the least, the top three if you're even remotely interested, as I said, I couldn't recommend these guys enough.
If you ARE interested, their new album, Still Hungry, is available here.
Lots of hugs, kisses and lacerations
Milo.