Milo here.
Here we are again, a year on from my first of this top ten type, which, for me, is a bit mental, actually. Needless to say, we've had E3 over the past week so it only seems just that I should have a little looksie at what the future's offering for the world of gaming.
However, this article, while primarily E3 announcements, may also include some other little things coming up as well, and some rumours here and there. Basically, anything with any sort of promise and is out after June 2017 in the UK is up for grabs, so let'sa go!
10. Crackdown 3 (November 7)
Coming in at no 8 in last year's post, Crackdown 3 has been circulating around for years and years, first making a slight appearance at the launch of the Xbox One, and then drifting back off into purgatory. However, with E3 this year, we now have some gameplay and a new trailer, with the one and only Terry Crews, what a complete meme.
The gameplay in particular is very exciting for me, with the full extent of the destructive environment being shown right off, a feature I've been waiting for for a very long time. Moreover, the neon-tinted cityscape really looks to fix my aesthetic problem with Crackdown 2. I'm not expecting too much in the way of story from this game, just a damn good time.
9. State Of Decay 2 (TBA 2018)
Coming in at a solid no 2 in last year's list, State of Decay 2's hype train is built mainly upon how absolutely stellar the first one was. Needless to say, State of Decay came out of nowhere to blow my absolute dick away. Now, almost 5 years later, the sequel to the original is shaping up nicely, with a bit of knowledge coming out at E3. Reportedly looking to refine and expand upon the original in every way, hopefully we can look forward to more of the relentless zombie bouts and noisy rummaging that we have so grown to love.
8. Agents Of Mayhem (August 18)
Not that you'd know it, but Agents of Mayhem is actually the latest in the Saints Row series. Now, while I haven't been too invested in the universe, I was very much enjoyed Saints Row IV, and this game looks to be very similar. As in following the trend of "let's just get progressively sillier as we go" that the Saints Row games seem to have acquired, IV let you kick alien ass with loads of superpowers such as flight and super speed. Agents of Mayhem, seemingly superhero-based-ish, is set in Seoul and seemingly carries many of the same mechanics, so I'm happy about that.
7. Days Gone (TBA)
OH MY GOD, LOOK AT THEM, LOOK AT ALL OF THEM. Proving that you can never have enough decaying undead bastards in your life, Days Gone, the new IP coming to Playstation bloody somewhen, has one very convincing game mechanic — SO MANY ZOMBIES. So many zombies that you'll be making some breakfast before you turn the Playstation, hear some faint grumbling noise, walk into the living room, put your ear to the console and be pulled in my skinless, undead fingers protruding from ya disc drive, goddamn. Seriously, using the Unreal Engine 4, Days Gone looks to push it to its limits with massive hordes of rotting fleshbags. I mean, I'm all for gung-ho, but I might have to go stealthy here…
6. Beyond Good And Evil 2 (TBA)
If you are follower of me on Twitter, which you feckin' better be (@milowhite74), then, when this badboi made an appearance, would've been greeted by a couple of "BEYYYOOOOONNDDD GOOOOOD & EVILLLLLL"s for the next few hours. In fact, it's surprising that it ain't higher on the list, oh wellsies. While I did enjoy the PS2 classic a fair bit, I think my excitement for this comes because of how crazy it is that it's happening, I mean, there was a lot of rumour around this thing for a good decade. Now that it's coming, I can't wait to see if it was worth it.
5. Star Wars Battlefront II (November 17)
Okay, okay, 2015's Battlefront reboot was decidedly average, I get it. However, I think, with what we know about it at least, the sequel is looking to bring the series back to former glories, with the addition of a single player campaign (a must-have in my opinion) and characters from both the prequel and sequel trilogies, as well as the original three. I think Battlefront had some good gameplay structures, but not enough variety, so II looks to give it just that, as well as some free DLC apparently, so happy days. If the *stars* align and everything goes as well as it looks, I think we may have the ultimate Star Wars game on our hands, even if they're not made out of Lego.
4. Super Mario Odyssey (October 27)

Now, I don't have a Switch yet, but if any game was gonna convince me to get one, it's gonna be this. While I've never thought of Mario as one of my favourite game series, I have enjoyed a few in the past, with Sunshine being one of my favourite games of all time. However, this looks completely different to anything I've seen come out of the franchise. With the main gimmick looking like a hat that you can use to become anything in the world (kinda Prey-style, in a way), the amount and variation of the worlds on display here is astounding. As you can see, there's even a real-life style metropolis, a world-type that I am a big fan of. But, with the classic platformer gameplay Mario pioneered, you can't go wrong.
Boi, it's the tip-top– three…
3. Middle-Earth: Shadow Of War (October 10)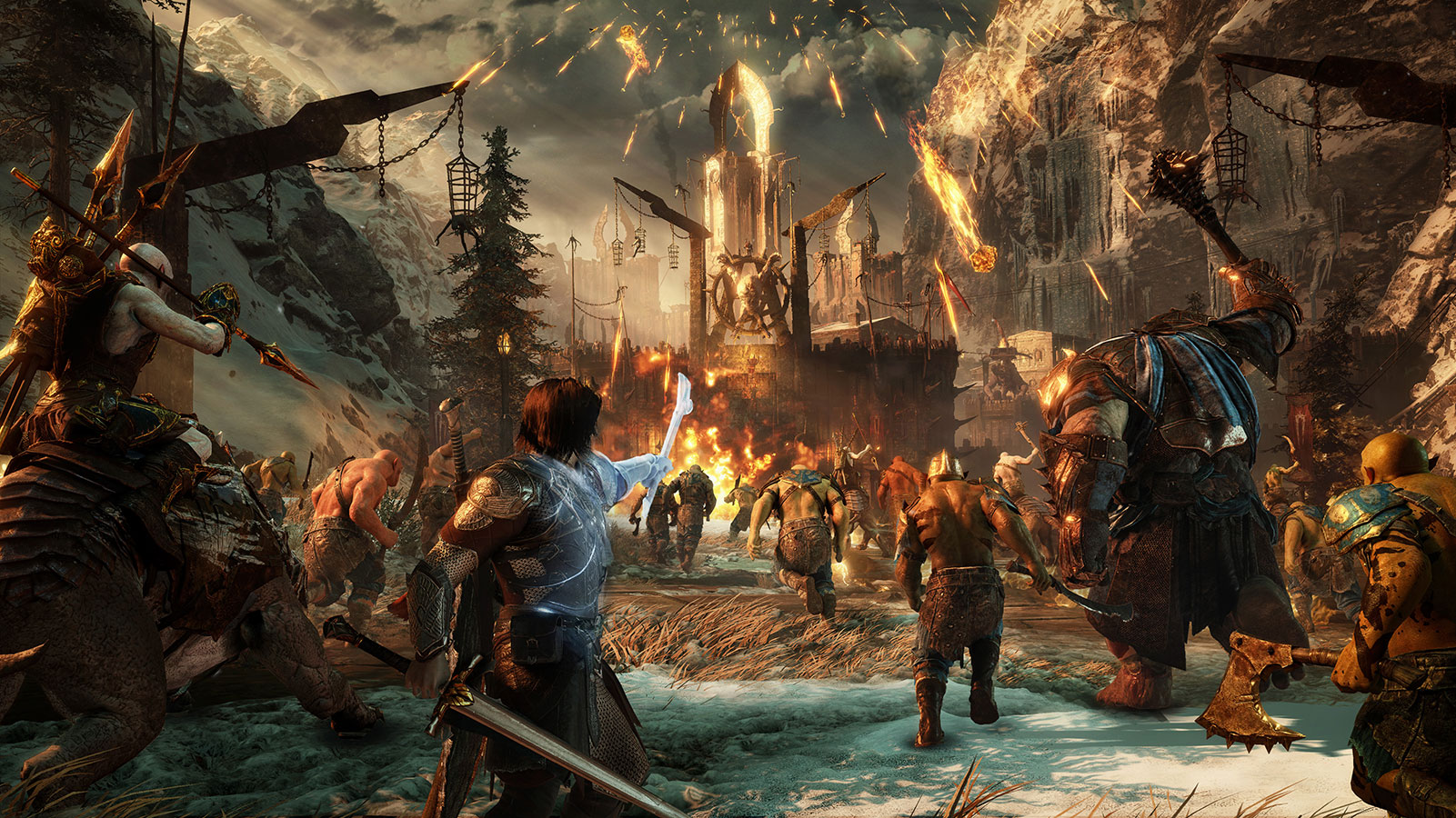 I actually wasn't too bothered about this one, even though Shadow Of Mordor was one of the best games of 2014. That is until recently, when I saw some of the gameplay footage from E3 and was reminded of why Mordor was such an absolutely brilliant game. While I haven't seen or heard of any new, persay, features or gimmicks, if Shadow Of War just does more of the first one, but bigger, I'll be more than happy. It seems that the Nemesis system, one of the best things about Mordor, is returning, as is the Assassin's Creed-Batman Arkham fusion-style gameplay. I'm pretty sure this one is a sure-fire success, unless something crap happens — or a crappening. Thank you.
2. Marvel vs. Capcom: Infinite (September 19)
Daaaaaaamn, when's this gonna come out?????? I've been waiting and wanting this for bloody ages now, each time thinking it'll be out in time for my next birthday or Christmas, each time, no dice. However, looks like, when September arrives, we can finally sink our teeth in. I'm always excited for the next fighting game to come out ('cept Tekken 7, which can lick ma balls), and I can't wait to get Mega Man in the mix, as well as a plethora of other brand new characters. That being said, I am slightly concerned over the rumours that there will be no X-Men in the game, leaving fan favourites like Wolverine out in the cold. Still, I'm sure we're in for another treat from arguably the masters of the genre.
There were plenty of games at E3 and beyond that have taken my fancy, here's some that didn't make my prime cuts.
Detroit: Become Human (TBA)
Death Stranding (TBA)
Cyberpunk 2077 (TBA)
Red Dead Redemption 2 (TBA 2018)
Far Cry 5 (February 27)
Sea Of Thieves (TBA 2018)
Forza Motorsport 7 (October 3)
Cuphead (September 29)
Anthem (TBA 2018)
Shadow Of The Colossus Remake (TBA 2018)
So what's no. 1? It can't possibly be the no. 1 from the last list could it? Nah, probably not. That would be so stupid and predictable, wouldn't it? And referencing it here in a vain attempt to make it seem meta and cool would be absolutely pathetic…
1. Marvel's Spider-Man (TBA 2018)
Feckin' whoops! I mean, okay, having the same no. 1 spot is lazily. However, the fact that my excitement for it hasn't diminished in a year should solidify it here, no? Still, while last year I was running purely on the announcement of an Insomniac Spider-Man IP and the idea that we could get a Sunset Spiderman-type game, which is wicked, we now have gameplay footage to back it up and HOLY FUNKY BALL OF TEATS, does it look tasty. Seemless action and cinematic style gameplay mixed with a huge looking world and pristine graphics, count me right in. As someone who grew up playing Spider-Man 2 on Gamecube, I never, in my wildest dreams, thought I'd see such a perfect realization of what it was to be Spider-Man, so I'm gonna predict that this is gonna be swinging into my year-end favourites like no-one's business.
That be that then. What were your favourite announcements from E3? Or did you think it was a whole load of shite? I don't care, but please validate my popularity with a like and a comment. I beg.
Lots of hugs, kisses and lacerations (—damn it feels good to be typing that again!)
Milo.