Milo here.
Golly! We sure do post a lot of drivel about music here, don't we? Sometimes I forget that this is a variety blog, so I thought a little TV article might just spice things up.
First airing in 2003, The Mighty Boosh was created by Julian Barratt and Noel Fielding and, over three series, follows Howard Moon and Vince Noir (played by Barratt and Fielding respectively) as they work at a zoo and later pursue musical careers. Surrounded by a cast of demented characters, the show is renowned for its surreal humour and distinctive look. It also happens to be my favourite show ever to air on TV, but that's by the by. Except it isn't, because that's the reason I'm doing this list.
As the title suggests, I'll be counting what I feel to be the cream of the crop from series 1-3 of The Mighty Boosh, and won't be counting anything outside of that (not that I think there is anything). So come with us now on a journey through time and space…
10. Mutants (S1E2)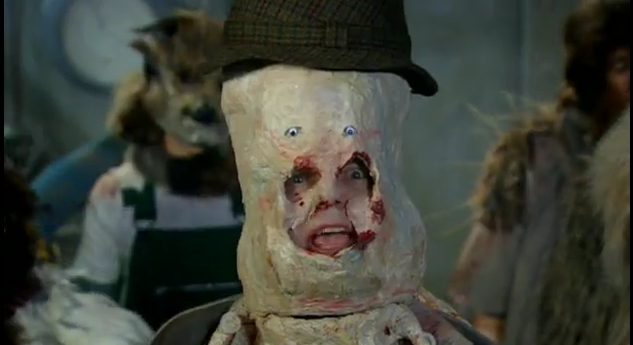 Animals are disappearing in the zoo and are being turned into godless mutants. Some great moments here, with some of the best lines in the first series, "You batty crease" and "Rinse you out like a hot flannel" to name a few. Matt Berry is great as per as Dixon Bainbridge and the post-credit drum-n-bass snake charming is genius.
9. Fountain of Youth (S2E4)
After suffering an age crisis, Howard and Vince travel Naboo's homeworld in search of the fountain of youth. This is series 2's Hitcher episode, and, in my opinion, the best of three, with the peppermint nightmare racing against the two to reach the fountain first. Moreover, Rich Fulcher's blue midget, coneheaded tribe leader is one of my favourite of his characters in the series.
8. The Power of the Crimp (S3E3)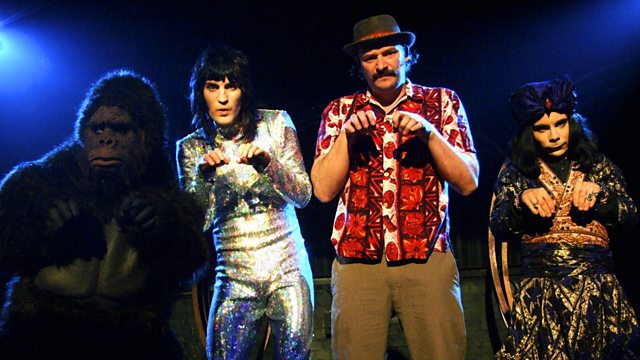 Howard and Vince are being impersonated by two fakers, and it comes down to the crimp to prove who's the original. The crimps have always taken a small space throughout the Boosh and have become one of the many trademarked features of the series, so it's great to see an entire episode dedicated to them. This also stands out as the strongest episode from series 3, in my opinion.
7. Call of the Yeti (S2E1)
Dragged along by Howard to the woods, the gang find themselves at odds with a bunch of horny yetis. This used to be my favourite episode when I was younger, probably due to the catchy-as-hell song, and, while I don't love it as much, it still holds a fond place thanks to the aforementioned song and the scene at Shamansbury's.
6. Killeroo (S1E1)
The first episode of the first series, Howard is blackmailed by Bob Fossil into a shady underground boxing match against a kangaroo. This first episode nailed the tone of the Boosh so, so right, with an absurdist and psychedelic song and some of the best quotes that the show had to offer in it's entirety.
5. Charlie (S1E6)
Vince's story about bubblegum man is picked up by a publisher, much to Howard's dismay. This episode really showcases how good the design is on this show, with Charlie himself being a really cool piece, epitomising Fielding's art style to a T. There's also some quality lines and some great songs in the midst too.
4. Tundra (S1E4)
Howard and Vince travel to the Arctic tundra in search of the Egg of Mantumbi, but they are met with pure evil in the Black Frost. As well as being ridiculously funny and well-designed, the Boosh also boasts a soundtrack that is rarely bettered, with original songs being some of the best in film and TV. This isn't truer than in Tundra, with the Tundra Song ranking as my favourite of the Boosh songs.
IT'S THE T-T-T-T-T-T-TOP THREEEEEE
3. The Nightmare of Milky Joe (S2E6)
After being shipwrecked, Howard and Vince descend into coconut madness, ending in tragic circumstances. This is the finest example of story in the show, with the plot spirals into something straight out of a crime novel, even if the supporting cast are primarily coconuts.
2. Nanageddon (S2E3)
After trying to impress some goth girls, Howard and Vince inadvertently summon an army of demonic nanas. An episode that I regularly go back to if I've got a spare 30 minutes, there's something about this episode that makes it a ridiculously fun watch, with Rich Fulcher perhaps giving his best performance ('part from Bobby Bob-Bob, King of the Donut People) and having some exceptional lines
1. The Legend of Old Gregg (S2E5)
After a particular poor performance, Howard and Vince escape to a small fishing community, where they are met with the legend of a fishy transvestite. No other episode is more Mighty Boosh-y than this. With appearances from the Moon and the titular aquatic bastard, the character design is on peak form and, with 2 great songs, it's musically magical. Fielding also puts in his most memorable performance as Old Gregg, with the character standing out in Boosh canon as a fan favourite, with this episode being acclaimed as the best by basically everyone, and rightly so.
If you're a fan of surrealist or alternative comedy and haven't seen this show, I couldn't recommend it enough and I probably haven't done it enough justice. It's on Netflix so, if ya got Netflix, you should… go and watch it, mate.
Lots of hugs, kisses and lacerations
Milo