Scum f*ck.
Milo here.
Dammit! They had to go and announce that Scum Fuck Flower Boy wasn't the official title to this badboi! Meaning that I can't sneak in an uncensored swear due to the shitty principles of this goddamn site. Oh wait…
(Scum Fuck) Flower Boy is the fourth major label release by L.A. alternative rapper Tyler, the Creator, whose ventures into fashion and entertainment, through the OFWGKTA (Odd Future) collective, of which he is co-founder, have brought him a large amount of attention in the past 5 years. This is also in due part to the massive amount of controversy that has surrounded Tyler thanks to his explicit and juvenile lyrics, which led to him being banned from performing in the UK (but that mainly our bad, soz).
After gaining reputation as somewhat of a pranker to his fans and the music media in general, many outlets reported on the title and some of the lyrics from this album being possibly a coming out statement from Tyler. This is irrelevant and I won't take this into any consideration other than when looking at the content of the song, cus it don't mattaaaaaaaaaaaa, ya dingus.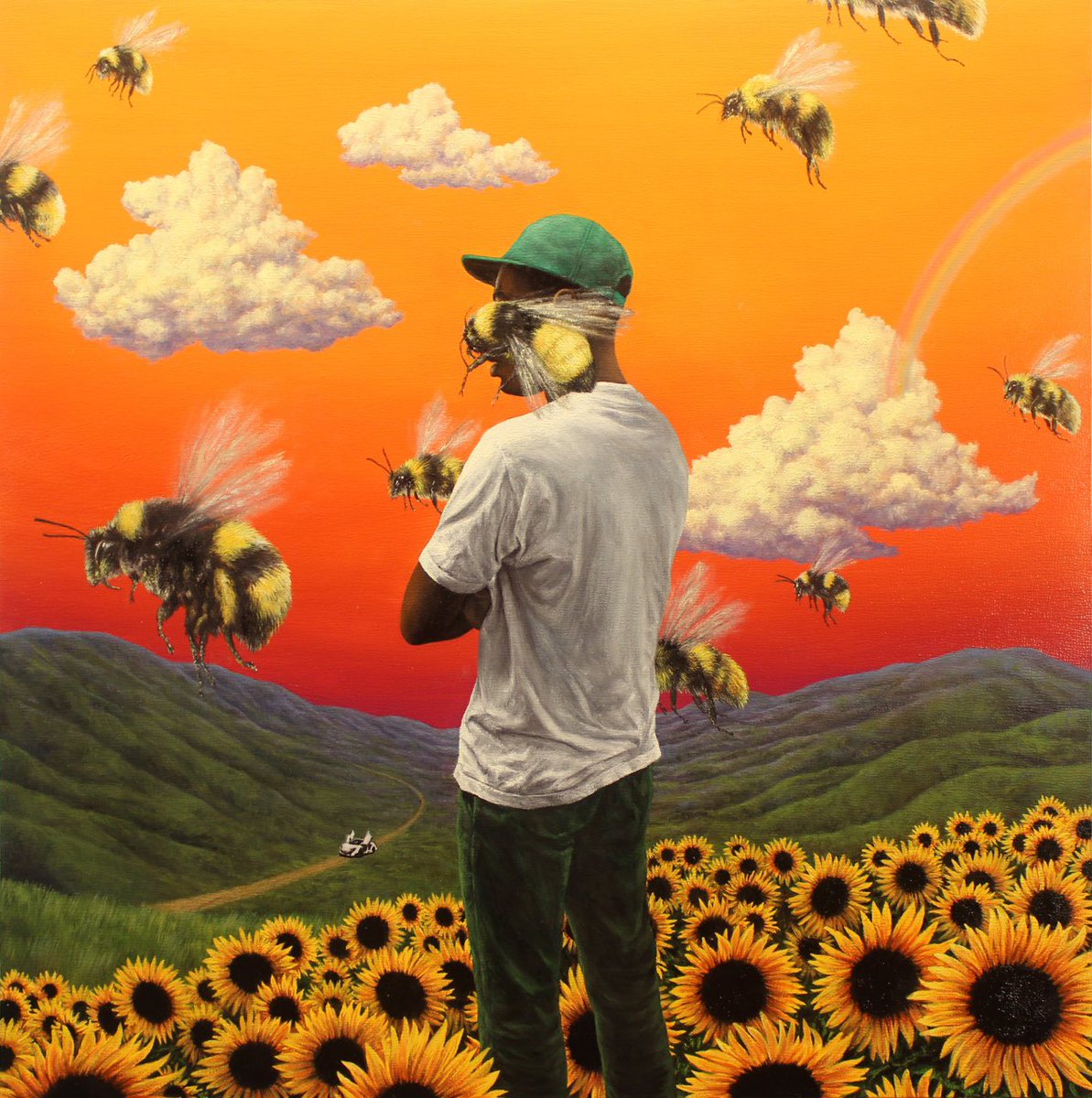 The album opens with the aptly titled Foreword. Introducing itself in the form of a couple'a obscenities and an opening verse from Tyler, with a light guitar track and sparce, somewhat distorted beat behind it. So far, I'm not really into it, it's OK, but I'm expecting something a little bit more for the intro. The song also feautres Rex Orange County on guest vocals, measuring the level of meh we get from the instrumental. The main instrumental is then swapped out completely with a muddy, low frequency bassline and some atmospheric and calming synth sweeps and all is good, I'm ready to dig into this thang.
Opening immediately on a good foot with a soulful piano track, we have Where This Flower Blooms, a song which presumably brought up the discussion of Tyler's sexuality thanks to the personal lyrics and somewhat performance-like vocals. However, the song also has an ugly beat, some bland guitars, a high-pitched keyboard track that sounds like a theremin on some kind of hallucinogen and surprisingly weak guest vocals from fellow Odd Future member Frank Ocean.
Following a short, if pretentious, skit, the emotionally-charged See You Again provides the best song on the album so far. Opening on some Pharrell-esque vocal parts, the N*E*R*D-ness don't stop there, as we're also treated to some space-age-style synth sounds. Coupled with another low frequency bassline, it makes for a good combo indeed. However, while Tyler's performance is stand-up, with some really lovely lyrics (an odd adjective for Tyler), it's the performance of guest vocalist Kali Uchis that makes for the best aspect of the song.
After that bit of niceness, we get right good and messy with lead single from Flower Boy, Who Dat Boy? I was originally torn between whether or not I liked this song because, while it had all the trademark Tyler-isms that I've come to love, that goshdarned trap beat really friggin' bugs me maaaan. However, I'm loving the creepy sample on top of the entire song, giving the track a real demented Scooby-Doo vibe, especially coupled with Tyler's goulish vocals, even if A$AP Rocky can f*ck. Off.
Boasting a smooth jazzy instrumental, Pothole comes 'round to pick up the pieces that Who Dat Boy? threw on the ground. I don't even know what kind of analogy that was. In simpler, less completely idiotic terms, Pothole has a much chiller vibe and the contrast makes it even better than the lead single for me. Even Jaden Smith, yes, Kitai himself, couldn't ruin this too much, with Tyler's more personal lyrics, concerning his own obstacles in his life, making this song one of the most likable on the album.
The following track, Garden Shed, takes it down an even lower notch, taking a really lazy-sunday feel with its sparce beat and mild melody. Estelle's guest vocals on this track really added to the calming atmosphere, as do the light guitars and summery keys. Even when the song adds some distorted electric guitar into the mix along with Tyler's lightning verse, there is still an essence of smoothness to the whole thing, making it hard to believe it shares a track listing with some of the more energetic songs on Flower Boy.
This breezy feeling continues onto the next track and second single Boredom. Like many songs here and somewhat unusually for modern hip-hop, Boredom is a song mainly focused on melody over rhythm, with a multiple vocals parts from Rex Orange County and Anna of the North intertwining over each other almost Beach Boys style. I think the contrast between the male and female singing voice is really exploited and used here for good effect, along with some subtle strings to give it a springtime feel.
After that, we have possibly my favourite track of Flower Boy, thanks to a lil' "We're going to dance and have some fun." Indeed, while my Groove Is In The Heart love is what keeps me alive, I Ain't Got Time! switches the pace back up to 11, with a real in-your-face attitude and dancable beat. Tyler's mischievious delivery and lyrics are some of his abrasive best since Tamale, with one of my favourite Tyler lyrics "Next line, I'll have 'em like "woah"/I've been kissing white boys since 2004" 'cus of how wonderfully predictive it was. Instrumentally, it boasts the sacred Introduction sample made famous by Deee-Lite's 1990 classic, so it's already got some major cred. On top of that, we have ourselves a samba-flavoured clapping beat on top of your standard trap shit. All in all, it's definitely one of the biggest highlights on the album and one of my favourite Tyler tracks.
After that we go straight into another single, with the track released with Who Dat Boy?, 911/Mr. Lonely. A two-part track, the song opens on 911, a chilled out, if slightly eerie, song, featuring guest vocals from Steve Lacy and Anna Of The North. Instrumentally, this song gets its slightly ominous feel thanks to the verses having this pervading creepy bassline which is quickly replaced by something much more palatable in the chorus. The song also boasts a verse from Frank Ocean in his second appearance on the album, and is definitely much better than his first.
Then, the song transitions into the second part, Mr. Lonely, which I prefer thanks to its glittery piano intro and really fun bassline. This song is also one of my favourite vocal performances from Tyler, whose flow here is absolutely impeccable.
After that, we have what is most definitely the worst, and thankfully, the shortest track on the album, Dropping Seeds. Featuring Lil' Wayne so heavily that it's basically Tyler-less until the last few lines, the lyrics here are probably the most likable thing on the song, and even they aren't great, but they do follow the whole garden-type theme of the album. What probably doesn't help is that I really hate Lil' Wayne, a man (or goblin?) who stumbles about through songs like 2003-era Ozzy Osbourne and calls himself a rapper. A solid but ultimately forgettable instrumental does nothing to hinder this song becoming a blemish on this otherwise great album.
Fortunately, the album bounces back in big way with November, one of the strongest songs on the album. Much like 2013's Answer, my favourite Tyler song, this track shows Tyler being a lot more vulnerable in both his lyrics and delivery, referencing if Who Dat Boy? was rhetorical and if he's going to become irrelevant. He also wonders if his manager, Christian Clancy, someone who has become a father figure to him, and if he's "fucking him over". The contrast between these two facets of Tyler's personality, the clown and the person, and how embraces each of them on his records is what makes him a fully realised rapper, now more than ever, in my opinion, and this song is the epitome of that.
The penultimate song, Glitter, is probably the sweetest I've seen Tyler on a track. Taking the narrative of Tyler leaving a voicemail to his crush to confess his love, the song boasts a light instrumental featuring mellow guitar and sparce basslines. Moreover, as I can find to evidence to the contrary, this song also showcases what I assume to be Tyler's singing voice which, while far from perfect, is nice to see him step out of his comfort zone, as well as dropping some great bars on the way.
Finally, we the closing instrumental track Enjoy Right Now, Today, which, as I said, is a 3-minute long instrumental track and is one of the more beat-oriented tracks on the album. It also features some nice lil' vocal melodies and synth leads. While I usually prefer a track with vocals to close an album, this was a fine way to send off Flower Boy nonetheless.
Produced by Tyler himself, I was getting a strong Neptunes vibe from a lot of the tracks here, with solid beats and a lot of space-agey sounding synths and samples. This is hardly a surprise, however, considering that Tyler is a well-publicised fan of N*E*R*D and it really shows here. This style also has a very retro kinda feel here. There is also a very strong bass sound going through this album like a funky freight train, which is usually welcome, if a little inappropriate on some tracks. Overall though, the production on this album was a-okay.
Overall, Flower Boy is Tyler's most intimate album yet, but also has no shortage of the outrageous humour he's known for. Tyler's lyrics and performance are the biggest highlights here, with solid instrumentals and a handful of great features also making an appearance. This is slightly soured by a good share of weak features and some minor production mis-steps.
BEST TRACKS: I Ain't Got Time!, November, See You Again, Who Dat Boy?
WORST TRACKS: Dropping Seeds, Where This Flower Blooms
______________________________________________
79/100
______________________________________________
Lots of hugs, kisses and lacerations
Milo.