Milo here.
2017 has been an… um… interesting year for Hollywood (boy o boy, I can't wait to see what madcap perspective Jimmy Kimmel will bring to it at the Oscars, what sharp, cutting comedian.), but, in theatres, it's been a goodun'. This year, I made a pact to myself that I wouldn't spend my money on shit flix, and I think I was successful. We've had some great superhero bigbois (as always) but some really great curveballs that really made this year a goodun'. As you can expect, I'll be including films that were released in 2017 in the UK, so you lucky buggers who got em early might be surprised.
Feel free to track along with my shitty opinions at home, I'll link my Most Anticipated Movies of 2017 list I did (that's mainly for me though). Also, for a more SHOWBIZZZZZZZZZ *jazz hands* round-up of Film17, check out our Best Thangs of 2017 – Film.
10. Star Wars: The Last Jedi
Blasting in at no. 4 on my Anticipated Movies list, The Last Jedi had some big boots to fill following The Force Awakens and how excellent that was. From a purely "big-explosions-pretty-colours" cinematic experience, Last Jedi is one of the best movies in the Star Wars franchise. The visual style is so striking and different than anything else in the series, with the red, white and black colour palette of the final scene leaving me jaw-dropped, like an intergalactic space opera White Stripes video. Daisy Ridley and John Boyega impress me once again, both become some of my favourite actors at the moment. While Rian Johnson's direction and structuring let it down incredibly, I still found this to be a tremendously fun watch.
9. Guardians Of The Galaxy Vol. 2
Hitting No. 1 on my Anticipated Movies list, it was safe to say I was expecting big things from this superhero sci-fi sequel. Though I thought it was nothing on it's predecessor, GotG2 succeeds immensely in expanding the universe in a way that felt both familiar and fresh. The sharp comedic writing is still here, making me laugh and giggle just like a little schoolgirl, as were the excellent lead performances. While it definitely lacked the surprise factor that helped the first Guardians impress so many (that, and the fact that it's really good), this was a blast and something I can easily rewatch any time.
8. La La Land
Speaking of visuals, director Damien Chazelle's sophomore mainstream effort is one of the most aesthetically-wonderful I've had the pleasure of seeing ever. The summery colours and grandiose set-pieces work hand-in-hand to create something truly old Hollywood. I loved the chemistry between Stone and Gosling, which has been evident in all the other films they're co-starred, and they both gave it enough Liza Minnelli to sell the movie, song-and-dance-wise. The music, though I initially criticised it, has grown on me enormously, with the movie winning my Best Music category this year. It's just a lovely wonderful lovely lovely film.
7. It
A film I may have slightly underrated when I reviewed it, and one that didn't even appear on my anticipated list, I was under every impression that this flick would be awful. Oh how wrong I was, of course, as it managed to be one of the few films that can make me laugh and shit myself, not necessarily in that order. Bill Skarsgård's performance as Pennywise, though I will always be a Curryed boi, was really sinister and drawing to the audience, which kinda works both ways because OH MY GOD HOW MANY TEETH STOP IT JESUS SERIOUSLY MATE. Plus, the surprising amount of comedy and ingenious directorial methods leave this as one of the most solid films I've seen all year.
6. Get Out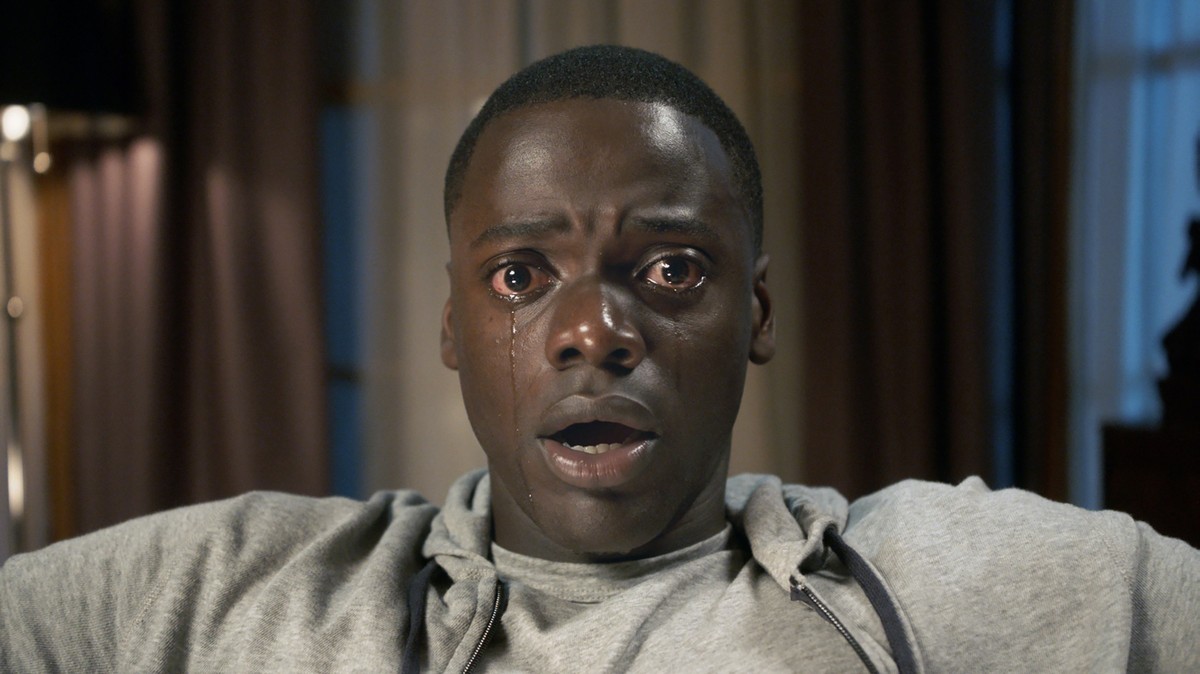 The only movie on the list I haven't written a review or mini-review of (which means I'm actually gonna have to original *eek*), Get Out caught everyone by complete surprise as the sleeper hit of the year. With funnyman Jordan Peele behind the camera, you'd think this thriller wasn't as mind-bendingly twisted as it is. Though the ending got a little bit far-fetched/predictable (as you'd expect from a f*cking Blumhouse flick (kill me)), the performances, particularly from Daniel Kaluuya, who is fast becoming someone to watch, were spectacular. As well as, we had a confrontational cinematographic style fitting of film that tackles racial issues head on in its own twisted way.
5. Baby Driver
Yes, yes, Edgar Wright did actually disappoint me here with his sub-par writing. Yes, yes, I also realise that isn't the kind of thing you wanna bring up in a best of the year round-up. BUT, it serves as testament to the rest of the movie, how much that script is outweighed. The direction by Wright is as incredible as ever, with the music synchronicity being a stroke of genius. The action is thick and frequent and ingenious, and the comedy ain't half bad either. Plus, the performances are excellent too, with Ansel Egort being surprisingly unpunchable, and Jon Hamm (I like Jon Hamm) standing out particularly among the cast. It's a furious flurry blockbuster with a brain, what more could you ask for?
O shit, he's doing the halfway message at 60% this time. Get on my level, sonny-jim.
4. Mommy Dead And Dearest
The only documentary on the list, this exploration into the fascinating, and decidedly f*cked-up, murder of Deedee Blanchard, at the hands of her daughter, Gypsy Rose, grabbed onto my morbid curiosity and didn't let go throughout the runtime. With the twists and turns in the story itself, director Erin Lee Carr generally allows the plot to speak for itself, a brilliant move. I love me some true crime, and I'd recommend this completely to any fan of the genre.
top THREEE boio.
3. Thor: Ragnarok
TAIKA MATEEEEEEEEEE YOU DID IT, MAN. YOU MADE IT!!!!! Sorry, that's just me loving the fact that the guy who directed What We Do In The Shadows is now managing major Marvel property. Regardless of this though, Ragnarok is still one of the best MCU films we've seen, and EASILY the best from Thor's canon. Waititi's influence is definitely seen through the sharp and hilarious writing, and more directly through his brilliant cameo as Korg. This ain't all comedy though, with some of the best action I've seen all year and an absolutely wonderful visual style. This is easily the most fun I've had in the cinema all year.
2. Logan
The only film here that is on the same place in the Anticipated movies list, and my most liked review (thnx guys xoxo), I had a feeling this movie was gonna be swerving onto this list from the start of the year. That's weird though, considering the quality of Wolverine's past two standalones (spoiler alert, don't). However, with Hugh Jackman hanging up the claws, he was owed a good-un', and a good-un' this was. Director James Mangold pulled it out the bag with some really beautiful imagery (need that b/w edition boio), as did the cast with excellent performance after excellent performance. This shoots up there with the likes of The Dark Knight in superhero films that are just so much more.
Oopsy daisy, these honourables be crazy…..
they're actually quite mundane.
Split
War For The Planet Of The Apes
Spider-Man: Homecoming
Jim and Andy: The Great Beyond – Featuring a Very Special, Contractually Obligated Mention of Tony Clifton
Okja
David Bowie: The Last Five Years
Free Fire
Atomic Blonde
The LEGO Batman Movie
Well, if you're a blogger and you've done a movie round-up that I've commented on, I'm sure you have a pretty good idea of what's number one.
1. The Disaster Artist
Indeedly do, The Disaster Artist topping this list should come as a surprise to no one, especially considering that I've already named it as Best Film on the Best Thangs post. Good one me. To re-iterate what I said there, this is a film for a niche set of people. As part of that niche, I loved it, almost as much I love The Room, and I love The Room. Director/star James Franco's passion for the project was absolutely evident and, while his personal shittiness as a person has come into question, unlike Kevin Spacey and Baby Driver, I can't not talk about him here, and I can't not praise him either. But besides that, the writing and heart here coupled together to make a film that made me laugh uncontrollably and leave the cinema feeling fantastic, and that's what movies are about at the end of the day.
That's my list, now, all I need to do now is a Top Ten Albums of 2017 and I'll be able to burn this year in the fires of Hell. Roll on til then.
Lots of hugs, kisses and lacerations
Milo.