Milo here
Ah and yet again we come to this — one of my favourite posts of the years. Whilst I'm not as big a gamer as I have been, the magic of E3 still has the ability to get me giddy with gaming glee, with hotly anticipated annoucements and trailers and demos taking place throughout last week.
After the big bastard news comes out, however, I like to go for a little round-up, listifying my most anticipated games of the future. It'll be mainly E3 announcements and developments, but anything out after June 2018 is up for grabs, so there's plenty out there. Let's get down with it.
10. Rage 2 (TBA 2019)
We'll kick this list off with a bit of madness, eh? The sequel to 2011's post-apocalyptic rampage, Bethesda put on their best Mad Max/Borderlands hats for this, with the technicolour mohawked bastards prominently featured in the trailer being reminiscent of the cronies from both franchises. Hopefully, we can expect some big bastard explosiony action and chaotic racing mechanics, as well as a vast wasteland to explore.
9. Beyond Good & Evil 2 (TBA)
If you can cast your mind back to last year, you'll remember that I was mightily excited by this, the sequel to a cult classic (that literally never happens) on the PS2. However, you'll also notice how it's dropped 3 places from its original position, mainly 'cus it's less of a shock now. Regardless of this, the new trailer released at Ubisoft's conference is very tantalising, with a somewhat closer look at the story, as well as a badass appearance from Jade. YUSYUSYUS.
8. Cyberpunk 2077 (TBA)
Wiping up Game of the Show awards like they were dirty, dirty puddles, the new IP from CD Projekt Red (of The Witcher fame) is one of the only original concepts making an appearance on the list. There seem to be Blade Runner influences galore going on here, as we're shown a grotty ol' metropolis, complete with robo-laser-hologram goodness 'round every corner. While deep RPG elements are to expected, I'm hoping for an immersive sci-fi experience, but with an element of lightness and playability with it, something I didn't find with the dev's flagship franchise.
7. Forza Horizon 4 (October 2)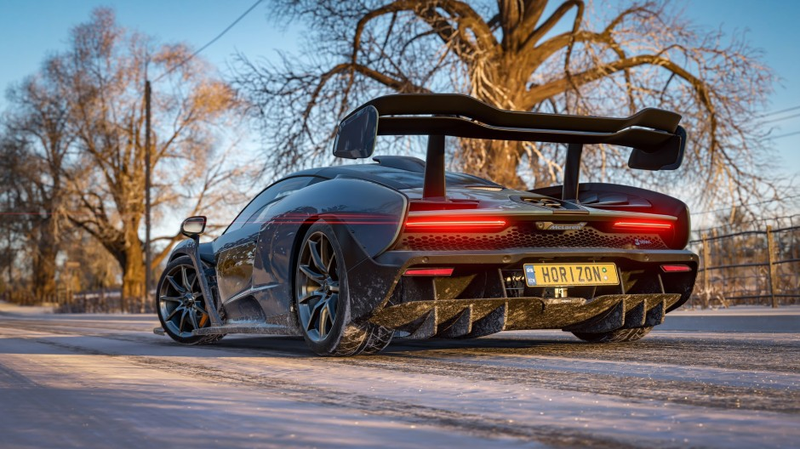 I don't like cars. I'm not a car boi. When I can finally afford to buy and run a car (in, like, 2034), the only thing I want from it is good soundsystem — ain't shits given about horsepower and flange capacity here. That being said, the Forza Horizon games have consistently been one of my favourite current gaming series due to their prioritising of fun over realism. Offering, this time, the great plains of the UK as its playground, I'm expecting more fuelled-up mayhem, with some high-class graphics and unparallelled racing dynamics. Also, if I can't go Tokyo driftin' round Weston Super-Mare, I'm fucking suing.
6. Dying Light 2 (TBA)
One of the best zombie games of the decade, 2015's Dying Light offered players a chance to go roaming around a desolate cityscape filled with septic skinsuckers, complete with Mirror's Edge-esque freerunning (BIG plus) and violence Ed Boon would be proud of. This came with a couple of new mechanics too, namely a Day/Night cycle that heavily influenced how you played the game. With the sequel, Techland aim to enhance the story aspects of the game, including more RPG elements, whilst keeping all that undead action.
5. DOOM: Eternal (TBA)
WHAT?! WHEN?! HOW?! I had no idea until I was cruising through IGN's round-up that this was even happening at all in the slightest. Here's a little bit of news if you joined Stuff And That's dysfunctional family post-2016, I very much enjoyed DOOM (CAPITALS NECESSARY), and found it to be one of the best FPS/horror/action/reboots of recent times. Obviously, when I watched the teaser, in all it's industrial metal, explosive, bloody, demony, bastardised glory, it instantly became one of my most anticipated games — my fifth most, to be exact I guess.
4. Soulcalibur VI (October 19)
It's no secret that the Soulcalibur series is my favourite in the fighting genre. With installments II and IV both making an appearance of my favourite games list, the diverse range of characters, solid gameplay and overall undertone of campy fun leads to excitement when a new one is announced. While it's a very easy argument to say that the previous game, V, is the weakest of the franchise, a return to our favourite characters, as evidenced in the trailer, will surely put the Soul games back on track.
3. Spider-Man (September 7)
THREE YEARS IN A ROW. Three years in a row this has now made an appearance on this list — the first two were spent on the top, and it was only through a couple of BANGIN announcements that it has dropped two spots. Needless to say, my anticipation for a Spider-Man game from the guys behind Sunset Overdrive has not faltered since the first inklings of a concept back in '16. As we've seen more gameplay and shit over the years, it looks like everything I want it to be. I cannot wait to get my hands on this.
2. Super Smash Bros. Ultimate (December 7)
ALL OF THEM. ALL OF THE CHARACTERS. WAIT? WHAT? YEAH, MATE. EVERY SINGLE DAMN CHARACTER. Nintendo are looking to outdo themselves once again with this edition of Smash Bros, as they include every fighter that has made an appearance in the past 4 entries, totalling at a massive 66-strong confirmed roster. Aside from this incredible feature, the Smash games are renowned for their consistency, so we can assuredly expect another massively fun party fighter on the Switch.
Here are some more fine games that didn't quite make the grade.
Days Gone (February 22)
One Piece: World Seeker (TBA 2018)
The Elder Scrolls VI (TBA)
Crackdown 3 (February 22)
We Happy Few (August 10)
Anthem (February 22)
Red Dead Redemption 2 (October 26)
Shadow of the Tomb Raider (September 14)
Death Stranding (TBA)
Call of Cthulhu (TBA 2018)
The Last of Us: Part II (TBA)

1. Just Cause 4 (December 4)
OKAY. YES. It's well documented here that the Just Cause franchise is one of my favourites in gaming — encompassing exactly the kind of explosive escapism I play video games for. After the huge wait between 2 and 3, it seems Square Enix are making up for it by releasing the next chapter of Rico's adventures within two years of his last outing. We can expect increased amounts of total destruction, as everything has been upped for this instalment — with the new inclusion of an extreme weather system, i.e. TORNADOS. Everything here is everything I love and I am foaming at the mouth to play it.
So that's it, I do enjoy this lil E3 tradition of ours. Comment what your E3 picks this year were, if you want, I mean, the engagement's more important — you don't think I give a shit do you?
Lots of hugs, kisses and lacerations
Milo.