As well as songs, the 60s also gave us the first inklings of modern cinema — from which many iconic moments were born.
Milo.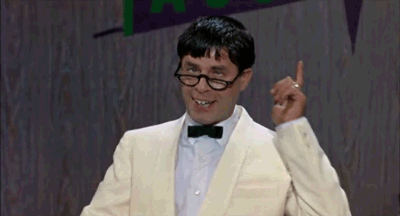 The Nutty Professor (1963)
Let's not talk about the Eddie Murphy one, yeah? This comedy classic starring the master Jerry Lewis will always go down as one of my favourite wholesome watches, with the gags and visuals being of a time since gone, and one fun to revisit.
Psycho (1969)
I've also picked an absolute classic from the Master of Suspense. For many one of the greatest horror movies ever made, everything from the slasher flick to the violinist has a lot to owe to Psycho. Hitchcock's expert direction led to some of cinema's most iconic moments, making a whole generation terrified of the shower, and is still incredibly watchable to this day.
Reuben.
The Jungle Book (1967)
I'm not ashamed to say that I haven't seen many films from this decade. Mate, I'm 17 years old. But hey, I've seen this gem and I'm sure many people well-versed in 60s films would agree that this is at least one of the best to come out of the time period. One of Disney's finest and a marvel in hand-drawn animation, The Jungle Book, is just, for lack of a better word, lovely. Filled to the brim with wonderful art and catchy li'l tunes, it's a film that keeps on giving, and is a consistent and entertaining watch throughout. And while that new live action remake was pretty impressive 'n all, it's got absolutely nothing on the original.
KeepsMeAlive.
Doctor Zhivago (1965)
EclecticMusicLover.
Lawrence Of Arabia (1962)
A cinematic masterpiece.
Elliot.
A Shot In The Dark (1964)
The 60's saw the rise of one of my favourite comedic actors ever – Peter Sellers – largely thanks to the creation of his most famous character: Inspector Clouseau. This murder mystery comedy is the second outing for the character and unlike the first Pink Panther film it puts him centre-stage and revels in Sellers' comic genius. Not only is this a fascinating snapshot of the 60's, as well as a cleverly executed Christie-style mystery, but it is also probably the best film in the franchise.
SteveForTheDeaf.
The Good, the Bad and the Ugly (1966)
In a field of tough competition, TGTBATU comes out on top. The best western (not the hotel chain), the best theme tune (Morricone owns this movie) and the best graveyard-based gun battle stand-off you're likely to ever see.
Barbarella (1968) – One of the ultimate comic-adaptation B-movies. Jane Fonda was equal parts hilarious, gorgeous and courageous. She took on the Orgasmatron, the Leather Men and the Black Queen while flying her 60s shag-piled Pleasure Dome through temporal space. This campy, vampy mess of a film is utterly charming and made by complete perverts.
Peeping Tom (1960) – Perverse and outrageous in its day this serial killer in swinging London turned selfies into snuff movies like some foresight gleaned from a bad trip. Heavy, man.
The Graduate (1967) – Pop music and sadness made Benjamin the poster boy for every outsider kid to come for the next 50 years. It's like a time capsule from an era I never saw but feel I understand.
Once Upon A Time In The West (1968) – A widescreen, huge-scale Western with a decent budget and a lot of talent on screen and off. Once Upon A Time In The West kickstarted a new kind of Technicolor epic that had all the sweeping grandeur of the 50s/60s studio pictures but added a grit, a realism and bloody violence which would herald in a new kind of cinema. Sergio Leone really was the father of the next generation of classic movies.
Jade.
2001: A Space Odyssey (1968)
It is hard to believe that 2001: A Space Odyssey was made in 1968. Unravaged by time, the science fiction epic ages better than others in the league, proving that pure ingenuity beats digital imagery any day.
Stay tuned for more Best Thangs of All Time!