Arguably the greatest decade in music — rock was grungy, rap was badass and Björk was, well, Björk — let us reminisce (except I was born in '01)
Milo.
Blood Sugar Sex Magik – Red Hot Chili Peppers (1991)
There's not much to say about RHCP's funky, sexy, dirty, dancy, heavy, druggy, buggy, filthy magnum opus — apart from all those adjectives there. A massive tracklist, managing to be consistent? I'd never heard of such a thing and yet The Chili Peps, the 90s legends they were, pumped it out. Tracks like the sordid Suck My Kiss and the chaotic Give It Away prove to be possibly (probably definitely) the greatest funk rock songs of all time, whilst the melodic Under The Bridge put The Chili Peppers on the international stage like few songs could, capturing the decade for many, and giving those who didn't live it great memories too.
Foo Fighters – Foo Fighters (1994)
Oo, a slightly cheeky pick. While many would've gone for the Foo's career-defining sophomore release, The Colour And The Shape, I've gone for the eponymous debut, recorded almost entirely by Dave Grohl, for little other reason than this; there is no other album, not even BSSM, the makes me think "90s" more than this one. The energetic guitars are straight from some kinda PS1 extreme sports game, Grohl's drifty lyrics read like nonsensical poetry and, in this album's heavy moments, we see a glimpse of what the Foo Fighters would become.
OK Computer – Radiohead (1997) – An album like no other — a truly unique musical experience. After giving us some pretty deesh alt rock (The Bends is a fuckin' classic, mate), these Oxfordshire bois threw the popular music scene a complete curveball here, with apocalyptic storms making Black Mirror look like a mere drizzle. Electronica, avant-garde, alt rock and GRINDING NASTY GUITARS JONNY YOU NAUGHTY BOY YOU NAUGHTY BOY INDEED, what more could you want?
The Low End Theory – A Tribe Called Quest (1991) – One of the genre's finest acts, ATCQ gave us arguably the greatest hip-hop album of all time in '91. Filled with some killer jazz samples, smooth, fun delivery and, more times than not, a deep message, Low End Theory is a must listen for anyone who calls themself a hip-hop fan.
Ill Communication – Beastie Boys (1994)– Tribe might've defined hip-hop in '91, but these punks from Brooklyn fucked it up in '94. Following a string of legendary records, Ill Communication ranks as my favourite Beasties release thanks to the hyped delivery and all-round party atmosphere. Plus — SAAAAABOTAAAAAAAGEEEEEEEEEEEE.
Reuben.
Red Hot Chili Peppers – Blood Sugar Sex Magik (1991)
For many, RHCP's crown jewel, this 17 track beast is a blast to every orifice and it's a constant good time. Most everything on the album is a blast of unrelenting funk rock goodness, driven by the slammed, consistent drum beats and Kiedis' crude and sexually orientated lyrics and delivery, Flea and Frusciante, both on top form, are given room to play off of each other and the brilliance never stops. However, it's the new-found maturity that makes this album the special thing that it is, with softer, more chantable melodies being introduced in Under the Bridge and a few other tracks on the album: you've got tracks like that which shot the band into the mainstream, but you've also got that youthful, jumpy awesomeness of their 80s music with classics like Give it Away littering the record's runtime.
Soundgarden – Superunknown (1994)
Soundgarden's greatest record, and aside from Pearl Jam's Ten, the greatest record to come out of the Seattle scene. Everything came together in this, as they built upon the gritty, metallic foundations of Badmotorfinger by adding a collection of stronger melodies, guitar leads and a generally cleaner, more listenable sound, whilst keeping that aforementioned grittiness very much intact. It's the emotional potency in the lyrics and music that really makes this album, with songs like Black Hole Sun, The Day I Tried to Live and Like Suicide elevating the band to legendary status and being integral to their success and legacy.
Rage Against The Machine – Evil Empire (1996)
Rap metal's icons make a very worthy appearance here with their sophomore set Evil Empire. Still, to this day, after three or so years, this album had the greatest instant impact upon listening to it that I have ever experienced. Never since have I loved an album so much on first impression. It's an explosion of awesomeness. I personally believe that this is where their music peaked, as they kept the raw energy and power of their debut record and refined it, whilst adding a unique atmosphere, which gives the music here a feeling of consistency that is very rarely matched. The messages here, too, are so powerful, that for about 45 minutes my mind starts to think communism might actually be good. If you do count this band as metal, this is my favourite, and go-to metal album.
Red Hot Chili Peppers – Californication (1999) – My fourth favourite Chili Peppers album, this is barely worse than Blood Sugar, just not quite as good, yunno? It's a little less tonally consistent and is a little restricted by its poor mixing. HOWEVER, it is an immensely good alternative rock album and one that I always come back to. It's the first full example of RHCP's modern, most recognisable style, which is softer and more hooky than their older sound. It introduces this, but also keeps a lot of the energy that found them so much success it did earlier in the decade. Songs like Californication and Around the World speak for themselves.
Korn – Follow the Leader (1998) – The weakest album of the lot I've mentioned here, but still fantastic. It beat some rather steep competition to get here, so I think I can justify its position. Whether you like them or not, Korn are hella groovy. The effect it has on me is unmatched in terms of music that just gets me pumped up and moving, with a constant, quick and funky heartbeat pulsing through the whole record, as everything came together for the band as they became one of the biggest in the world.
KeepsMeAlive.
Guided By Voices – Bee Thousand (1994)
Jade.
This slideshow requires JavaScript.
The Downward Spiral – Nine Inch Nails (1994)/Rust In Peace – Megadeth (1990)/Ten – Pearl Jam (1991)
The 90s saw the release of several no-filler records that double up as dream gig set lists. Nine Inch Nails' The Downward Spiral, Pearl Jam's Ten, Megadeth's Rust In Peace all deserve mentions, and if they were to be performed live in their entirety one day, I will be the first in line.
SteveForTheDeaf.

Earth Vs. The Wildhearts – The Wildhearts (1993)
The Wildhearts are more than the British Guns N' Roses the press write them as. They had pop hooks and metal riffs, like splicing ABBA with Metallica. Very few records brim with songs as infectious as Greetings From Shitsville, My Baby Is A Headfuck and Suckerpunch.
OK Computer – Radiohead (1997) – Paranoid Android sent a wave through Britpop which scared the glam rockers dressed as mods and the links impersonators away: this was grown up time. Lucky, Airbag and No Surprises all have a frailty and a beauty the era could only match with electronica.
Endtroducing – DJ Shadow (1996) – A head trip of a record, Endtroducing pulled all the disparate tribes of white label vinyl nerds together under one hip hop and indie approved banner. Many a late night started with the opening salvo of Best Foot Forward to Building Steam and The Number Song, and became early morning by the time you were done with What Does Your Soul Look Like?
Temple Of The Dog – Temple Of The Dog (1991) – A Chris Cornell record you could play your girlfriend's parents was one thing. Diets with Eddie Vedder and that amazing Crazy Horse-style backing sound from the Pearl Garden made this a high point for a generation of rock fans already tired of losing their icons.
Achtung Baby – U2 (1991) – Yes, I'm putting a U2 album on a best of list – you weren't there man! You don't know! Or maybe you were and maybe you do. This record is undeniable. The sublime Acrobat or the heart-beaten Trying To Throw Your Arms Around The World. The epic multimedia Zoo Station and the squiffy Mysterious Ways. The genre-shattering The Fly and the tear-jerking Whose Gonna Ride Your Wild Horses. Undeniable.
EclecticMusicLover.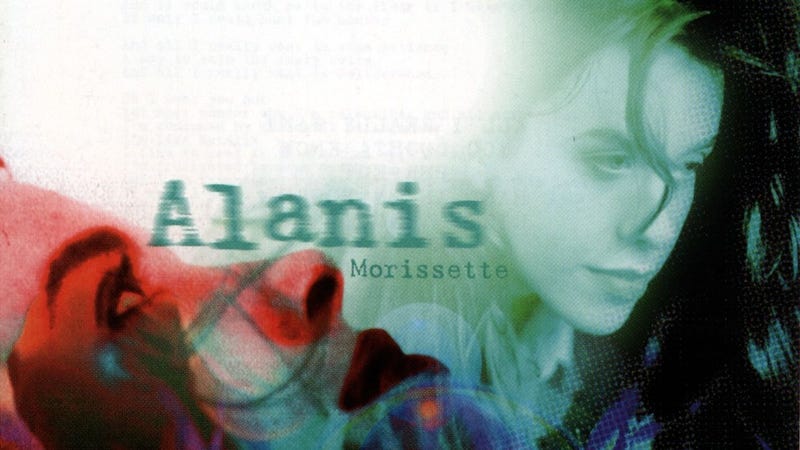 Jagged Little Pill – Alanis Morissette (1995
)
Stay tuned for more Best Thangs of All Time!