Ahhhh YESSSSSS. Our primal response to music is the beat — and these stickmaestros are the best.
Milo.
Brad Wilk – Rage Against the Machine/Audioslave/Prophets of Rage
As a drummer, this was a hard category to narrow down, so I had to go directly for my tippy-toes top, top drummers. For me, Brad Wilk mixes personality and adaptability in such a way that, whether he's jumping on a metal, hard rock or hip-hop beat, you know it's Wilk behind the kit. Unlike my boy Dave Grohl, he doesn't absolutely FUCK the kit UP, but by no means does he tickle it either; he plays with a groove (his non-standard kickdrums are my reason to live) that personally find to be unique and a joy to listen to.
Dave Grohl – Nirvana/QOTSA/Foo Fighters/Them Crooked Vultures/Tenacious D – The only one of my choices that is genuinely an actual GOD amoNG mEN, the Grohlercoaster, as previously stated, does little else than just FUCKS the kit UP. His work in Nirvana is widely-respected (In Bloom is one of my favourite songs to play), but, for me, QOTSA's Songs For The Deaf is one of the greatest drumming albums ever — No One Knows is the reason I play drums and A Song For The Dead is the drummer I want to be.
Matt Helders – Arctic Monkeys/Iggy Pop – Possibly the most precise and technically gifted drummer of my picks, Helders is still responsible for the wrist injuries of self-taught drummers the world over. Sure, I need to learn some technIQUE, but that doesn't take away from the fact that this guy's intricate hi-hat work, punctuated by snares that'll ratt'll ya to the very core, made for some of indie's most danceable beats.
Reuben.

Thomas Pridgen – The Mars Volta/The Memorials
This was a tough pick for me as for someone who doesn't actually have much extensive knowledge of drumming I've got quite a few I'm a huge fan of. I decided in the end I had to give this honour to this lunatic. Well, actually, he's such a chill dude, but his drumming makes him seem like he's crazy. His work with The Mars Volta, particularly on The Bedlam in Goliath, for me, is unmatched. The time signatures and constant transitions he tackles, for one, is massively impressive, and then the way he does it, boi, it has to be heard to be believed. It sounds like he has about six arms. For his sheer energy and technical skill, he has to win it for me.
Tomas Haake – Meshuggah – The Meshuggah drummer had to get a mention here. The closest to my pick, this legendary Swede, at the same time as being one of the coolest people on Earth, is a master of the kit in the truest sense of the word. Meshuggah are known for their ridiculous time signatures and Haake is the man beating at the heart of it all, keeping all the mad rhythms and he does it perfectly.
Brann Dailor – Mastodon – This dude's also pretty cool – he's from Mastodon, he has to be. His ridiculously skilled fill-heavy drums work brilliantly hand-in-hand with the technical guitars and are grounded by Troy Sanders' solid basslines. Stylistically, for me, Dailor is one of the most unique, and recognisable drummers in music.
Chris Adler – Lamb of God – The guy behind the sticks in chunky metal behemoths Lamb of God, Chris Adler epitomises all that the band is about. He's got the look to a T, but his drumming provides the perfect backbone for the awesome metal goodness with its unrelenting, quick-paced and in-your-face technique. As, just, metal drummers, go, this guy's the best. He doesn't just rely on double-pedalling, and he has uber amounts of skill and attitude.
Gavin Harrison – Porcupine Tree/King Crimson – Porcupine Tree's greatest drummer and most skilled musician, Gavin Harrison is an absolute beast. Just look at his huge drum kits and the variety of drumming skill and you get a taster of his ability. Then, listen to his music, and boi, you can hear it.
SteveForTheDeaf.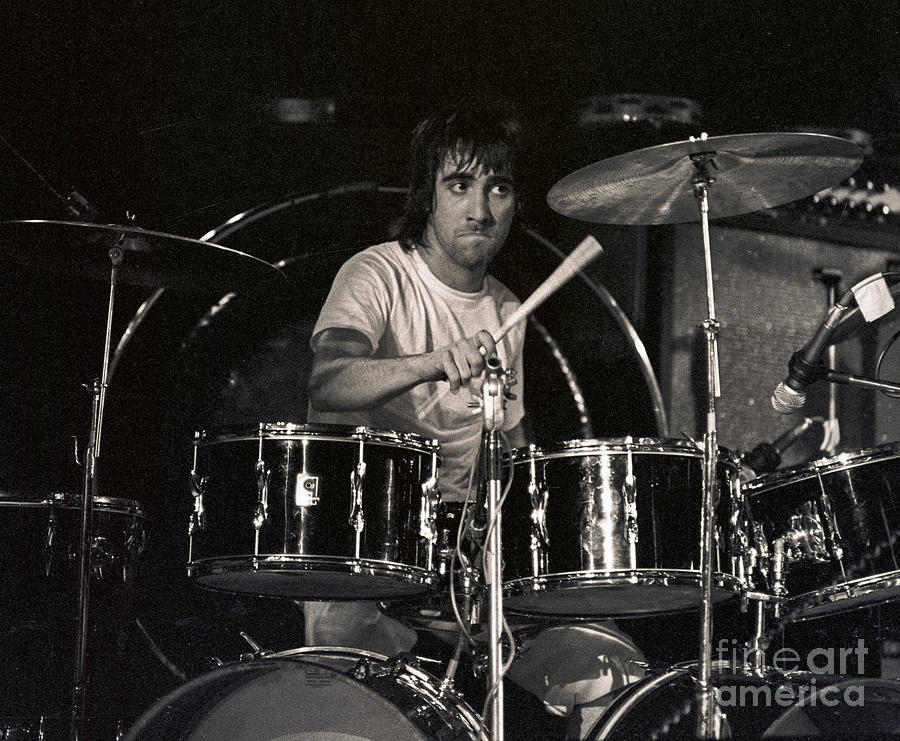 Keith Moon – The Who
Moon The Loon was not right in the head and always destined to go out early. Fortunately for the greatest art form of the 20th century he was also a naturally gifted drummer, one who fell into the best band of a generation and could play drums like he was expressing all the ugly noises in his head on a beautiful vinyl canvas.
Dave Grohl – Nirvana/QOTSA/Etc. – As much as I love Foo Fighters, I also love Probot, Sound City, Tenacious D, Them Crooked Vultures and a bunch of other stuff because he drums like a demon. He's a great singer, excellent song writer and awesome guitar player. But most of all, he's the drummer's drummer.
Chris Slade – AC/DC – There's a lot to be said for being a solid reliable drummer who can bosh it out like a terminator on the lot so the beat is a beast of a thing to build the song on. Chris' records with Acca Dacca have a drive and a precision that is admirable. And he's got a head like a boiled egg.
Dave Lombardo – Slayer – This guy's a frikkin' monster on the kit. His work with Slayer pushes thrash forward from just feet wankery to an art of mores. He's amazing when he shows restraint too. To watch Lombardo lose it on a big number is a sight to behold.
Matt Cameron –  Pearl Jam/ Soundgarden – Matt Cameron has been in both Pearl Jam and Soundgarden. Between him and Dave Grohl I don't need the rest of my record collection really. Pearl Jam and Soundgarden. Dude leave some for the rest of us
KeepsMeAlive.

Gene Hoglan – Devin Townsend/Fear Factory + a bunch of other bands
Jade.
John Bonham (Bonzo) – Led Zeppelin
The live renditions of Moby Dick are all celebrated for good reason. Only Bonzo can play a 30-minute drum solo, and still enrapture a good number of a discerning crowd. Not one can replicate his passion for the kit and resultant powerful sound.
EclecticMusicLover.

Darren King – Mutemath
Stay tuned for more Best Thangs of All Time!