They say never judge a book by its cover — but they said nothing about judging an album by its cover — the fools hahahahahahahaha.
Milo.
…Like Clockwork – Queens Of The Stone Age (2013)
Anyone who knows me knows that this is right up my strasse. The acid-washed melancholy in this reimagining of a classic Dracula still captures the essence of the album beautifully. Artist Boneface does nothing but impress every time he gets on a piece, as seen with any of his other work, including QOTSA's subsequent album Villains. I love the colours, I love the illustration — I love all of it.
Rage Against The Machine – Rage Against The Machine (1992) – I don't think you could a better idea of what Rage were all about from any other image. The startling image of Thích Quảng Đức burning himself to death is one of the most explosive and violent protests ever recorded — the flames being echoed in the incendiary music within.
The Number Of The Beast – Iron Maiden (1982) – All hail Derek Riggs. I could've picked any of Maiden's early covers — they're all awesome. However, Eddie puppeting the Devil will always be the first image in my mind when someone says "heavy metal".
Appetite For Destruction – Guns N' Roses (1986) (Original Cover) – I'd like to definitely clarify that I DO NOT mean the crucifix with the skulls on it — I mean the flying knife hell monster vigilante avenging the woman from the robot rapist with a lightbulb for a head. I mean that's just obviously the most eye-catching thing, ever.
Live Through This – Hole (1994) – Not initially the most amazing cover you'll ever see, this depiction of beauty through pain is not only completely allegorical of the music inside, but has, at least for me, become a 90s symbol akin to the baby on Nevermind.
Reuben.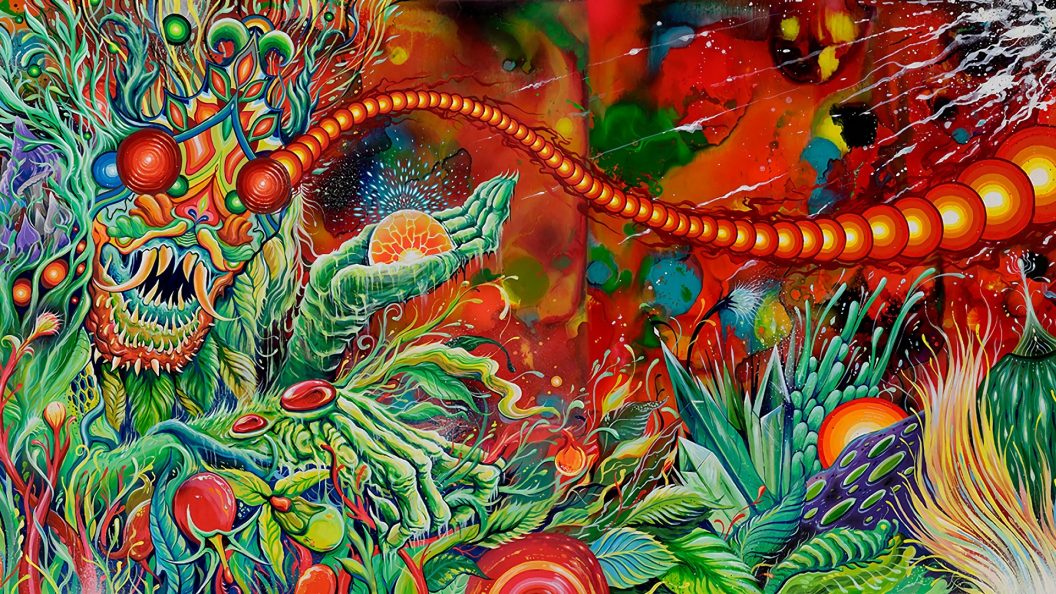 Mastodon – Once More 'Round The Sun (2014)
I don't think I could ever stop loving the splash of colour here. It's psychedelic, hypnotic, it sums up the music perfectly and it makes THE. COOLEST. T-SHIRT. It's just so damn awesome.
Audioslave – Audioslave (2002) – I'm sure all music geeks know about the genius that is Storm Thorgerson. This is my favourite of his huge variety of brilliant album arts. It's iconic, and it's just so impressive.
Led Zeppelin – Led Zeppelin III (1970) – I absolutely love the kinda hippy-ish vibes this album art gives, and it ties so well with the music on the album. I really, really want a t-shirt with this, but they're so difficult to find.
Red Hot Chili Peppers – One Hot Minute (1995) – The dark, surreal and oddball atmosphere conveyed by this album art is so gothic and so awesome, and I love the mix of dark reds on it.
Opeth – Morningrise (1996) – It's a picture in Bath, mate (a particularly nice part of Bath in fact – Prior Park). I live in Bath. It has to be here.
SteveForTheDeaf.
#1 Record – Big Star (1972)
It's a black sleeve with a big yellow neon star. The word BIG is also in neon (blue this time) in the middle. So simple, it's perfect. It's a work of art.
Sticky Fingers – The Rolling Stones (1971) – The ultimate collector's record sleeve (along with Velvet Underground & Nico). That zip has left an indelible mark on all the lesser albums it's rubbed up against in collector's racks. Imagine all those Rod Stewart or Roy Orbison records that have their back covers all scratched up because Bitch, Brown Sugar and You Gotta Move are so great they had to be wrapped in Keef's under crackers.
Riot Act –  Pearl Jam (2002) – Those smoky little puppet kings look so lost among the big dark corners of Pearl Jam's least loved album. There are no words on the front of Riot Act. Just some wooden kings and a lot of darkness. It hangs on my wall like I'm all deep and meaningful.
Somewhere In Time – Iron Maiden (1986) – I lost hours in this sleeve as a kid. Before we had a video and I could rent Blade Runner, there was Somewhere in Time. While I listened to Wasted Years and Stranger In A Strange Land, I searched out Batman, Klingon Warbirds, The Ruskin Arms and all those song references in that super dense, detailed sleeve. Better than the movie.
Physical Graffiti – Led Zeppelin (1975) – I'd never been to New York when I first got my hands on those grey bricks. The steps up to the doors of that apartment building reminded me of two things; Sesame Street and the Stones Waiting on a Friend video. Turns out all that Monty Python psychedelia in the little windows could hold your attention for all four sides of that most epic of albums.
KeepsMeAlive.
Sticky Fingers – The Rolling Stones (1971)
Stay tuned for more Best Thangs of All Time!