AHHH!!!!!!!! Pulse-poundery! White-knuckling! Seat-edging! I've never done any of these things, but these are some jolly-good films! *aggressive thumbs up*
Milo.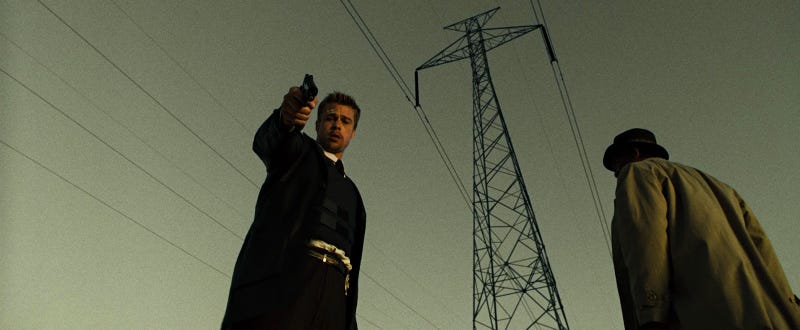 Se7en (1995)
I swear to God. I hear one "wutsinthabaaax" joke FROM ANY OF YOU (yeah even you in the back, with the glitter glue on ya chops), I'm fUCKINg having it. YeaH? Right then. It seems that great things happen when Fincher and Pitt come together, with Fight Club taking Best Movie of the 90s. The director's grimey visual style here, with the seedy filters and high-contrast, makes even the most mundane scene unsettling, while the performances here are just to die for — with Pitt, Freeman and *redacted* all giving lifetime career-definers. It's a nihilistic exploration into the worst of humanity — oo, edgy.
Sin City (2005) – The collective minds of Robert Rodriguez and comic-book legend Frank Miller came together to create what may be the most faithful graphic novel adaptation of all time; emphasis on "graphic". It takes the phrase "neo-noir" and makes it such a visual component that it practically becomes the genre distilled into a juice, complete with metaphors and tangents that make no sense and more outdated uses of the word "dame" than I have fingers to count 'em on.
Pulp Fiction (1994) – The first movie that comes to mind when someone mentions Tarantino, the director's trademark sense of timeless cool has never been more apparent here. The cultural references, the razor-sharp dialogue, the super stylish violence, the soundtrack littered with beautiful obscurities — it's all there and better than ever. Uma Thurman manages to standout from an ensemble cast of legends by basically being a total fucking icon.
Layer Cake (2004) – Daniel Craig plays one of the most likeable little shits of recent memory in this  Ritchie-esque Matthew Vaughn thriller that bells the early 00s louder than a Nokia ringtone.
Memento (2000) – For all his eccentricities (*ahem* pretentiousness), Christopher Nolan does know how to make a mind-bending movie marvellous. Teaming up with his brother, the way he's told a story here is borderline illegal; he's broken the rules in a big way. However, it's those broken rules that has left us with a noir movie like none other.
Reuben
.
Jaws (1975)
This is the ultimate thriller. It might not be a genre I'm hugely familiar with and I've gotta get my greasy mitts into it, but for now that statement stands. The intense nature of this film is incredible, as the story about the shark is one of the most pulsating in film and you feel as immersed and terrified by the whole charade as the characters in it — as the gripping story is punctuated by the immense cinematography and score.
Police Story (1985) – IMDb lists one of this film's genres as "Crime" so let's go for it! I guess it does have "Police" in its darn name, so yunno. If not solely for its crime aspect, Police Story is a barrel of laughs and insane stunts, starring Jackie Chan at his peak. Just, do me a favour and watch it dubbed. That guy's got balls.
Rush Hour 2 (2001) – Thanks to IMDb again for the same reason! Not quite as good as the first film? I don't think I'll ever know if I agree with that statement or not. However, what I do know for certain is that this is one of the most flat out entertaining action comedies out there. And yeah.. crime!
Three Billboards Outside Ebbing, Missouri (2018) – Now this actually is a crime film, ayyy! I'm so uncultured. Nevertheless, this will no doubt stand as one of the best films of the year by the end of it, with a great contrast between the darkness of the subject matter and the lighter comedy bouncing through it, while there's always a brutal edge to keep things more than interesting.
Elliot.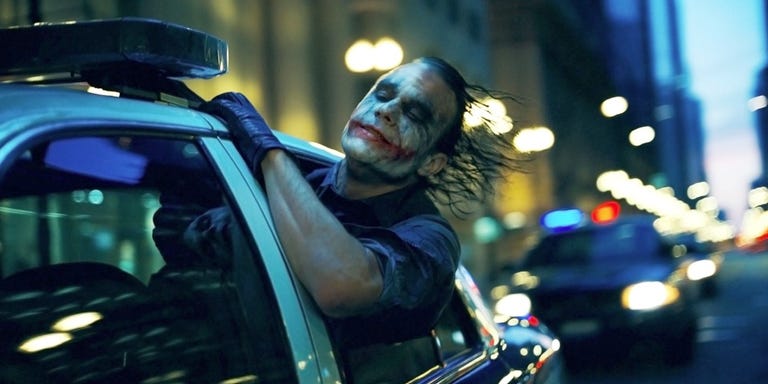 The Dark Knight (2008)
Yes, it has Batman in it, but this isn't really a superhero film, this is a crime thriller at the highest end of the genre, executed in just about the most impressive way imaginable. And Heath Ledger gave me bad dreams.
In Bruges (2008) – Have hit-men ever been this much fun? Or this Irish? I don't think so. It's not all about jokes though – there are some truly poignant moments that stick with you.
Jade.
This slideshow requires JavaScript.
Internal Affairs (2002)/Triad Election (2006)
Hong Kong crime thrillers Infernal Affairs and Triad Election top the ranks of my long best-of list spanning decades. The atmosphere is unmatched in both films, their cinematic underworlds bringing forth dark suspenseful narratives of gang violence, turf warfare and harrowing betrayals.
KeepsMeAlive.
Pulp Fiction (1994)
EclecticMusicLover.
Rear Window (1954)
SteveForTheDeaf.
Sexy Beast (2000)
Poor old Ray Winstone gets pulled in to the one thing guaranteed to get you killed in a crime movie – One. Last. Job. While Ray's character Gary believes he has retired somewhere hot, those who have a say about this sort of thing disagree with him. So, they send in Ben Kingsley's Don to pull him back. Ben Kingsley, the man who played Gandhi, playing the scariest, nastiest, most vulgar villain imaginable. 'You should be ashamed of yourself. Who do you think you are? King of the castle? Cock of the walk?'
The Long Good Friday (1980) – Bob Hoskins is the crime boss who takes on The Yanks, the IRA and (weirdly) the cast of Casualty in this Shakespearean tale of betrayal and loss. He gives good lead as a gangster out of time fighting for his bit of London (the bit that is now Canary Wharf, trivia fans). With the love of a good woman in Helen Mirren and a loyal crew, he doesn't expect to watch his empire crumble from under him. That ending says so much with just a look.
Serpico (1973) – Pacino again. This time he's the one good cop in the sewer that is mid-20th century New York. With his outrageous outfits, arty girlfriend and a giant dog, he takes on the street criminals, the corrupt cops and tries to find his bit of beauty in a downtown basement flat. It takes a bullet in the face and those he trusts to sell him out for Serpico to rethink his strategy.
Things To Do In Denver… When You're Dead (1995) – A weird crew are pulled together for a job; put a scare on a kid who got out of line — what could possibly go wrong? Andy Garcia falls in love just as he falls from grace. It's buckwheats for all of his crew and he's on borrowed time, but women who glide deserve men who make them thump. A strangely poetic piece of post-Tarantino 90's crime cinema.
Donnie Brasco (1997) – Pacino again. His past-it gangster Lefty falls in man-love with Johnny Depp's eponymous undercover identity in a perfect mix of lurid polyester period costumes and opportunities to move up the chain to become a made man. The big time gets tantalisingly close for Lefty while the journey to the final reveal almost consumes Depp's character entirely. In the end, there aren't really any winners — the whole thing is a Fugazi.
Stay tuned for more Best Thangs of All Time!