Bassists suck. Suck it, Reuben.
Milo.
Les Claypool – Primus
Sure, I'm a Fleabass boi at heart, but today I must think with my head (wOaH mate, that's a first) and say that Les Claypool is simply the best rock bassist on the planet — and I bet he could take on some of them jazz bastards too. He's someone who has mastered his instrument, a true virtuoso, who's discography is filled with lines both complex and oddly funky. His tones, like old oak trees, are chunk supreme and his techniques range from intricate finger-picking to glorious rhythmic strumming to good ol' slappin'. He's THE bassist.
Flea – Red Hot Chili Peppers – It kinda hurts to not pick Flea, honestly. The main fuel source of funk in the Chili Peppers as well as *ahem* sexual deviancy *ahem ahem*, without yer man you wouldn't have RHCP as we know it, or funk rock in general. Right from the get-go, with Get Up And Jump you could see he was something special — then he just pumped out iconic bassline after iconic bassline; Give It Away, Can't Stop, Warped — so many more.
Bernard Edwards – Chic – RIGHT. If you don't like disco, you have problems that I cannot solve, go eat some small animal, you make me unfeasibly upset. Funk and dance come together is a beautiful bastard child dipped in glitter and slung on a dancefloor, and Bernard Edwards is that groovy midwife. Just listen to Everybody Dance and tell me that isn't the best thing you've ever heard.
Reuben.
Les Claypool – Primus
I could have picked Flea, yeah. But, Les is better. In my opinion, he truly is the greatest bassist to ever have lived. The skill and ability he has is unmatched by any other, as he manages to be one of the best riffers in the business with a solidity at the core of his bass playing, as well as being the grand show-off, the only bassist I know of who can sound as impressive as say, Jimi Hendrix on guitar. But it's not so flashy it's ridiculous, it's quirky, it's unique, and it's hella groovy, defining Primus' oddball music while grounding it and giving it SUPREME pizzazz. As a bassist myself, Les is who I aspire to, he is the ultimate, the bass player. Sorry Metallica, he's too good for you.
Flea – Red Hot Chili Peppers – Of course, Flea ain't far off. He's had millions singing his praises and as quite possibly the most skilled musician in the Chili Peppers arsenal of awesome bois (AKA John Frusciante and Dave Navarro), he's got a whole lot to be praised for. His energy is almost tangible as it bounces out of the speakers, with the riffage and sheer awesomisity coming from his fingers coming in unstoppable spades. And when he needs to calm down, he can, to fantastic effect – in his short stint with The Mars Volta for example, and in By the Way.
Steve Harris – Iron Maiden – Another bassist who steals the spotlight from the guitarists, and perhaps even the vocalist, Steve Harris IS Iron Maiden: it's his band, he writes pretty much everything and he's flippin' GOOD. The speed at which he fiddles those strings is immeasurable. If what he said is true that years of nose picking led to it, then I'm gonna pick my nose non-stop from now on. Yes, Milo, I hope that sentence made you recoil from your laptop screen. (it fucking did)
Tim Commerford – Rage Against the Machine – This man is simply coolness in musical form. He is the king and master of riffs. It's him that truly makes Rage the greatest riff band ever. His work on Bulls on Parade will forever be an eargasm.
John Paul Jones – Led Zeppelin – Just about trumping Jane's Addiction's Eric Avery to this last spot, John Paul Jones is the perfect grounding bassist – that bass player you can always rely on. But then, holy balls, once you dig deeper into his technique and HOW he grounds Led Zep so brilliantly, it's almost unthinkably skillful. Ramble On, mate. HOW DOES HE PLAY THAT.
Jade.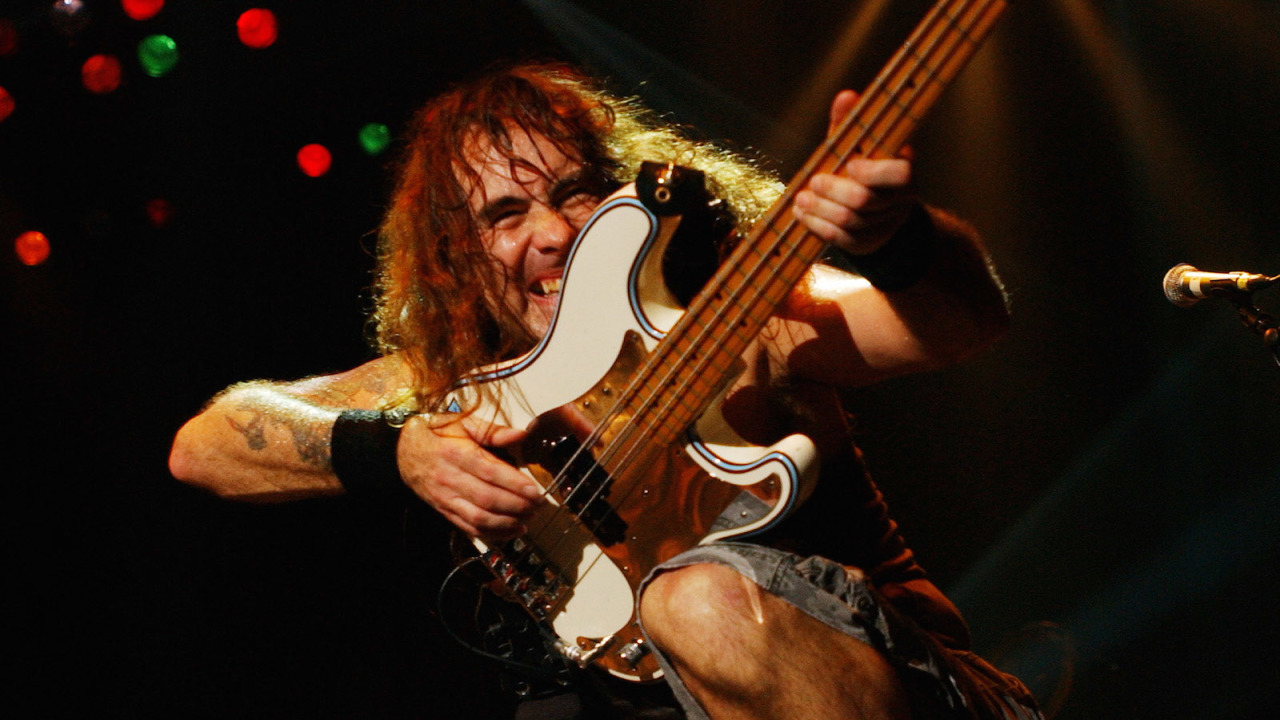 Steve Harris – Iron Maiden
Bass guitars get a bad reputation, only amongst those who have not seen Steve Harris play. He is also the reason why Iron Maiden is, which is reason enough to even hail him as the best human being to ever exist.
KeepsMeAlive.
Jaco Pastorius – Weather Report
SteveForTheDeaf.
Lemmy – Motörhead
The ultimate rock star. The ultimate front man. The ultimate bassist. His strings sound like they're about to fall off on many of his songs. He genuinely plays bass like it's a deadly weapon.
Flea – Red Hot Chili Peppers – Arguably the most famous member of one of the world's biggest rock bands. How is the skinny jerky bald dude the star of Thai band? Listen to that slap bass. Imagine RHCP without him? You can't, can you?
Steve Harris – Iron Maiden – He's more than a bassist. He's the captain of Iron Maiden FC. He's the driver behind all that metal riffage and chugging changes and is it me or is he ageing very slowly indeed? He might actually be a vampire.
Geezer Butler – Black Sabbath – GZR. Need I say more?
Rachel Bolan – Skid Row – I bought a bass guitar and grew my hair long when I was 14 because I wanted to be Rachel Bolan from Skid Row. He has his bass low like Dee Dee Ramone. He wore shin guards and a nose chain and he played the intro to Piece Of Me like a malevolent creature in a big haired 80's metal band. Props MateZ.
EclecticMusicLover.
Chris Wolstenholme – Muse
Stay tuned for more Best Thangs of All Time!