Real boi-bois cry then dip.

Milo here.
I've always known that Bristol punk would make it big. We've had not a lot going since Massive Attack, mainstream-wise. So, imagine my joy (asanactofresistance) when I found that IDLES, the hardcore punk outfit making waves in the scene, were from the west country I hold so dear. And when you hear the "ARRRR"s going on, you 'ave no doubts 'bout where these rowdy buggers're 'ailin' frum.
However, on first listen, I wasn't overly enthused. Colossus, also the album opener, had a decent music video but not a lot going musically for me, so IDLES weren't hitting my listener's g-spot (hands down the most disgusting thing I've ever written), oh well. I couldn't ignore them though, with a tidal wave of glowing reviews and heavy recommendations bashing through my doors and windows — I had to give the album a listen. What I thought of it is a mystery that lies between you and the rest of my review — better give it a read, mate.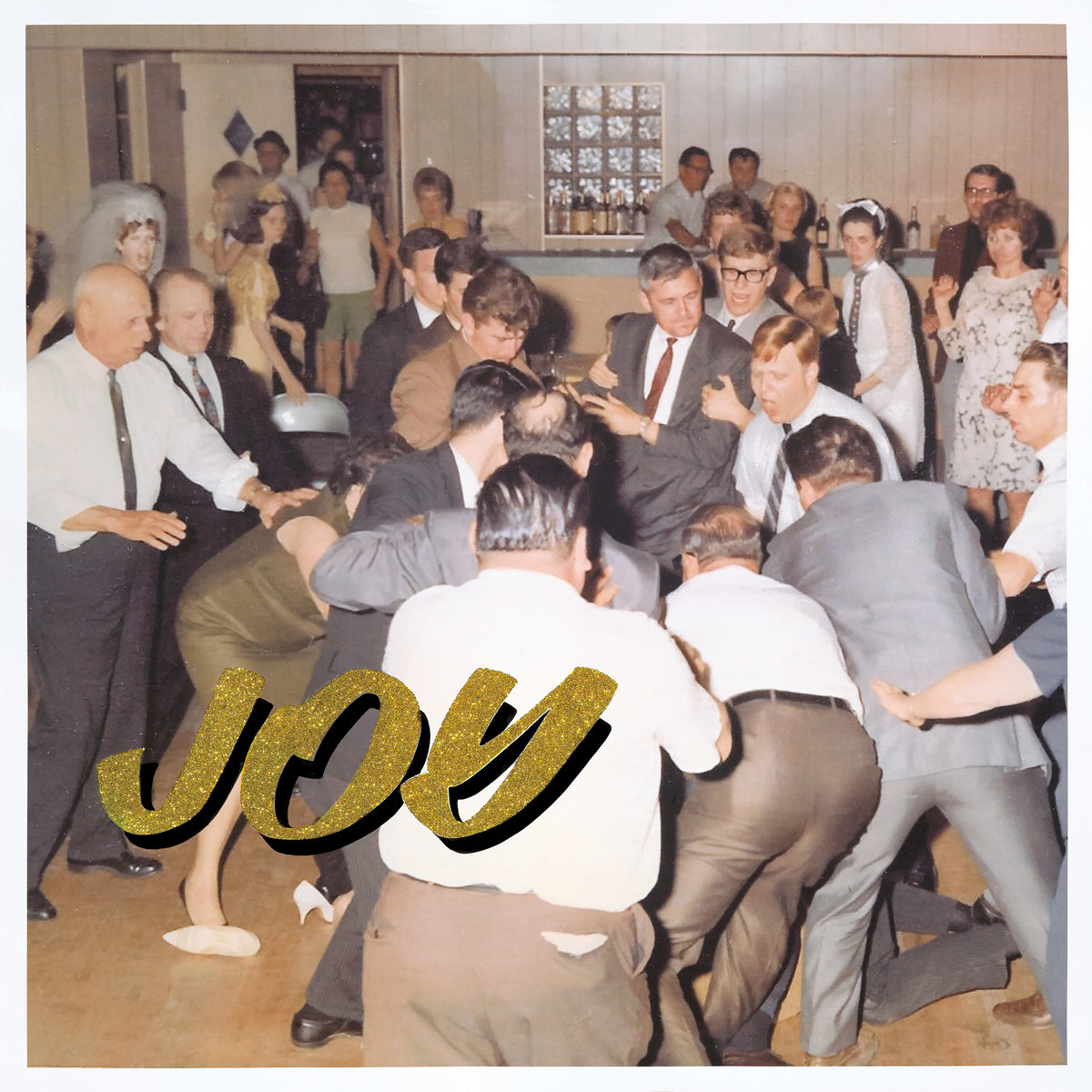 As said, the slow-burning Colossus opens the album up. As I also said, I was not fond of this track on first listen. However, it all makes sense when you've got the whole album in front of you. It builds this malicious foreboding, with the rattling rimwork and earth-quaking bass to keep you company, constructing this evil little post-punk soundscape. Vocalist Joe Talbot hisses gritted teeth mantras that cover almost every theme on the album, an extensive and vital bunch of themes they are too. It all blows up in the final act, however, and the moshpit mutiny of an IDLES live show is shattered in your ear drums.
Following that we have Never Fight A Man With A Perm, a scathing attack on violent pub meatheads the country over. The scraping guitars in the verses, coupled with the almost regimented tom-work, accentuates the tension in Talbot's vocal delivery. There's a sense of genuine menace in this track, where IDLES for the first time, despite their joyous attitude to aggression, actually sound like they're looking for a fight.
Then we have the first big highlight of the album with I'm Scum. Maybe the biggest sing-a-long punk song in a very long time, as well as the new age anthem of the working class, this track sports a massive chorus that'll have pints flying through the air like it was raining Thatchers (ah, what a world). Like many of IDLES best songs, it's not technical ability that impresses in this track, nor is it particularly the songwriting, it's the sheer velocity and brashness of the performance that makes this one such an absolute banger.
Probably the biggest song from the album, at least most played on their press cycle of it, Danny Nedelko is somewhat of a fan favourite for the band, with its "yadayadayada-ayayayay" hook and borderline hippie-drenched lyrical content. If not, it's for sure the most IDLES song on the album, somehow appealing to the arty kids and old school punks all at once. While I can't deny the importance of a song like this, essentially spitting in the face of anti-immigration ideology, it's definitely not my favourite on the album, with some of the lines hitting me as a little bit cliché at points.
After the rowdy jubilee of that track, we're back in the grimy toilet of cynicism that is Love Song. I say that, but, regardless, these guys manage to inject a sense of humour to the ominous instrumental of skittish drums and offkey guitars. I love the particularly sardonic vocal performance here, emanating a voice of Johnny Rotten that manages not to be as gratingly obnoxious.
In what feels more and more like a hit of dry irony, Love Song is followed by June – a song that even the title of which gives me a lump in my throat and chill up my arms. The humour is desolate here, as Talbot serenades his stillborn child, and curses those that smote him. As the line "Baby shoes, for sale, never worn" is pried from the vocalist's pained chords, and the unrelenting drums create a sense of unbearable drama, it hits home about the vulnerability behind the band's seemingly invulnerable frontman. A chilling, emotional moment on the album.
This is followed aptly by Samaritans, by no small feat, the best song on the album and one of the most important, critical songs for anyone identifying as male to hear. The theme of vulnerability is brought to the forefront here, as Talbot rips apart toxic masculinity inch by intolerable inch. I cannot stress how much these lyrics can resonate with not just me, but so many out there. This is further enhanced by a killer instrumental, some of the best drums of the year — and a crashing conclusion that goes down as one of my favourite musical moments of the decade.
AND IF THAT WASN'T ENOUGH — 1-2 ALERT — THE NEXT TRACK IS A FUCKING STORMER AS WELL. Television, while Samaritans hits home especially for the lads, is something everyone who had ever had an inch of self-doubt (literally everyone, let's be honest) should hear, if not cus it's a classic in the making. As Reuben can testify, this is a song I find particularly freeing when bellowed at the top of my lungs. The security and general acceptance, all glossed under that veneer of anarchy, in this song does nothing but bring a reckless smile to my face.
The band get political yet again with the next song, Great, hitting Brexit with the sonic firepower of a bullet train made of distortion pedals. An anthem that's sure to be blasted at any self-respecting liberal protest, this chorus is literally spelled out for you to shout along. The instrumental is rapid, with the rhythm section doing its part to drill the message into your head as vigorously as possible. If that's not sold ya, it's also by far the most Bristolian song I've ever heard, just watch that video and hear those "ARRRR"s — West Country, la la la.
For me, the last absolute choon on JAAOR (not to say the last two aren't fine-ass pieces), Gram Rock takes us back to that "fuck-off" wit of Love Song, pitting it with some "fuck-off" drum fills for a song that has me both in stitches and headbanging — painful, but worth it. There's not really an overarching message to this track, which is to its detriment, admittedly, but it's a nice bit of punky chaos.
After that we get a lovely rendition of Solomon Burke's signature hit Cry To Me. It's definitely a strange choice for a cover, but, then again, the best covers are strange choices. I'd say this is my least favourite song on the album, however, as I think, though it does kinda fit the album, it also feels disingenuous compared to the rest of the track listing.
Closing the album we have the 5-minute punk rock stormer, Rottweiler. Much like Gram Rock, the lyrics don't have much explicit meaning to them, but they're entertaining nonetheless. The instrumental is fast AND furious, quickly devolving into absolute chaos as the song goes on. Funnily enough, I prefer this objective racket to the rest of the song, the cymbals crashing, the feedback whining, Talbot's coarse screams of "KEEP GOIN' FUCK 'EM FUCK 'EMMMMM" — it's exactly the kind of degenerate mess that I want an album like Joy As An Act of Resistance to end on.
Overall, IDLES are one of the most astounding acts of my 2018 for many reasons. Never before has a band I've been so lukewarm on shot up in my estimations so much. There is more than one song on here that I would call essential listening for punk fans and otherwise, and the social/political need for an album like this cannot be understated. Regardless of that, the infectious, anarchic joy of this record will leave you spinning it for days, with wildman vocals, virtuoso drumming and gutter-esque bass and guitar. I mean, I didn't think I'd say it, but it's gotta be my album of the year.
BEST TRACKS: Samaritans, Television, June, I'm Scum, Great, Love Song, Colossus, Gram Rock
WORST TRACK(S): Cry To Me
______________________________________________
95/100
______________________________________________
Lots of hugs, kisses and lacerations
Milo.