AND HERE WE GO GUYS.
Milo here.
What a year, what a year. As we come into the final leg of Best Thangs, it's nice to end out on modern societies most excessive pasttime — the big, big world of cinema. Of course, I kid. In fact, 2018 saw my horizons broaden wider than blockbusters and comedies, though there are still a few here. That said, there were a few gooduns that slipped through the cracks:
Bad Times At The El Royale
Overlord
Suspiria
Upgrade
A Quiet Place
Yo, this be Reuben. How does a year follow-up 2017's top three of The Last Jedi, Blade Runner 2049 and The Disaster Artist? It tries its darndest to live up to it, gets agonisingly kinda close, but still looks great in failure. 2018's been a goodun. But before we dig right down into it here's a few films I begrudgingly missed:
Sorry to Bother You
Bad Times at the El Royale
Ant-Man and the Wasp
Suspiria
Upgrade
A Quiet Place
---
Best Old Film We Saw This Year.
Ugh, there are only so many ways you can say "Here are the best old movies we saw this year.", in't there?
Milo.
My nominees:
The Florida Project (2017) – My personal favourite of the Oscar movies this year, this tragically underrated drama looks at struggle from a child's point of view and finds beauty in the most desperate of situations.
Leon: The Professional (1994) – Stylish, violent, Lolita-ry? Let's not think about that. Creepy undertones aside, this film kicked a fair share of assss.
The Life Aquatic With Steve Zissou (2004) – Bittersweet and textbook Anderson, Murray gives the performance of a lifetime. The Portuguese Bowie soundtrack just tops it off; vida em Marte?
Almost Famous (2000) – A marvelously fuzzy film, filled with heart and rock and roll.
American Psycho (2000)
A movie that appeals directly to my edgy, angsty, yet still totally FUCKIN DOPE side (don't believe his lies), American Psycho's wonderfully pessimistic message, stark visual style and surreal narrative had me in awe when I finally got round to watching it earlier this year. Christian Bale's charismatic utter bahstahd remains one of my favourite lead performances, from his shit-eating grin to his piercing inner monologues. The soundtrack pops, as does the violence, and director Mary Harron achieves an astounding sense of place and time, making the film very absorbing and atmospheric too.
Reuben.
Almost Famous (2000)
A tribute, commentary and love letter to the toddler stage of rock music in the '70s, Almost Famous feels about as free as those bands on the road appeared. An easily watchable and entertaining flick soaked in emotional integrity, a real journey and topped off with a fitting soundtrack, Tiny Dancer and Tangerine included. Interestingly, for as idealistic as it seems, there's a harsh realism as for the hardships of working in music, and the contrasting themes are tied together masterfully to make for a genuinely inspiring and memorable watch — especially for a dreaming dope such as yours truly.
Runner-ups:
Lethal Weapon (1987) – An action movie cool as ice, one of the very best.
Get Out (2017) – Intense and thought-provoking, immensely directed and performed, a bleak, gripping and relevant horror film, one of my favourites in the genre.
Big (1988) – Tom Hanks doing his thang.
This Is Spinal Tap (1984) – Turns out this lives up to the "timeless classic" hype.
Zombieland (2009) – Fun zombie mutilating times.
Hunt for the Wilderpeople (2016) – Probably about the loveliest, nicest watch since Moonrise Kingdom.
Predator (1987) – Also lives up to the "timeless classic" hype, although I feel like I need to watch it again properly rather than a TV repeat.
IT (2017) – A surprisingly exciting take on blockbuster horror and just a damn entertaining time.
---
Best Action.
WE LIKE MOVIES THAT ARE EXPLOSIVE N' SHIT, YEAH?
Milo.
My nominees:
Incredibles 2 – I was thoroughly happy to see this flick buck the trend of underwhelming Pixar sequels, and pack just as much action into this as its predecessor.
Avengers: Infinity War – It has everyone in it, of course there was gonna be some bigboi actiony bits — and there were a-plenty.
Black Panther – Wakanda's finest kicked ass, honestly, very much in the vein of Civil War, just a lot of cool shit going down.
Mandy
Mandy is, by no means, an auteur's masterpiece, or a particularly clever film in any way. That said, if you wanna watch Nicolas Cage fuck up some bikers in low-light with lots of blood and synthy soundtracks, then this film is your bag. It's very much in the same branch of narratives as a film like Deathgasm, where you know who the goodies are, you know who the baddies are, and you're just here for the disembowelments. Mandy achieves this tenfold, making it both a stupid watch, and an amazing one.
Reuben.
Deadpool 2
Stuffed with stupidity, Deadpool 2 is gore galore from start to finish. Anti-heroes, bigboi villains and thugs all get in on the action as heads roll, bullets get chopped in slow-motion and yaboi comedy mutant man himself quite literally blows himself up, ew. Still, attempted suicides aside, the action here, as well choreographed as it is, might I add, brings the biggest big-screen entertainment factor this side of The Last Jedi.
Runner-ups:
Incredibles 2 – Packed with laser zaps, flashy explosions and lots of fisticuffs — sounds kinda like Dragon Ball Z, actually.
Avengers: Infinity War – The event film of the year delivered on all fronts punchy and kicky.
Black Panther – Filled with substance and style, whaddayaknow!
Spider-Man: Into the Spider-Verse – About the nicest looking action we got to see this year, anyway.
Jurassic World: Fallen Kingdom – This year's most surprisingly better-than-decent film had its fair share of angry dinosaurs, and it resulted in some dang good action.
---
Best Comedy.
WE ALSO LIKE FILMS THAT MAKE US GIGGLE IN OUR LITTLE SCHOOLGIRL DRESSES. WHAT. IS. WRONG. WITH. THAT?
Milo.
My nominees:
Deadpool 2 – It may not hold as much a place in my heart as the first one, but Deadpool 2 retained the charm of Ryan Reynolds and had its fair share of great moments, including one hilarious cameo that I shall not disclose.
Lady Bird – Weaved into the heartwarming coming-of-age-ness that this film champions are some genius little funny-nuggets.
Incredibles 2 – It's just that owl guy. That bit. When he turns around. I did a chortle.
Three Billboards Outside Ebbing, Missouri – Even with its sombre moments and pretty serious themes, McDonagh's laser-sharp writing brought with it a good few laughs.
Isle of Dogs – The comedy in this one lies in the little nattering between the characters, so low key, it could only be in a Wes Anderson film.
Sorry To Bother You
Be it the surreal, deadpan delivery or Lakeith Stanfield's presence, but Sorry To Bother You hit me as an especially weird episode of Atlanta, with the mental switched up to 90, of course. This is high praise, obviously, and the ridiculousness of everything happening in this movie was amplified by the characters' seeming obliviousness to it, even as it comes to its batshit finale. This makes the whole unbearably funny, with the sociopolitical undertones adding that extra level of cleverness — just superb all round.
Reuben.
Johnny English Strikes Again / Deadpool 2
OooooOoOOOoo, a double winner, eh? I couldn't decide which one deserves the pick more, so yeah. I mean, they're both stupid. In a good way though, I assure you. First off, Johnny English Strikes Again gets the nod purely for the fact that I couldn't stop laughing for the majority of its runtime. I mean, okay, it's pretty classless, and all it is is a Bond parody at the end of the day, but it's self-aware enough that it knows what it is, and it does it very well.
Deadpool 2, on the other hand, sees everyone's favourite anti-hero retain his form and continuing to somehow make a screenplay mostly made up of fourth-wall-breaking sex jokes and shameless pop culture references hilarious enough that you never stop to think how idiotic it is.
Runner-ups:
Incredibles 2 – Maybe a little less fresh than the original, but the same quality quips are still here.
Early Man – While not Aardman's best comedy offering, footie references and bad French accents are present, and that's good by my books.
Lady Bird – A little more subtle here, but a coming-of-age film's gotta have some stupidness to it.
Three Billboards Outside Ebbing, Missouri – Underneath the veil of the dark concept here there's a good dose of dark comedy, too.
BlacKkKlansman – Spike and the gang knew they had to relieve the tension somehow else we would have spontaneously combusted half way through the cinema screening – what better way to relieve it than with some comedy?
---
Best Poster.
A nonsense-y category for some (*reubennnnn*) but a nice appreciation for our fave kind of advertising.
Milo.
This slideshow requires JavaScript.
Reuben.
This slideshow requires JavaScript.
---
Best Music.
MUSIC. IS. EVERYWHERE.
Milo.
My nominees:
Mandy – Synthy boiissssss, like Stranger Things but it doesn't happen every two secondddsssssss
Deadpool 2 – XGONGIVEITTOYADUHDUHDUHDUHDUHDUHUH
Black Panther – Aside from the nocturnal choonness of All The Stars, we had that badass trippidy trap whenever Michael B Jordan came on screen.
BlacKkKlansman – A black power movie set in the 70s, you gotta have Say It Loud; they had Say It Loud, of course. That and a stunning Prince release.
Bohemian Rhapsody
Right, this widely-watched, opinion-splitting Queen biopic is an entertaining watch, but it is nowhere near the be all and end all to the story of Freddie Mercury and is far from a perfect film. That said, if your film is about Queen, and you've got a Queen-packed soundtrack, then you are going to have the best music of the year. All the greats are here and accounted for, in all their glory; it's Queen, fool.
Reuben.
Spider-Man: Into the Spider-Verse
What impresses me about the music isn't how good the music is itself, in fact a lot of it I wasn't particularly into, aside from a couple of choons, but what impressed me was the way they implemented the soundtrack into the film and used it creatively. Nodding my head in self-approval, I remember turning to Cam after the film and saying "they used the music in an interesting way" — woah, I thought of something and put it in a sentence. What they did here with the new Spidey flick was use music as a tool to build an atmosphere and give the movie a sense of personality, while also using it to rhythmic effect to tie in with the visuals, and it really adds a great extra dynamic to the whole shabang.
Runner-ups:
Deadpool 2 – Xgongiveittoya indeed.
Coco – For a film centred around music in about every way, this had to get a nod.
BlacKkKlansman – Consistently funky and smooth times to be had here.
Ghost Stories – While the entire film gets its score spot-on, there's one particular scene which gives me genuine shivers (one of the best scenes of the year), and that's mainly down to how brilliantly said score is used.
---
Best Visuals.
The pretty things *strokes a Blu-Ray of Fury Road*…
Milo.
My nominees:
Incredibles 2 (A.D. Josh Holtsclaw) – Sublime, colourful animation from the absolute BOIS of the genre.
The Shape of Water (D.P. Dan Laustsen) – Guillermo Del Toro mixes up usual darkly fantastical style with a refreshing dose of the art deco.
Coco (A.D. Tim Evatt) – Taking cues from the still-superior The Book of Life, Coco still had its share of stunning moments.
Sorry To Bother You (D.P. Doug Emmett) – Much like its comedy, the USP of Boots' directorial debut lies in the oblivious surrealism in the detail, very parallel universe-y.
Isle of Dogs (D.P. Tristan Oliver) – Excellent stop-motion modellin' and cinematography that you'd expect from an auteur like Anderson, 'tis choice.
Spider-Man: Into The Spider-Verse (A.P. Dean Gordon & Patrick O'Keefe)
I didn't predict how big this film would be actually. When I picked it as one of my most anticipated movies of 2018, I figured "ah, animated spider-man film, little fuss", but people really went for it. And it's a good thing too, because it's the best animated superhero film this side of The Incredibles. A big part of that is the gorgeous visual palette. Like the best comic book movies, it looks straight from the pages, with the seamless cell-shaded animation and neon-tinged colour palette. It's strikingly urban like a Spider-Man movie should be, as well as balancing the serene moments like the one above, with the high-octane action you'd expect. It's a veritable feast for the eyes, more so than any other film this year.
Reuben.
Spider-Man: Into the Spider-Verse (A.P Dean Gordon & Patrick O'Keefe)

And we have tonight's first double-winner! Woop. I too, like Milo, for a while foolishly brushed the idea of this film aside, but once Bigboi Kingpin and his chums slammed onto the scene I realised what a fool I'd been. Spider-Verse manages to create just that, a spider-verse so vibrant, colourful and true to form that it looks as if its straight out of the comic books, with onomatopoeias and speech bubbles perfectly complementing explosions of neon in a brilliant cel-shaded New York bustling with expression and character. What Gordon and O'Keefe have accomplished here is the best looking animated film since Kubo and the Two Strings, and a fine achievement that is.
Runner-ups:
Ghost Stories – A large part of what makes Ghost Stories so good is how aesthetically bleak and uncompromising it is, utilizing a small budget to make a genuinely terrifying horror.
Incredibles 2 – One of Pixar's most visually impressive films to date with a vibrancy not too far removed from what you'll see in Spider-Man.
Isle of Dogs – Wes Anderson style cinematography mixed with stop-motion animation? Yes please.
Coco – Sublimely animated and brimming with Day of the Dead goodness and colour, more brilliance by Pixar.
Early Man – Aardman are at it again here, and we expect no less. REVIEW-BOI.
---
Worst Film.
Let us shit on someone's hard work because it wasn't very good. Oh well, YOU SHOULD HAVE BEEN BETTER.
Milo.
My nominees:
Venom – I still don't. I. STILL. DON'T. – Review.
A Futile And Stupid Gesture – An unstructured, only slightly amusing biopic, driving with too many points on its creative license (pun).
The First Purge
In many ways, The Purge movies are still my go-to trashy movies. I say "many", I mean "all". They are THE guilty pleasures, with an admittedly strong concept allowing for just the dumbest movies to keep me entertained. That happened with this, The First Purge, from the pseudo-political commentary, to the main antagonist who comes out of the toilet in the last act for no reason. And maybe that latter example is the ultimate analogy for The Purge; "the antagonist that comes out of the toilet in the last act for no reason". These are shit movies, let us watch them together.
Reuben.
The First Purge
Ugh, man. This film was so stupid. I mean… First off, you don't introduce a villain (let alone have a character called Skeletor in the first place), build him up as this scary terrible awful dude who's gonna stab all your *favourite* characters, then put him away for the majority of the film, only to come barging out the toilet screaming for a few solitary seconds when he's no longer needed. You also don't try and push a political agenda and then get so clumsily swept up in stereotypes that you accidentally become a parody, and a crappy one at that, of something trying to push that very agenda. I mean, you also don't SUCK. Still, let us watch this shite together indeed, for it is fun.
Runner-up(s):
The Predator – While definitely not completely awful, this is a crappy, if fun enough, time. REVIEW-LAD.
---
Best Director.
While this does, in a way, honour the entirety of the crew, it do take a great director to produce a great film.
Milo.
My nominees:
Martin McDonagh – Three Billboards Outside Ebbing, Missouri – One of the most consistent directors of the past decade has hit it outta the park once again with this Oscar-cleaning powerhouse.
Guillermo Del Toro – The Shape of Water – Another hit-out-of-the-park for a director who, bar Pacific Rim (sue me), has a pretty flawless track record.
Greta Gerwig – Lady Bird – The passion Gerwig enbued into Lady Bird is part of what made it such a joyous watch.
Bo Burnham – Eighth Grade – Much like Gerwig, this was a major passion project for Burnham, whose work promoting the film to its target audience just reflects that.
Boots Riley – Sorry To Bother You – A majorly perfect storm for the Riley's debut, simultaneously batshit enough to be timeless and relevant enough to be a movie for right now.
Wes Anderson – Isle of Dogs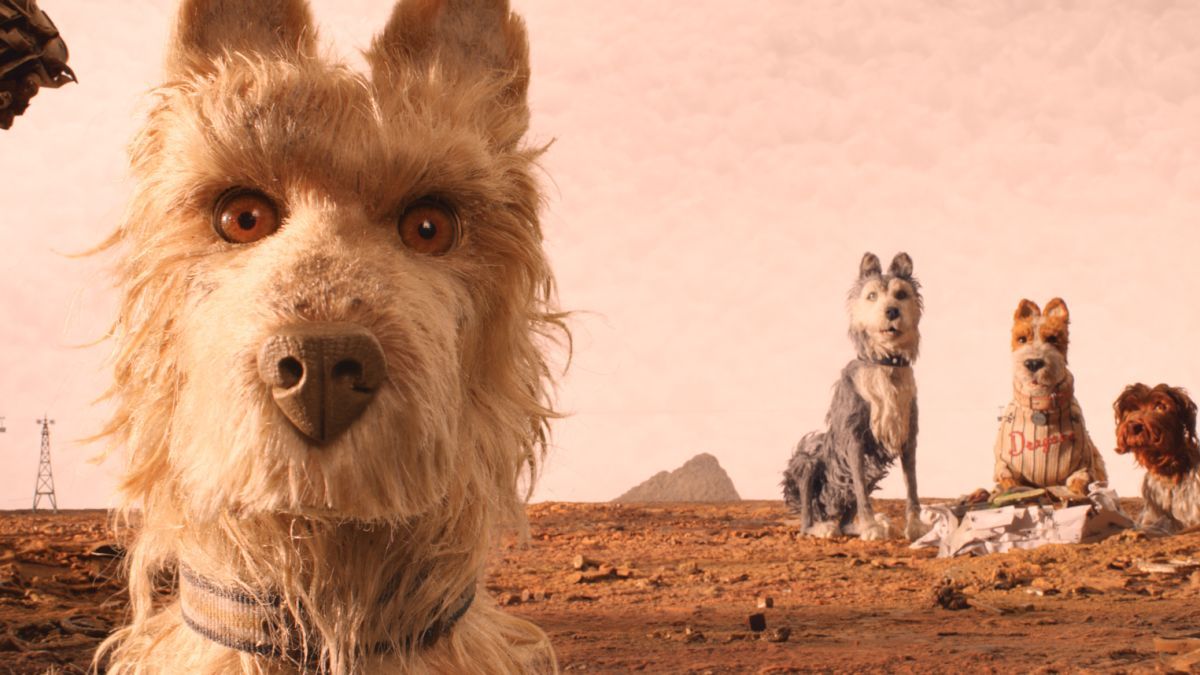 I mean not every movie needs to have a message or something to say in particular, to be overly political. Some movies exist as the pieces of art as they are and, with Isle of Dogs, Wes Anderson proved that point among a landscape of politicised cinema; and he proved that point stunningly. Like many Anderson films, the cinematography feels at once docile and confrontational, the screencap above being a fine example, and his sense of setting is immaculate. Of course, the writing is brilliantly understated and often hilarious, the sound design acute and detailed. Wes has often been a director in my honourable mentions, so I'm glad to finally be able to give him the honours here.
Reuben.
Spike Lee – BlacKkKlansman
While some argue, and are within their rights to, that Spike's direction here is too on-the-nose for its own good, I feel like what he achieves in BlacKkKlansman is a seamless tying together of the present and the past in a genuinely shocking and crushingly relevant way. He also manages to blend tones expertly, putting together tropes akin to a classic action movie with a boldly 70s style to make for a wildly entertaining and terrifyingly real film. I'd not seen any of Spike Lee's films before this, so it was a great intro, let's say that.
Runner-ups:
Martin McDonagh – Three Billboards Outside Ebbing, Missouri – Any director who manages to turn such a dark theme into a film as entertaining and memorable as this deserves big attention.
Jeremy Dyson / Andy Nyman – Ghost Stories – These two both utilised and challenged typical horror movie tropes to make a very British, very disturbing film (in a good way though, calm down Mark).
Steve McQueen – Widows – An extremely proficient turn on the directorial chair — he tried to fit a lot into this one, and he managed to well. REVIEW.
Wes Anderson – Isle of Dogs – Wes Anderson doing his thing, and doing it well.
---
Best Performance.
Here are the best professional liars of the year.
Milo.
My nominees:
Saoirse Ronan – Lady Bird – A big favourite of mine anyway, it was great to see this young talent take spotlight here with a charismatic and scene-stealing performance.
Margot Robbie – I, Tonya – The first time I've really seen Robbie impress, her turn here was brilliant, over-the-top and a joy to watch.
Sally Hawkins – The Shape of Water – I was ridiculously impressed with Hawkins' largely mute performance in this movie, conveying a tremendous amount of emotion with no words at all.
Rami Malek – Bohemian Rhapsody – Bohemian Rhapsody's major saving grace, Malek really did manage to capture a lot about the late legend.
Frances McDormand – Three Billboards Outside Ebbing, Missouri
Raking in, lemme just check… yeah, ALL of the trophies when it came to awards season, it takes just 10 minutes of Three Billboards to see all the hype behind McDormand's stunning lead performance. She manages to exhude so much acting power, be it intense or understated. The sheer range she explores, from some of the year's most touching moments to its funniest, is awesome, sticking well into the mind of viewers weeks, even months, after watching it. It's no secret that McDormand has been a solidly consistent actor for her 20+ years in the limelight, but she's outdone even her highest heights here.
Reuben.
Frances McDormand – Three Billboards Outside Ebbing, Missouri
That's double-winner number 3! One of the most striking and obviously *good* performances I've seen in a while, Frances McDormand won all those awards for very good reason. I don't often focus on an actor's performance when I watch a film, but McDormand really steals the show from start to finish in Three Billboards, with an uncompromisingly entertaining and dominating performance.
Runner-ups:
Woody Harrelson – Three Billboards – The best supporting actor of the year, sometimes managing to steal the show too, oops!
Viola Davis – Widows – A particularly strong lead performance here, kudos.
John David Washington – BlacKkKlansman – Washington manages to play a hero and make him really feel like a hero, and a damn cool dude at that.
Ryan Reynolds – Deadpool 2 – Reynolds plays everyone's favourite wise-cracker to brilliant effect again.
Daniel Kayuula – Widows – One of my favourite actors right now and his brooding performance here (as well as his involvement in probably the best scene of the year) gets him a well deserved nod, despite the fact his character doesn't get nearly enough screentime.
Saoirse Ronan – Lady Bird – A very promising talent and a fitting lead performance here.
---
In Memoriam.
Another year, another multitude of tragic losses in the industry.
This slideshow requires JavaScript.
---
Best Film.
Finally, we get to the biggest award of the year!
Milo.
My nominees:
Sorry To Bother You (4 Nominations – Winner of Best Comedy) – The directorial debut of Boots Riley, this surreal escape from reality somehow hits you with every social issue at once, in a bombastic display of giving a fuck.
Incredibles 2 (4 Nominations) – Pixar, not only content with giving us a *great* sequel (something they don't all that often), presents with easily their best movie since Toy Story 3. A flawlessly executed family-adventure, with fantastic visuals and fun writing, there's also a worthwhile feminist undertone to the plot, which is always a big phat plus, innit.
Three Billboards Outside Ebbing, Missouri (4 Nominations – Winner of Best Performance) – Witty, poignant, brash and hard-hitting — Martin McDonagh's new movie sports stunning performances and freight train of a plot that makes most others look inconsequential by comparison.
Isle Of Dogs (5 Nominations – Winner of Best Director) – A modern classic from someone with so many of those under his belt. A fiercely enjoyable film with a platter of great performances. Those are two sentences I can attribute to this boi.
Lady Bird (4 Nominations)
A film I knew very little about going in, I watched Lady Bird as part of my soon-to-be-annual Oscar binge and was subsequently blown the heck away. What seems to be a standard coming-of-age tale, Lady Bird, admittedly, finds itself very comfortable within the genre tropes. However, it's this comfort that allows Greta Gerwig's screenplay to flourish into something innately captivating, yet kind of mundane — as all great coming-of-age movies can. The performances are brilliant, with Saiorse Ronan, Laurie Metcalf and Beanie Feldstein each impressing in their respective roles, and the visual palette is a huge part of the film's aura of nostalgia and reminiscence. A stunning, oftentimes funny, watch.
Reuben.
1. BlacKkKlansman (5 Nominations, Winner of Best Director)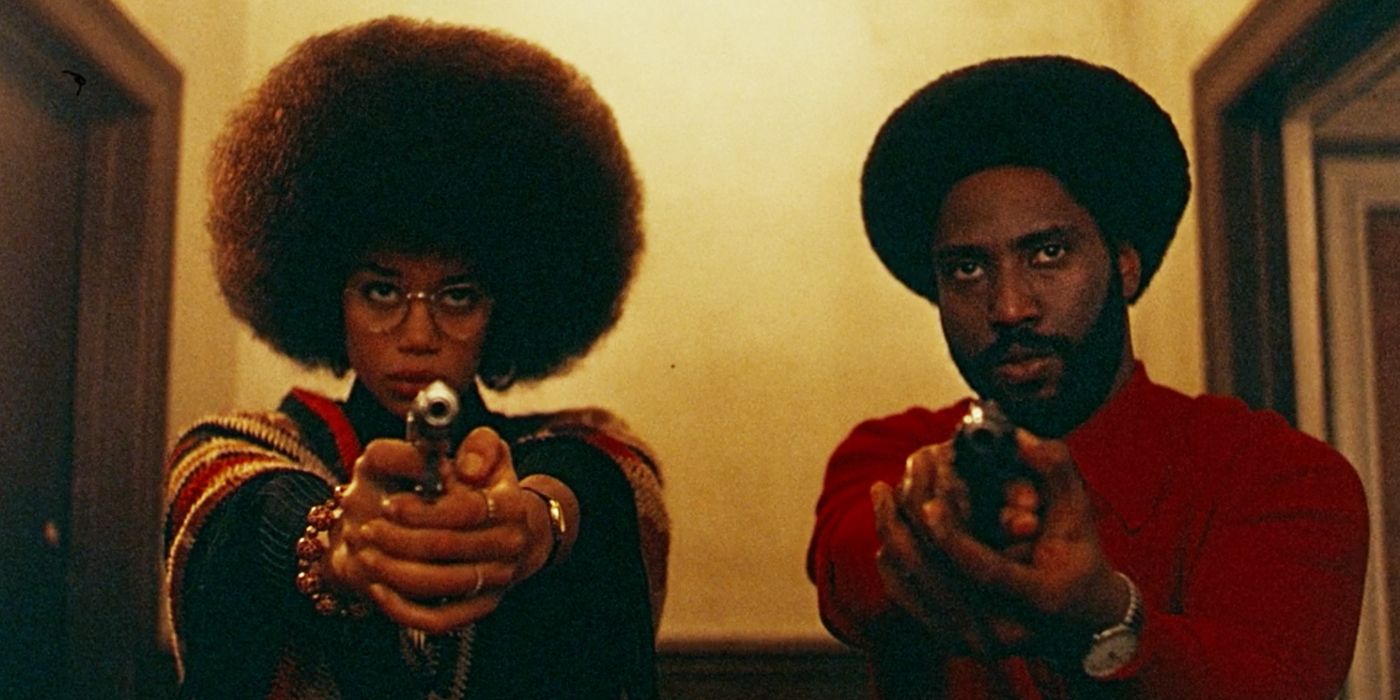 Back when I reviewed this in September, I was full of praise for it and I still am now. A film so nail-bitingly tense while at the same time so entertaining was bound to make an impression, and that it did. You get a soundtrack taken straight outta either a Prince album or Lethal Weapon and slap on a mighty fine afro or two, and you've got an awesome old-school action film kinda feel. And then you proceed to slap the KKK all over it. Then you've got something effortlessly cool, but also uncompromisingly realistic and dark — it makes for an unforgettable watch. I walked out of the cinema feeling like I was part of something important. At the end of the day, I suppose it is just a film, but hey, it's a damn good one.
2. Three Billboards Outside Ebbing, Missouri (3 Nominations, Winner of Best Performance)
If we're talking thematically dark films, this one's a kicker too, oh boy. McDonagh, with McDormand's performance at hand, has created an unforgettable film here, too. As dark comedies go, Three Billboards is a genre-defining flick. With an extremely strong wider cast and an isolating setting the film's given a strong foundation from which to build a sense of brooding, with the brash nature of the screenplay giving it a good dosage of comedy to play off of the theme, to make for a morbidly fascinating and brilliantly enjoyable time.
Runner-ups:
Spider-Man: Into the Spider-Verse (3 Nominations, Winner of Best Visuals and Music) – Visually astounding stuff here, and just a really fun watch from start to finish. Would get the number 2 spot if not for a slightly messy amount of characters taking away from the film's focus.
Deadpool 2 (4 Nominations, Winner of Best Action and Comedy) – A wonderfully stupid and ridiculous watch for all the family — well, maybe not all, but yunno.
Ghost Stories (3 Nominations) – It's criminal that I couldn't give this film any standalone awards. Dyson and Nyman's horror flick here is the scariest I've yet seen and one that'll have you thinking for months after, a fantastically put together, mind-bending and disturbingly good time.
Coco (2 Nominations) – A genuinely heart-warming and kinda life-affirming time — what's not to like?
Incredibles 2 (3 Nominations) – While not quite the original, it could never be and comparisons are futile. This is an incredibly fun flick and Pixar's best sequel since Toy Story 3. REVIEW.
Avengers: Infinity War (1 Nomination) – I only managed to give it the sultry one nomination, granted, but this was the event film of the year, and it was huge. It lives up to all the hype and it had me literally squirming with excitement.
---
And we're done! I'd just like to say a great big thank you to all y'all for making this another great year for Stuff And That and a pre-emptive apology for the rest of the crap we'll be posting in 2019!
Lots of hugs, kisses and lacerations,
Milo.
Bringing redundant opinions for scrollers everywhere,
Reuben.