Mmmm mmm MMM!!!
Milo here.
Oh fuckin' wowzers! It's been a while, eh? Long story short, the MMMs I planned on writing while my exams were *violating* me were scuppered when my laptop packed in. Not great. However, the exams are over and I've got a new typer at my disposal, so why not get back into the absolute swing of things. And what better than with a movie review? Something I haven't written in *ahem* eight months…
Despite decidedly lukewarm reviews upon release, Netflix original An Evening With Beverly Luff Linn immediately attracted my attention with a cast featuring Aubrey Plaza, Jermaine Clement, Craig Robinson and Matt Berry; it's like someone had popped into my mind and swiped my dream cult comedy playbook and made it. I figured a watch wouldn't do me harm at all, considering the amount of kooky fuckery going on in the trailers.
With an Aunt-who-collects-beanie-babies-level of quirkiness in the plot alone, An Evening With Beverly Luff Linn follows Lulu (Plaza) who, in the midst of an unhappy marriage, runs off with what I can only describe as a polite enforcer (Clement) to a nearby hotel, where a mysterious old flame (Robinson) and his platonic partner (Berry) are performing. Admittedly, the plot does run a little thin at times, with a lot of overly convenient happenings pushing the film forward in an uncreative way. And yet, it almost kind of fits with a lot of unpolished elements that make the film such a fun watch.
The writing and performances come together in the plot to form this Voltron of awkward, cult-y humour popularised by films like Napoleon Dynamite. The jaw-dropping over-acting by the entire cast adds an offbeat air to the movie, giving it an atmosphere more befitting of one of the worst AmDram shows ever staged, with Plaza particularly playing up her "Janet Snakehole" schtick in Parks & Rec. Aside from that, no one is really stepping out of their comfort zones, however, with Clement playing a somewhat awkward, well-meaning schmuck (gotta love that word), and Berry playing literally every character he's ever played.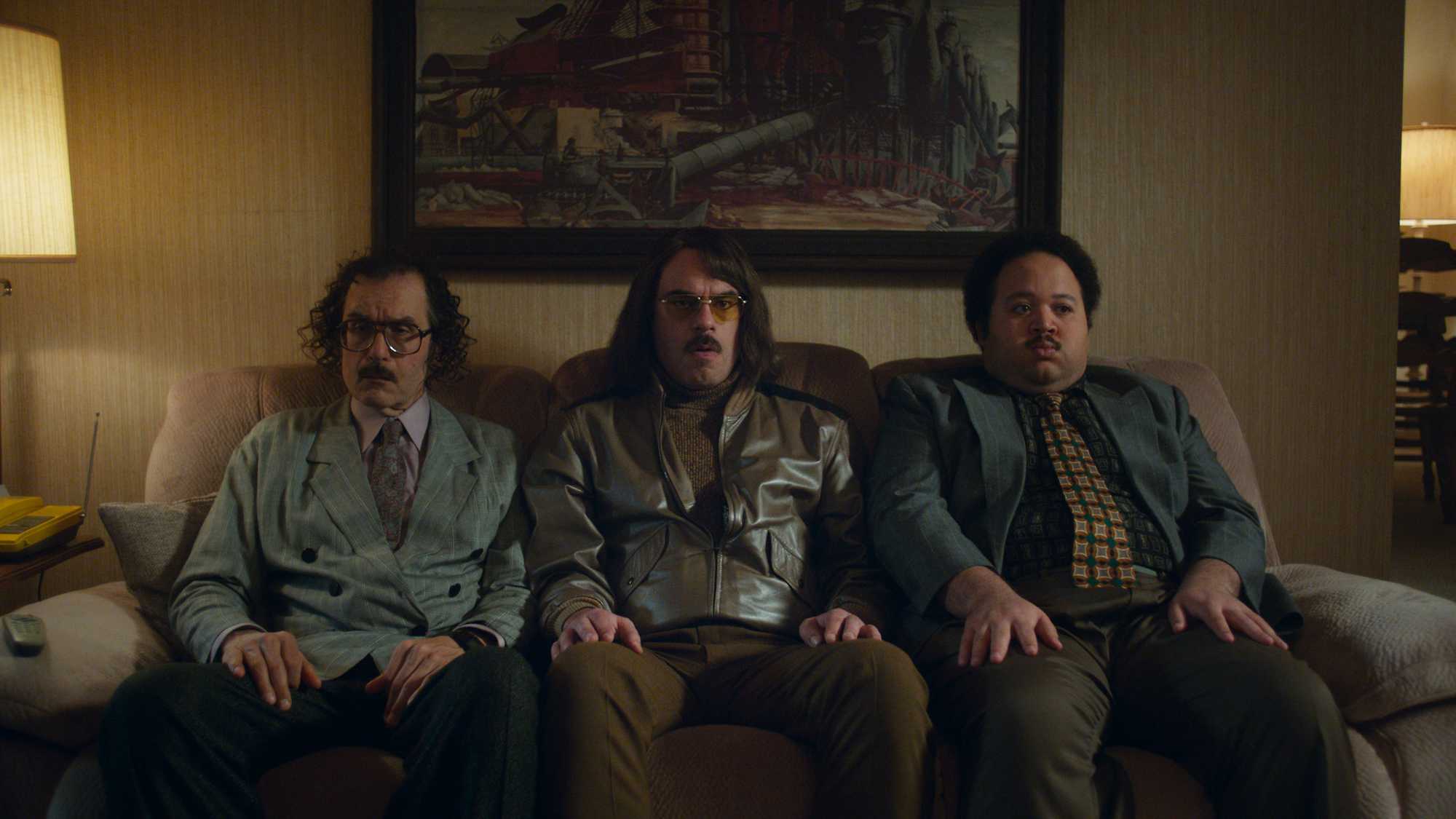 Aesthetically, the film does owe a lot of the Wes Andersons and Jared Hesses of the world, with the lingering static shots often, as seen in the screenshot above, hitting that uncomfortable, waiting-room-like edge that gives the comedy a claustrophobic, breath-on-neck intimacy that means Beverly Luff Linn won't be for everyone. This is further accented by the minimal soundtrack, because we love an awkward silence, and often campy character design, especially in the supporting roles. It's definitely not the most original look, of course, but it's executed exceedingly well, so if that's your thing, you can't go wrong.
Overall, that might be the best way to describe An Evening With Beverly Luff Linn. The familiar brand of offbeat, cult comedy humour is firing on all cylinders, with a cast that know their surreal strengths and play to them brilliantly. There was definitely a lot more potential here than was fulfilled, with the film's originality suffering in moments. However, if this is your kind of thing (which you'll instantly know when you see even the poster), then there are many worse ways to spend an hour and a half and a bit.
______________________________________________
75/100
______________________________________________
Lots of hugs, kisses and lacerations
Milo.