Yo, this be Reuben. That's right, I'm doing this top ten as well. All things considered, 2019 was a very solid year for cinema, in which I think I beat my personal record of cinema viewings in a year — which, however, might appear pretty poultry to any real film buffs out here. Nonetheless, I think the fact I found it so difficult to rank this list is a testament to how good a year for films it really was. In fact, I think this is the smallest gap in quality between first and last place in a list that I've done in a long time. Still, as per, I missed a handful of films a lot of people have raved about, so let's get them out of the way:
At Eternity's Gate
The Favourite
The Irishman
Marriage Story
John Wick: Chapter 3 – Parabellum
Little Women
Anywho, let's get on with this, shall we?
---
10. Le Mans '66
A film I didn't expect to go and watch, but one I'm really glad to have seen in the cinema. I've never been one to rush into watching a film about racing cars (considering it's not something that really interests me), or indeed a sports biopic. Be that as it may, though, I really enjoyed watching this classic Ford vs. Ferrari tale unravel, and unravel it did in a genuinely gripping way, not least helped by some incredible cinematography, a fun soundtrack and one of Matt Damon's more entertaining performances in a while. While perhaps some of it felt a little overplayed, Le Mans' 66 ticks all the film-making boxes with a flourish and I can happily recommend it to anyone.
---
9. Jumanji: The Next Level
Right. Don't @ me until you've heard my say. I know what it looks like. Let's put The Rock, Kevin Hart, Jack Black and some Irish woman together and hope it works. Oh, and let's add a massive CGI horse. And let's make The Rock play Danny Devito, why the hell not. It's like they got lifecoached by Jez and listened to his advice.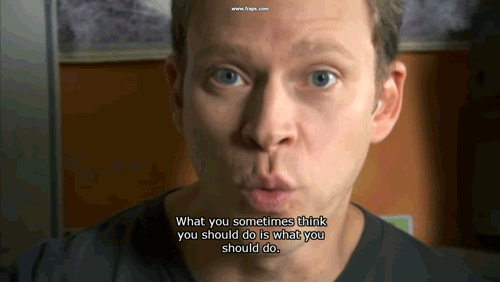 But somehow, for some godforsaken reason, it worked. Just like it did with the first one. Jake Kasdan and co. have somehow made what seemed like an idea only made for fever dreams or films destined to mediocrity work, and oH it works well. Just like the original, this second installment in the unexpected Jumanji revival masterwork showcases the unexpected acting talent of The Rock and Kevin Hart in a very real case of acting inception, and what The Next Level loses in Jack Black not playing a teenage girl, it gains back in Hart playing a stereotypical old black guy and The Rock playing Danny Devito. Yes, Danny Devito.
---
8. It Chapter Two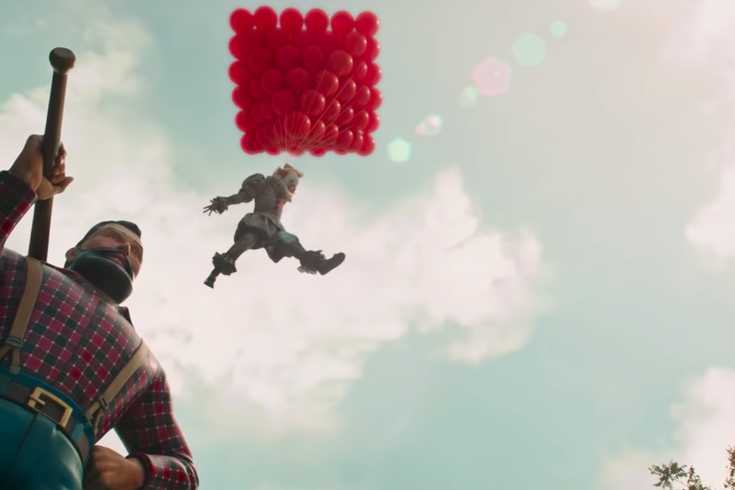 I don't know why but I'm imagining that image to the sound of The Zephyr Song and it's as unsettling as it is beautiful. That aside, I was never going to pass up another couple of hours spent with this nice clown chap, although I have to admit I was a little dubious going into this with regards to how they were gonna follow-up the first film, brilliant as it was, and how it would work with an adult cast, considering a major reason why the first was so entertaining was through its young ensemble cast, whose youthful energy and innocence worked as a great juxtaposition to Pennywise's antics. To my surprise, however, this adult cast delivered, and delivered well. Bill Hader's fun performance in particular fronted a cast which was just as good a part of this sequel's playful script as were the original cast. In fact, this second chapter was funnier and perhaps more straight-up entertaining as the original, and that's by no means a bad thing.
---
7. Toy Story 4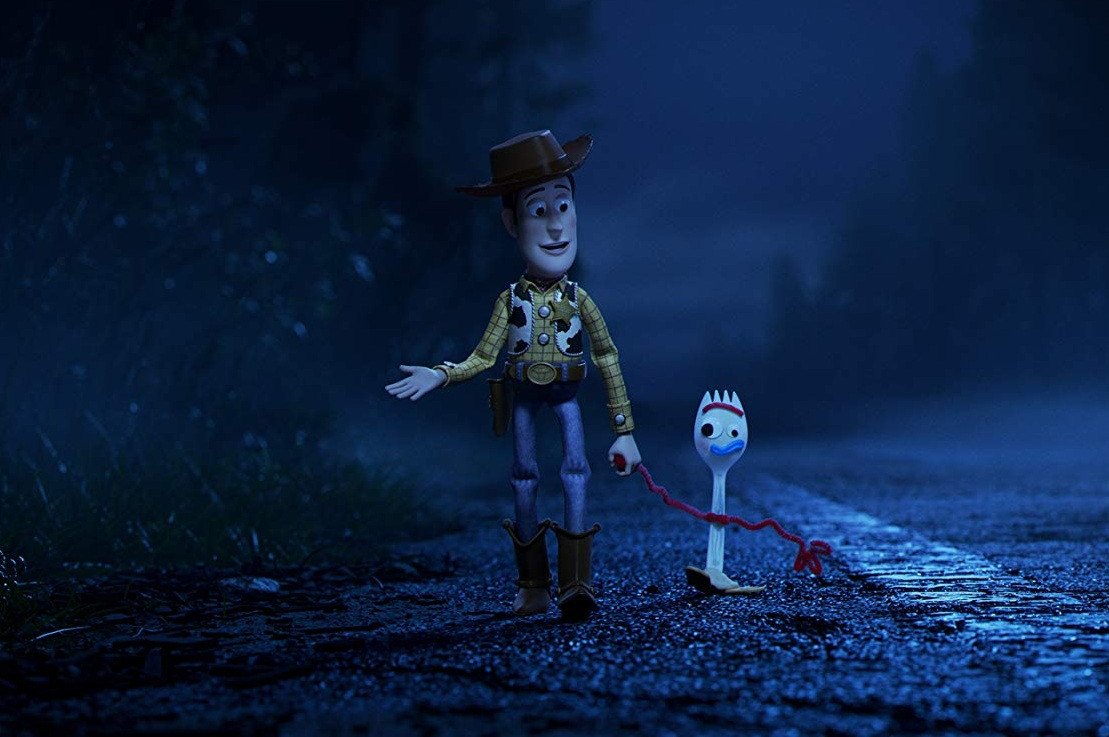 An unnecessary sequel for some, a pleasant surprise for others. For me, I could've taken or left another Toy Story simply for how satisfying and heartfelt a conclusion the third one gave it, so I was pretty skeptical for this sequel, I have to admit — especially considering the Finding Dories and Cars 2s of this world. Nevertheless, I'm glad to admit that this was Pixar on their Coco form, not their Finding Dory form, and I honestly feel grateful for what was for me an unexpected but entirely gratifying epilogue. Perhaps not of the same mountainous heights of its predecessors (hense its relatively low place on this list), this was a lovely time that did nothing but bring a smile to my face and, even, the rumblings of a tear conjuring during its touching finale.
---
6. Midsommar
From watching Hereditary and absolutely loving it, I had high hopes for Ari Aster's second horror output in as many years. I think perhaps my hopes were a little too high because I was expecting the Earth, and just got a great horror film. Frankly, It Chapter Two entertained me more, no question, but I think for its premise alone, Midsommar deserves the nod over it. To direct a horror film set entirely in daylight is perhaps the most unique and ambitious feat I've seen in this genre in the last decade at least, and not least to do so with zero jump scares or average horror tropes at hand. It took me a little while to realise, but this is one of the better I've seen in the genre: An inspired, brooding exploration into the dark nooks and crannies of paganism and ritual in a juxtaposed world of brilliant colour surrounding a deeply disturbing evil. While I have my issues with Aster's reliance on drug influence throughout this film and I may have preferred Hereditary from a viewing perspective, it doesn't retract too much from its genuinely intriguing plot, which gave us the platform for what feels like Florence Pugh's breakout role, and a fine one at that — also William Jackson Harper! Chidi!
---
5. Shazam!
A bit of a different take here, and another on this list I didn't necessarily expect to be much good. And yet, D.C might have just put out the best straight-up superhero movie of the year, and yes, that's including Endgame. Because, while it's fully deserved of its place here as a standalone film, it's almost how refreshing it is against the seemingly endless backdrop of monochrome and kinda heartless superhero movies – granted, there are some great ones, okay, okay, but you get the picture – that makes it so good. Shazam! is made up 100% of silly, silliness and silly matter: And for that it was easily one of my cinema-going highlights of the year in terms of just how much fun I had with it. I can't recommend this one enough, to literally anyone.
---
4. Us
Get Out, for me, is one of the greatest horror movies ever made. How do you follow that up? Well, Jordan Peele's your man, and he can try his darndest. In all honesty, despite tripe like the Insidious's, Paranormal Activities, The Purges, you name it, bloating and saturating the genre, I actually think now is an exciting time to be getting into horror. There seems to be more of an effort to pursue a unique perspective away from the recent climate of the genre than ever, with brilliance such as Us exemplifying that. Sure, it's a dumb slasher movie at the end of the day, but it's Peele's trademark direction style (which is growing rather quickly) that makes this much more than just that. This is a film that latches onto a very distinct type of fear and expands upon it with a fascinating mix socio-political messages and double-meanings in an activated and different slasher, but, vitally, with a huge sense of fun that makes it at once dumb and intelligent, yet most of all a classic slice of cinema entertainment. We also get to witness Lupita Nyong'o in the performance of her life.
---
3.
Joker
This film was huge. It's rare to see a shockwave like the one Joker sent across the world. Controversy and not least memes galore, this was a very big deal, whether you liked it or not. It feels strange to place something I consider a masterpiece anywhere that isn't the top of this list, but I guess it'll become clear why as you read on. From the director of The Hangover – something that still astounds me – Joker is a powerful and nuanced nose-dive into the depraved mind of one man, and it's a captivating one at that if even solely through Joaquin Phoenix's performance, which is potentially the best single performance I've seen onscreen since Heath Ledger in the same role. Just as rare as it is too see such a shockwave as came from this, its rare to see a film that is as strong as this in its social commentary, while being so utterly watchable and gripping.
---
2. Star Wars: The Rise of Skywalker
I'm struggling to remember a film that divided opinion as much as this has — at least since The Last Jedi. Indeed, Star Wars is a big deal. So of course it's going to divide opinion. It's Star Wars. On a personal level, seeing this sequel trilogy unfold on the big screen was something of a dream come true, and I'm so glad that the rumours this sucked weren't true. Sure, the first parts of the film are pretty clumsily paced and there's a few on-the-nose moments scattered around, but this is Star Wars, and that's what Star Wars is like. I think it's important to take a step back from all the conversation and, even, arguments, and remember that this is just a film series, and it's always been rather silly.
Once it settled after an unsure first half an hour or so, and it did settle, what I got was exactly what I wanted. J.J Abrams may be Speilburg version 2, but Speilburg made some masterpieces in his time, lest we forget, and if there's anything either of them are good at, it's crowd pleasing. The Rise of Skywalker is as exciting as it is entertaining, a big huge slab of goosebumps and grins that closes a chapter I always hoped I could see, but never actually expected to. Objectively a worse film than Joker I'm sure, don't get me wrong — but Abrams and co. made me feel like a kid again for one last film, and that's something special. A monopoly or not, I feel grateful for Disney that they pushed this trilogy to fruition and I'm so happy that I could see it, not least see such a satisfying finale to my favourite film franchise.
---
Some honourable mentions with that list for you sir?
Spider-Man: Far From Home
Pokémon Detective Pikachu
Avengers: Endgame
Once Upon a Time… in Hollywood
The Lego Movie 2: The Second Part
You probably don't know this, but… On our website, you can give me a good review if you feel you had particularly good service today… I hope you have a terrible day, you greedy bastard. Here's number 1.
---
1. Knives Out
For pure entertainment and entertainment alone, nothing beat this in 2019. And for that reason, Knives Out comes out on top and deservedly so. Rhian Johnson found himself truly in his element here, somehow letting the audience get to know every single member of such a large main cast as well as each other on a roller-coaster ride of cinema brilliance, with top-class acting from peak to trough and a genuine and hearty dosage of fun and flash at its very core, scene to scene. From one angle, you've got Daniel Craig having an absolute whale of a time in a role he visibly approached with an infectious sense of joy – a welcome break I'm sure from playing stone-faced action men – while on the other you've got what is in my opinion the second strongest performance of the year (only behind Phoenix) in Ana de Armas' strikingly confident portrayal of the family matriarch's unsuspecting, sickly honest helper Marta, enigmatic so that the whole family isn't sure whether she's from Ecuador, Paraguay, Brazil or Venezuala. It's little touches like that that make Knives Out: One of the most convoluted, twisty, tangly pursuits of fun and smiles in a plot that unravels as joyously and masterfully as Daniel Craig lays down that cliché American detective's accent. I never thought that I could love what feels like another attempt to successfully convert Cluedo to film as much as I did, but there you go. Everyone should watch this film.
---
Ah yeah, you. I forgot. Did you agree? Disagree? Fall asleep scrolling? Let me know your cheeky takes in the comments below.
Bringing redundant opinions for scrollers everywhere,
Reuben.