Yo, this be Reuben. Been a while, eh? Feel like I say something like that at the start of all my posts nowadays. These past few months have probably been some of the most busy of my life so far, and whether that's because I'm out or I'm working, it's been a whole lot of fun — so I thought I'd give you wonderful peeps some much needed content as a way to share the fun. What better, then, than a good ol' gig diary. Milo tried the format before, so we know it works. This particular little diary will cover late August-early October, a time in which I saw some absolute bOIS play some absolute choons. First off, a festival…
---
DOWNS Festival (August 31st):
---
Slotted between a mental two-week camping trip and my brother's wedding, DOWNS completed the triangle that was the triple trouble extravaganza of my late summer, all of 'em coming together as what I like to view as a really long party send-off before I began work. Aside from a couple of visits to Womad and one odd time at Tribe of Doris (don't ask, you don't want to know) as a child, this was actually my first festival as a 'punter', if you like, despite the fact it was only a one-day festival. Still, it only lasting a day doesn't take away from how good a time it is, and I'll be going through the acts I saw chronologically:
---
Mercy's Cartel
Kicking off the proceedings at about 2pm on the main stage were Bristol-based locals Mercy's Cartel. With an abundance of interesting influences on their dream-poppy sound ranging from afrobeat to Neo-soul, Cartel provided a decent backdrop to walk in on, with some intriguing beats and nuances peppered into the sunny surroundings. However, after peaking my interest within the first song or two, it became apparent there wasn't too much variety past that and they were a bit of a case of style over substance. While they weren't a bad band to start things off, I knew there was much better on its way with who were playing next.
---
Fontaines D.C.
After 45 minutes of wandering around the site eating unnecessary churros and making sure to take a picture with the massive letters in what I later realised was the kids' area spelling out "APE" and still not knowing why the word was so loudly proclaimed, the boys from the better land (Dublin) decided to finally get on stage and start playing.
While the three guitarists' dazed and, genuinely, confused gazes looked across the crowd and into oblivion, it quickly became apparent that their music wasn't quite so confused, but pin-point focused, powerful and buoyant punk rock. Straight outta Dublin these bois came, and as with their maiden release Dogrel, you can tell. Filled with Irish grit and with an in-your-face Irish accent, disappointing studio deep-cuts like Hurricane Laughter were made alive and my favourites from the album like Big, Too Real and Boys in the Better Land, well, did not disappoint. As singer Grian Chatten confidently tells us, these boys are gonna be bIIIGGGG.
---
Nightmares on Wax
On the other side of the helter skelter, expensive Mallet-Cider-selling bars and giant "APE" sign, was sitting the second stage, with dub outfit Nightmares on Wax about to play. Between the floor chips (don't ask) and constant jumping of Fontaines' set, Nightmares made for a much welcome chill time, and, while I didn't know their music particularly well prior to seeing them, they sure as hell made me want to get to know it. By this point we'd properly coined the phrase "it's gone west", take it as you will, and were really beginning to embarrass ourselves by repeatedly shouting "aye" at whatever seemed appropriate around us; but thankfully, we didn't quite notice how embarrassing that was considering we were having such a good time watching these guys perform. Literal sofas on stage for whoever wasn't singing at whichever time during the set to chill out and nod their heads, it felt appropriate to embrace the atmosphere and start doing some kind of dancing — yeah, to be honest, you should probably be glad you didn't see it. I'm not usually a dancer, though, so you know it's good when that happens. Nightmares on Wax were the epitome of "chill" and boy, they were happy to be there — and it rubbed off on the whole crowd. What a time.
---
IDLES
I think it's safe to say that we were excited for this one. I don't think we've ever done anything but praise IDLES since we first set our li'l ears on 'em, and whether that's through our incessant compliments in our last iteration of Best Thangs of the Year or Milo's review of Joy as an Act of Resistance, I think it's clear how we were going to react to seeing them live.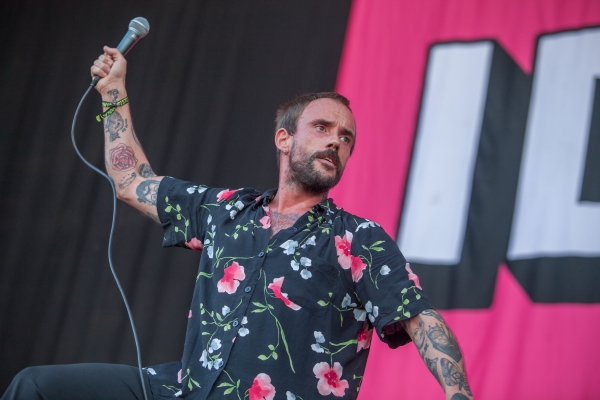 After being estranged from Milo during the past hour or so seeing as he saw Neneh Cherry at the main stage while I saw Nightmares on Wax, part of me was genuinely sad that I couldn't find the boi and watch IDLES with him (big up). Even so, I think it's a testament to how good this band was that I think I'd forgotten Milo was even a person by the time they finished Heel/Heal, and wHAT an OPENER, literally instantaneously sparking the crowd into a frenzy, as I'm sure it does with anyone who starts listening to their rather brutal debut record Brutalism. Even then, though, it was the second song in their set, Never Fight a Man with a Perm, that really got everyone going: And despite being genuinely afraid for the safety of my bones, the Bristol boys' energy was vehement, vicious and infectious, while Talbot's gnarled syllables and anti-fascist bursts of brilliance spearheaded a band on top form. The energy certainly didn't stop, either. The setlist was about as good as anyone could expect, with hits like Danny Nedelko, deep-cuts like Benzocaine and fan-favourite 1049 Gotho — and, lest we forget, Samaritans.
If you rEaD my stuff, (uGH), you'd know how much I (and Milo) love that damn song. As I said before, "toxic masculinity is a plague and the brutalism of Talbot's gritted teeth and the ripping guitar chords give Samaritans a hard-hitting urgency delivered with the eloquence of the year's best drumbeat", and boy, from that very first beat of the drum, I felt as if I was part of something special. There was a split-second moment of solemnity amongst the ruckus when the whole crowd at once realised what song was about to be played, and, goose-bump ridden by the excitement and a subtle gust of wind, I don't remember a time when I'd let myself go so much to a piece of music. Whether or not my claim after the set that we'd just witnessed the "best song of the decade" is true or the sort of claim an impressionable kid makes after walking out the cinema for the first time, I knew the day peaked there, and I still know, unlike that other claim, that this was the best live performance I'd ever seen. Truly, it had gone west.
---
Loyle Carner
Before going to that day, I'd honestly never heard of this boy. But, by the end of the day, I can safely say he's an absolute bOI. Another excursion to the second stage after missing enough of Grace Jones to make it not worth writing much about other than "she seemed good and I'm a little disappointed I couldn't get into it" through waiting for Ragga Ragga's jerk chicken, which, although less spicy than I would've liked, was a pretty good time, I have to admit — although the hot dog stand next door had a much quicker queue much to my anger. Between desperately pissing out slightly too much cider throughout the day, still pondering why it's normal in today's society for men to stand around with their privates out next to each other to go to the toilet, and taking an absolutely legendary group photo (I think it was taken around then, but don't take my word for it), seeing Loyle Carner was definitely the highlight of this part of the night (about 9pm, I think?).
As I luckily found out seeing him live, turns out Carner's music is a really fun time. Peaking with, for me at least, No CD and Ain't Nothing Changed, Carner showcased his music with a brilliant air of chill and, honestly, showed himself to the crowd as one of the best, if not the best, British rapper today, with an honest and sincere approach to his music and a refreshing amount of just, niceness, really, which from his cookery classes for those suffering from ADD and self-aware, kind lyrical themes comes as a really nice change from a lot of the goings-on in the hip-hop scene today. True too, more than anyone else at DOWNS, seeing him live made me genuinely excited to listen to his stuff in my own time — and it turns out Yesterday's Gone is quickly becoming one of my favourite hip-hop albums of the decade. I couldn't recommend seeing him live enough.
---
Heavy Lungs
Danny Nedelko himself, a name made known by IDLES, also played in his own band that night, and while Carner was a lovely dance-y time, this punk outfit got me going just as much, if not more than I had to Talbot and his merry men earlier in the day. While I don't recall remembering or knowing any of the songs they played – seeing as most of them were unreleased new tracks – I think it was a potent mixture of not expecting to actually manage to see this band between Loyle Carner and Lauryn Hill's set, a sudden second wind of energy and the closely-knit, bouncy atmosphere Nedelko and his bunch managed to latch onto in this little 'Information Stage' that got me going as much as I did. Danny himself had some wondrous dance moves (AKA weirdly move his arms around in an oddly seductive way), while the fast-paced and aptly heavy choons played out to a cacophony of jumping and a sea of smiling faces. Very happily, I was one of them, and to be a part of such a focused, communal atmosphere felt almost as special as it did to be a part of IDLES' crowd. While I can't agree with my sister's summation that Heavy Lungs were better than IDLES, I can certainly see why she thought it.
---
Ms. Lauryn Hill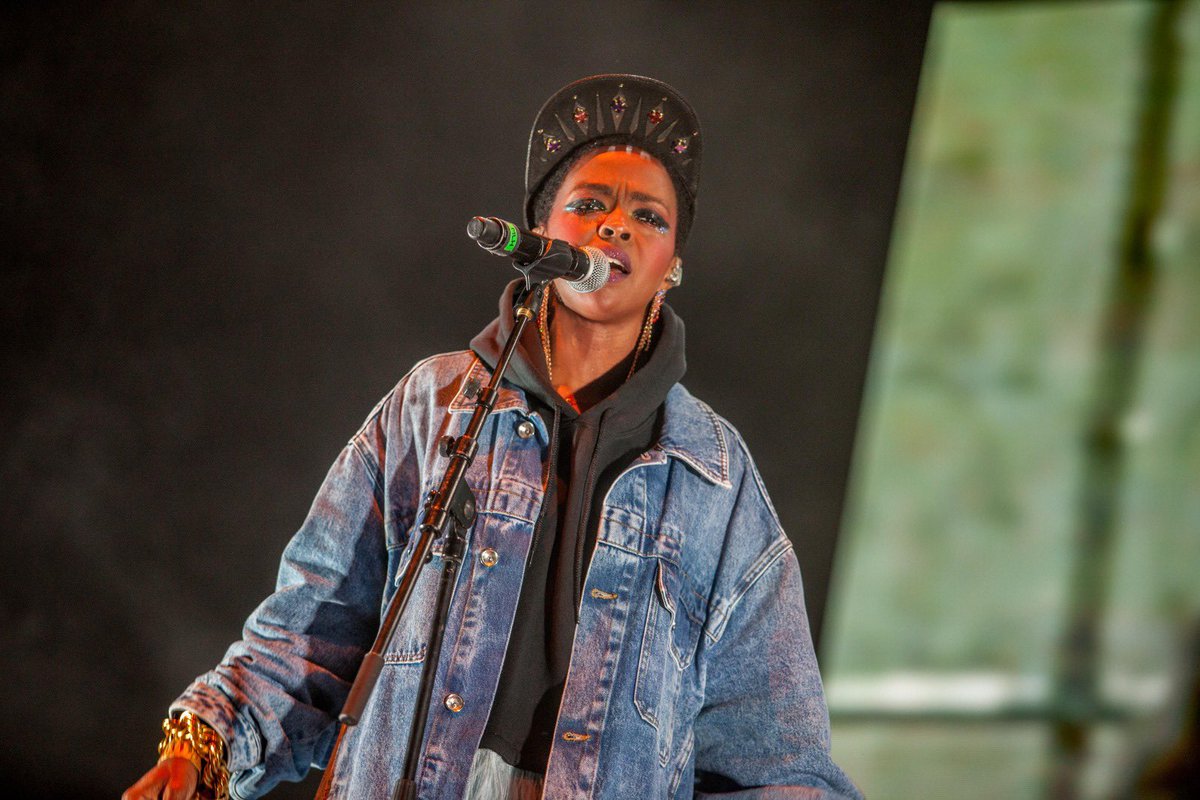 This was the big finisher, and you could feel it. Hill brought an energy and stage presence that simply felt, for lack of a better word, big: And you could feel that energy moving through the crowd, with the whole crowd moving in waves and vibrations alongside the music, singing along to pretty much every word and hanging onto it as it passed. Still, while Hill's mix of hip-hop and neo-soul was fun and while it felt like such a great thing to be involved in, it couldn't quite grab me as most of the rest of the day's music did; whether that's due to the fact I didn't really know any of the music amongst all the seeming super-fans or her relentless reminders that we were, in fact, in Bristol (yes, we know), it felt like a bit of a come down from Heavy Lungs and all the other shenanigans — while there was a hint of arrogance to her performance that didn't rub off too well on me, I have to admit. Even so, it felt like a nice and fitting way to close things, and seeing so much smiles around was something that stuck with me.
With that, though, the day was over. Legs dead, heads spinning and ears ringing, it felt like the perfect closer for August and boy, do I want to do something like it again.
---
SEPTEMBER/EARLY OCTOBER:
---
Post-festival, and post-wedding, there were still times to be had — summer not quite over. Not quite the same big-bill events, but still absolute times:
---
Stan Elliot @ St James' Wine Vaults, Bath (September 11th)
A couple of friends of my cousin's were in this band so he dragged me along, and boy was it a time. Shuffling drum beats, branching bass-lines, floating guitar chords and saxophone at hand, this jazzy rock outfit showed themselves one of the best in the Bath music scene I've yet seen with a unique and well-realised sound in a quirky little venue, which, having not been there before, genuinely impressed me and had, no word of a lie, the crispiest acoustics and best mixing I've yet heard in a place, which really let the subtleties and nuances of their music shine. At home in any smokey lounge, whether that's a hipsters' bar in the west country or New Orleans, these bois have a colourful air of cool about them, and between the odd saxophone solo and catchy hook, their stuff's available on Spotify and more than worth checking out:
---
Swervy World @ The Bell Inn, Bath (September 18th)
A rather different night, this one. A week on, I met some of my friends at The Bell, odd'un central and the best alternative pub in Bath — free gigs aplenty. And yeah, much to our surprise and delight, there happened to be a band playing there that night, and holy balls they were called Swervy World. Yes, Swervy World. Alongside having the greatest name I've ever heard of in the history of music, this eclectic mix of English weirdos performed what could be called nothing but skiffle, which, frankly, was as amusing as it was fun, and it was both to astronomical levels. Playing a mix of folk tunes and 80s classics amongst other oddities, these guys successfully made the world feel a little bit more swervy if only for a couple hours, and I thank them for a memorable night. Give 'em a look on Facebook and their website to see what the folks are up to.
---
Čao Laru @ The Bell Inn, Bath (October 7th)
Minding my own business post-work-meeting enjoying my noodles in Kingsmead Square, the forgotten hub of Bath (and best, let me assure you), I noticed a very drunk man very loudly attempting to explain to a couple of unassuming people where The Bell is. Turns out, these guys were musicians from Brazil and wanted to know where it was because they were gonna play there the following night; one brilliantly confusing and amusing conversation with that one exceptionally smashed gentleman later and it was set in my mind I was gonna see these guys perform. Deliberately avoiding finding out what kind of music it actually was before seeing them live, their music made for a surprise and man, I'm glad it was, because what a surprise it was.
Flutes, clarinets, cellos, bass guitars, acoustic guitars, violins, polyphonic vocals and, to cap it all off, a healthy inclusion of cowbell, Čao Laru turned out to be a collective of multi-instrumentalist, extremely skilled artists performing what appeared to be a pick'n'mix of Brazilian bossonova music mixed with traditional Latin American folk influences and an abundance of Arabian, French and Eastern European inspiration, too — and dAMN was it fun to be a part of. Aside from David (a former writer here you may remember), the crowd at least in its majority was at least — at very least — twice our age, the hippies of Bath congregated once again and experienced this band's music together. Filled to the brim with flare and energy, the bunch of them seemed natural-born performers, dancers and musicians all in one, and to be a part of that atmosphere with them, again, as I said before and probably will many more times, felt special. They had a kind of pure energy and happiness about them that, to be honest, I'd be surprised if anyone didn't enjoy. If I could ever see them live again, I would in a heartbeat. But for now, I'm gonna send you on your merry way to their Facebook and Instagram pages and give you a Spotify link which you probably don't deserve, but oh well, you can have it anyway:
---
Right, that's me done. Next up I've got Killswitch Engage, Heavy Lungs (again), The Chats, and hopefully The Comet is Coming, Steve Hillage/Gong and much more. With that, though, have a good one.
Bringing redundant opinions for scrollers everywhere,
Reuben.