Howdy folks, I'm back. Back from what, you say? A two week camping holiday. Yeah. And get this. I'm doing the same Top Ten Milo did a while ago. But Speedy edition.
I like music, and there are a lot of bands around the world that play it; some play it well, some don't. This Top Ten is one compiling my favourite bands. If you haven't heard of them, please don't call me a hipster. And here we go:
10. Sylosis
Oh boy! A lovely metal band to kick it off! But this isn't just any metal band… This, my friends, is Sylosis. Sylosis, the brilliant; Sylosis, the incredible; Sylosis, the amazing. Sylosis are a British metal band who won me over with the first note I'd heard of them, and have won me over so much, in fact, that I'm putting them in this list.
9. Killswitch Engage
I like metal, and I like Killswitch Engage. Who would'a thunk it. Killswitch are the masters of metalcore and are pretty damn amazing because of that. In the Howard Jones era, at least, they were incredible.
8. August Burns Red
What was that about Killswitch being the masters of metalcore? I think August Burns Red may even be better than them at it. Seeing them play live made me love this band, through and through; and listening to Constellations made me love them even more.
7. Mastodon
Mastodon are so cool. And they're amazing. Prog and metal in one awesome music package, with amazing instrumentals and a whole lot of awesomeness: that is Mastodon. And if they can make an album that is as amazing as Crack the Skye is, then they have to be somewhere in this list.
6. Rage Against the Machine
Man, I love this band. They're powerful, they're political, they're pretty damn amazing. They make me want to rap and jump around like a mad man, when I haven't even finished my Pepsi can, yo. Ya don't know how it feels to hear the bass of Rage when you don't see it comin', and ya don't know why, but I love it. Woah. I'm gonna become a rapper.
You better believe it's the top five.
5. SOiL
What a nice band. This is metal, in its most lovely form. No, it's not death metal, doom metal or black metal; this is classic, angry thrash metal – of sorts. I absolutely love this band and everything that they've done with the legend that is Ryan McCombs in their ranks. I will stone you, stone you. Rap my arms around you. My little Halo.
4. Soilwork
I instantly fell in love with this band after the first song I'd heard. I've listened to this ever since I started listening to metal; and this is the best of the lot. Metal in Scandinavia is always the best. And this band shows that emphatically. I'm still gutted that I missed the opportunity to see them live in Bristol last year. What a band.
Since Milo already robbed your Grandad, I'm robbing you Grandmum. These bands are too good.
3. Porcupine Tree
This band is definitely the calmest one on the list yet, but is the best yet. Porcupine Tree are masters of prog rock and got me into prog and metal when I were a lad. Deadwing and Fear of a Blank Planet are both some of the best albums I have ever heard and this band will always be one of my favourites. Steven Wilson is a genius.
2. The Mars Volta
The Mars Volta. They are the best. Well, apparently it's not quite the best judging by its 2nd place and not 1st. But it's damn close to being the best. The Mars Volta exhibits the genius of Cedric Bixler-Zavala and Omar Rodriguez Lopes in its best form; with unrelenting punk rock, a load of cool prog and an unmatched mad feeling with the crazy man that is Cedric screaming over the top of all the incredible and oddly paced music. The Bedlam in Goliath and De-Loused in the Comotorium are both musical marvels and are a joy to listen to, along with all their other mad albums; which are all worthy of being one of my favourite albums. Who knew a few blokes going crazy would make such good music?
Guess what. Here's the bands that aren't quite good enough to be on this list, yeah, obnoxiously blocking your view of what is my favourite band:
Lamb of God
As I Lay Dying
Turisas (this was especially close as I saw this band live)
Die Apokalyptischen Reiter
At the Drive-In
Audioslave
Muse
Primus
And now… Well, I don't need to tell you what's coming next; at least I'm hoping whoever's reading this isn't stupid enough to not know what's coming next.
1. Red Hot Chili Peppers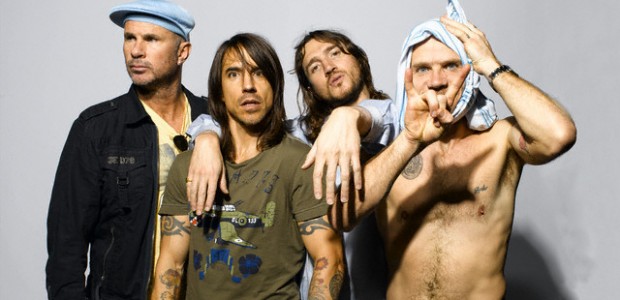 Oh yeah. You better believe my favourite band is these guys. Actually, I'll rephrase that. These legends. As for these legends I mean the best lineup: Anthony Kiedis, John Frusciante, Flea and Chad Smith; who are all incredible at their respective roles and were behind all of the Chili Peppers' best albums. Mother's Milk: awesome. Blood Sugar Sex Magik: amazing. Californication: brilliant. By the Way: fantastic. Stadium Arcadium: the best album ever. And every album they've done is really good. This band has never done anything wrong, and they have always managed to be amazing, whatever guitarist or drummer they have. They were the band I loved when I was little and I probably love them even more now; whether it's because of nostalgia reasons, Dani California or how amazing a band they are: they are the best band. 'Nuff said.